Best Face Wash for Men with Acne
Top Picks
Adulting can be hard, especially when you are also dealing with frequent zits and spontaneous breakouts. Unfortunately, as many adult men have come to realize, teenagers aren't the only ones who get acne. Acne is the most common skin condition in America, impacting 50 million people in the United States alone. Aside from teenagers, adult men are particularly at risk for acne, due to their typically oily skin, larger pores, and active sweat glands.
Whether you suffer from mild or severe acne, the first place to start is to find the right over-the-counter face wash for you. According to Dr. Milton D. Moore, from Moore Unique Skin Care, male individuals with acne must regularly wash their face to keep excess oil and bacteria from clogging pores. This frequent exfoliation helps prevent dead skin cells from accumulating on top of pores and worsening clogging. Finding the best face wash for your skin is the best way to combat acne, as well as prevent zits from popping up in the first place. There are an overwhelming amount of facial cleansers out there to choose from that treat acne, some thick and moisturizing, others lightweight and foamy. To make things easy for you, we've compiled a list of the best acne face washes for men for every skin type and problem. Happy cleansing!
What Causes Acne?
Many factors are responsible for causing acne including excess oil, a build-up of dead skin cells in your pores, the rapid increase of acne-causing bacteria, and inflammation.
According to WebMD, for many male individuals, breakouts can be caused by changes in hormone levels. Hormones can trigger the release of sebum, a type of oil, that can lead to clogged pores and bacteria growth, which can cause zits to break out on your face or back. Sweating can also exacerbate the acne problem. It's common for breakouts to occur during warmer weather or after excessive exercising.
Finally, It's important to remember that acne is genetic. Therefore if your parents suffered from acne, it's more likely that you will, as well.
Is Male Acne Different From Female Acne?
While acne is more prevalent in women, male acne can be more difficult to treat and more severe due to the higher androgen levels. Acne in men is often found in different places than in women too. Many men struggle with acne on their backs, chests, or other places that get sweaty because sweat can increase acne development.
Preventing Acne
Whether you've always dealt with acne or you only recently started seeing breakouts, there are some lifestyle changes you can make to manage or even prevent your acne from popping up. Of course, some of these changes might not apply or may not work for your specific circumstances, so you should try each method to find what works best for you.
Wash Your Face Daily
Acne-prone skin is more susceptible to oil buildup and clogged pores, so washing your face is essential to keeping your pores clean and your skin oil-free. You should wash your face twice daily, as studies have shown significantly less acne in people who washed their faces twice per day than those who only did it once daily.
If you have a beard, you may need to add some extra steps to your face-washing routine to keep your beard healthy. No matter the facial hair or skin type, face-washing habits are some of the most important when treating acne in men.
Stay Hydrated
Staying hydrated is crucial for skin hydration, blood sugar management, and immune system health- all of which can have an impact on your acne. Not only that, but staying hydrated helps your entire body to run more smoothly and will make you feel better, too.
The recommended amount of water a typical adult male should drink per day is about 3 liters or 13 cups. This can vary with size and activity levels.
Reduce Sun Exposure
Sun exposure can increase inflammation and make your acne symptoms worse. Using sunscreen when working outside or going to the beach can help to protect your skin from additional damage or increased acne.
Be Gentle With Your Face
While you need to be washing your face daily, you still need to be gentle with your face, too. Using harsh chemicals or being too rough with your skin can damage it and cause more problems in the future. The American Academy of Dermatology recommends you avoid scrubbing or rubbing your face at all.
Pat Dry
If you need to wipe your face dry after washing or sweating, it is best to pat it dry with a clean towel or washcloth instead of rubbing your face. You should also use a quality cloth for drying your face to prevent any irritation from rough materials.
Popping Pimples
You should never pop your pimples, as this could lead to acne scars, increased inflammation, and even infection. If you have to have a pimple popped, though, you should let a dermatologist with the needed experience and tools do it in a sterile environment.
Adjust Your Diet
Switching to a low-glycemic diet has been proven to improve acne symptoms across multiple studies. A low-glycemic diet consists of foods that don't spike your blood sugar too quickly after consuming them, such as broccoli, strawberries, chickpeas, and dark chocolate.
There is also research to suggest that drinking milk can irritate acne and increase the severity of your episodes, but dairy products such as cheese or yogurt should be fine.
Manage Stress
While stress doesn't cause acne directly, it can worsen symptoms of preexisting acne and also slow your skin's natural healing process. Managing your stress can help to improve skin quality and hormone regulation in your body, resulting in a clearer face.
When to Consult a Doctor for Male Acne
If you've grown past the age of hormonal acne but are still dealing with regular breakouts, you might wonder when to seek medical attention. In general, if your acne is interfering with day-to-day life, it might be worthwhile to discuss it with your doctor.
Alternatively, if you've tried all the medications and implemented all possible lifestyle changes that you can, without seeing any results, you should seek medical treatment to receive stronger treatment options. Excessive scarring from acne episodes can also indicate the need for a dermatologist.
How To Choose The Best Face Washes For Men With Acne
There are a few different factors to take into consideration when selecting the best face wash for you, including your skin type and the formula of your facial cleanser.
Figure Out Your Skin Type
Many facial cleansers and face washes will be geared towards a particular skin type. Now, if you don't already know what your skin type is, don't panic! There are a couple of questions that you can ask yourself to get to the bottom of the mystery. Firstly, think about how your skin feels a few hours after you wash it or get out of the shower. Are you immediately reaching for a lotion or moisturizer? Does your skin get flaky, or are you finding any rougher patches on your face? If so, your skin type may lean more towards the dryer end of the spectrum. If your face feels shiny, or like it has excess oil, then you most likely have an oily skin type. For some men, it won't feel like your skin leans either way and in that case, you will want to search for a face wash for combination skin or "normal" skin.
Pay Attention to the Formula
Not only do facial cleansers usually cater to a particular skin type, but there are also multiple types of cleansers. Three of the most popular include creams, gels, and foams. After you nail down what your skin type is, knowing what type of cleanser is best for what skin type can be helpful when selecting your face wash.
Thick, hydrating, and moisturizing, cream formulas work best for those with normal, dry, or sensitive skin types. On the other hand, gel formulas have a jelly-like consistency and are perfect for men with normal or oily skin. Last but not least, foam cleansers are very light and airy, making them great for men with combination or oily skin.
How We Chose The Best Facial Cleansers For Men With Acne?
There were multiple factors that we took into account when selecting the best facial cleansers for men with acne. First and foremost, one of the most important factors we took into consideration was the active ingredients used in each cleanser. There are a few tried and true ingredients that have been scientifically proven by dermatologists to be particularly important in an acne face wash, including benzoyl peroxide and salicylic acid. Secondly, we selected products that were particularly catered towards men, as well as men with facial hair. Men need to be using face washes that are thick, rich, and strong enough to fight through hair-bearing skin.
Last but not least, we wanted to ensure that all of these formulas were readily accessible, available, and affordable. When it comes to skincare, face washes are typically more affordable than other products. Therefore, you certainly don't need to break the bank to get your hands on an incredibly effective facial cleanser for acne-prone skin.
Best Overall: La Roche-Posay Effaclar Medicated Acne Face Wash
With all the face washes available for men, it's hard to top La Roche-Posay's Effaclar Medicated Acne Face Wash. A favorite of French pharmacies, La Roche-Posay has a direct approach to highly effective, results-driven skincare. This sensitive skin-friendly formula uses 2% salicylic acid, one of the most effective ingredients in any acne regimen, as well as a lipo-hydroxy acid (LHA), a gentle yet strong acne-fighting acid. Both of these mild exfoliators combat both blackheads and whiteheads. Another key ingredient in this formula? Glycerin. Glycerin is a humectant that keeps your skin looking hydrated but not oily.
Dermatologically tested and with a minimalist hypoallergenic solution, this formula is also a great selection for those who are prone to allergic reactions. Additionally, this effective acne face wash is also recommended for those who are combating oily skin, as it has been clinically tested to reduce excess facial oil by up to 47%. If you are looking for deeply cleansed skin, diminished breakouts, and a face with an even and smooth finish, you can't go wrong with La Roche-Posay's Acne Face Wash.
Use: Wet your face with warm water and gently massage into a lather. Rinse your face thoroughly. Use it daily.
Ingredients: 2% salicylic acid, lipo-hydroxy acid, and glycerin
Best for Blackheads: Murad Acne Clarifying Cleanser
Dealing with consistent blackheads? Unfortunately, these stubborn zits don't go away overnight. However, one of the best defenses out there for blackhead breakouts is Murad's Acne Clarifying Cleanser. Armed with 1.5% salicylic acid, this acne-fighting formula is particularly effective at demolishing dark spots, as it remains active for hours after use, even after the formula has been rinsed from the face. Additionally, this multi-purpose also effectively strips away pore-clogging oil & debris and dissolves excess oil from the face.
The potent salicylic acid is balanced out by citrus oils and mattifying cornstarch to clear the skin of dirt and dead skin, while also maintaining necessary facial moisture levels.
Use: Wet face and massage a small amount of formula over the face and neck. Rinse with warm water and pat dry
Ingredients: 1.5% salicylic acid, citrus oils, corn starch
Best for Dry Skin: Jack Black Pure Clean Daily Facial Cleanser
If you are a member of the dry skin club, then opting for Jack Black's Pure Clean Daily Facial Cleanser is a good way to go. This dermatologist-tested formula is a 2-in-1 liquid cleanser and toner that removes deep-down dirt and oil for clear, smooth, and shave-ready skin.
Most importantly, this gentle but strong formula does not over dry your skin. This formula leaves your face feeling clean, hydrated, and refreshed. This fragrance-free formula also uses glycerin to help moisturize dry skin. A bonus? This daily facial cleanser is packed with natural ingredients, including scalerol, found in sage, which helps fight signs of aging. If you pick up a bottle of this multi-purpose formula, you really are getting your bang for your buck.
Use: Apply a small, nickel-sized amount to damp hands, lather up, apply to face. Avoid contact with the eye area. Rinse thoroughly.
Ingredients: Oat and coconut, organic sage leaf extract, rosemary extract, witch hazel, organic aloe leaf extract
Best for Exfoliating: Philosophy Microdelivery Exfoliating Facial Wash
Looking for an exfoliator that's perfect for men with acne? Philosophy's Microdelivery Exfoliating Facial Wash is one of the best options available, as it is geared towards all skin types, including aging and sensitive skin. Bursting with micro-exfoliating beads, this soothing formula scrubs away dead skin and impurities, leaving your face more smooth, radiant, and even-toned. Additional ingredients include gentle exfoliants, vitamin C, orange peel extract, and sunflower seed oil.
Gentle enough for everyday use, this fan-favorite exfoliating scrub only needs to be used for 30-60 seconds per wash. If you have a dry skin type, this multi-purpose formula also helps alleviate problems such as facial skin peeling, dryness, and flakiness.
Use: Wet face and apply a small amount of formula to your face, gently massaging for 30-60 seconds. Rinse thoroughly. Can use twice a day, in the morning and evening
Ingredients: Vitamin C and gentle exfoliants
Best for Ingrown Hairs: ELEMIS Deep Cleanse Facial Wash
If you are looking for the perfect multi-purpose formula to take your grooming routine to the next level, ELEMIS's Deep Cleanse Facial Wash is your new best friend. This fast-acting daily cleanser utilizes natural ingredients such as English Oak Bark, Spearmint, and Peppermint to help purify and remove dead skin and pollutants from the face, while also helping to prevent ingrown hairs. Geared towards all male skin types, this formula also possesses antiseptic properties, reduces inflammation, and helps balance oily skin.
This revitalizing formula doesn't just help you look good, it also helps you feel clean, fresh, and energized. A two-week clinical trial was performed on this cleanser, which yielded extremely positive results. 96% of the candidates felt as though the product left their skin feeling refreshed.
Use: Squeeze a coin-sized amount into your hands and massage onto the face with warm water. Rinse thoroughly. Use twice a day, in the morning and evening, before shaving.
Ingredients: English Oak Bark, Spearmint, and Peppermint
Best for Facial Hair: Every Man Jack Beard + Face Wash
Every Man Jack's Beard + Face Wash will softly cleanse and hydrate your skin, as well as condition your beard. This formula is packed with plenty of plant-based ingredients, including coconut-derived surfactants, which will help cleanse your face of all dirt, oils, and acne-causing bacteria, and glycerin and aloe, which will condition and soften your skin. The formula is topped off with essential oils of Sandalwood, complemented by amber, vetiver, and vanilla, which will help your face feel refreshed and revitalized all day long.
This particular cleanser is specially formulated to deep cleanse men's beards with strong, natural ingredients that reduce irritation and soften and soothe your beard, as well as the skin underneath. The best part? This clean, green, vegan, and cruelty-free option is also extremely affordable. If you aren't a fan of sandalwood, this same face wash is also available in shea butter, natural hemp, cedarwood, and sea salt.
Use: Rinse your face with warm water and lather a small amount of formula into your palm. Gentle massage into beard and skin. Rinse completely.
Ingredients: Caprylic/Capric triglycerides, aloe vera, glycerin
Best for Oily Skin: Jack Black Deep Dive Glycolic Facial Cleanser
When combatting extra-oily skin, sometimes it's worth it to splash a little extra cash (all within reason, of course). Bursting with glycolic acid, Jack Black's Deep Dive Glycolic Facial Cleanser is unparalleled when it comes to helping remove expired skin cells. Additional ingredients in this powerhouse formula include volcanic ash and kaolin clay, which both have proven oil absorption properties.
If you leave it to dry on your skin, this dermatologist-tested facial cleanser can also be used as a purifying mask. Not only will this multi-functional clay-based cleanser help you fight against facial oil daily, but if used regularly, it will also help limit facial oil over time, leaving your skin fresher, smoother, and firmer.
Use: If using as a cleanser, apply a small amount to wet hands (the size of a nickel), massage into a lather, and apply to a slightly damp face in a circular motion. If using as a mask, apply a nick-sized amount to a dry face and apply evenly around your face in a circular motion, avoiding the eye area and lips. Let the mask sit for 5 minutes. Rinse thoroughly
Ingredients: Glycolic acid, volcanic ash, kaolin clay
Best for Redness: Neutrogena Oil-Free Cleanser
Looking for a facial cleanser to help tame the fiery red monster? This oil-free cleanser contains scientifically proven salicylic acid acne medicine and MicroClear technology which helps prevent breakouts and blackheads. This dermatology favorite formula is also loaded with naturally derived aloe vera and chamomile, which help soothe irritation to reduce facial redness so that the skin looks clearer and feels healthier. Additionally, this acne-fighting cleanser also cuts through oil on the face, unclogs congested pores, and removes dirt and impurities, all without over-drying the skin. Take note: if the redness on your face is due to a more serious issue like rosacea, you may need to consult a dermatologist.
Use: Wet your face, and apply formula and water into your hands to work the formula into a lather. Massage your face gently and then rinse thoroughly. Use twice a day
Ingredients: 2% salicylic acid, aloe vera, and chamomile
Best Drugstore: CeraVe Acne Foaming Cream Cleanser
If you are suffering from a more severe form of acne, such as pustules or cystic acne, CeraVe's Acne Foaming Cream Cleanser is a good place to start. Packed with 4% benzoyl peroxide, this formula is particularly effective at removing dirt and excess oil, killing the bacteria that causes clear pimples, whiteheads, and blackheads, and preventing new acne from forming. Additional ingredients in this unique foaming cream facial cleanser include hyaluronic acid and niacinamide, which work to counterbalance the drying effect of benzoyl peroxide, keeping the skin moisturized and free from flaking. Last but not least, this budget-friendly formula also includes three essential ceramides which help hydrate your skin and maintain your protective skin barrier.
CeraVe Acne Foaming Cream Cleanser was developed by dermatologists and is best for those with an oily skin type. Take note: if you do have intensely inflamed acne, you might want to consider consulting a dermatologist.
Use: Wet your face and apply a dime-size amount of formula to the face, avoiding the eye area. Rinse thoroughly. Use every morning and evening, however, if you have a sensitive skin type, start by using this formula once per day. Then increase to two times a day if needed or as directed by a doctor.
Ingredients: 4% Benzoyl Peroxide, ceramides, hyaluronic acid, niacinamide
Best for Sensitive Skin: Bulldog Men's Skincare and Grooming Sensitive Face Wash
Struggling with your sensitive skin? Bulldog Men's Skincare and Grooming Sensitive Face Wash is particularly geared towards sensitive skin types, including those with eczema.
This sensitive face wash contains incredible natural skincare ingredients, including Baobab, oat oil, and willow herb, which have been specifically formulated to leave skin clean and clear. This formula is also packed with omega-3 fatty acids, which help moisturize and soothe the skin. All Bulldog products are made with natural ingredients and are vegan and cruelty-free at an affordable price. Bulldog's entire skincare line is particularly catered towards men with acne.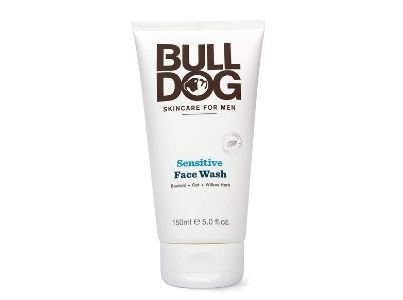 Use: Wet skin, and lather up the formula, massaging gently on your face. Rinse thoroughly. Use twice a day during the morning and evening
Ingredients: Baobab, oat oil, and willowherb