How Do I Choose the Best Cocoa Butter Cream?
Choose the cocoa butter cream that moisturizes your skin most effectively. It should apply and soak in easily, and not be sticky. Choose the cream with the highest percentage of cocoa butter ingredient as possible. The best cocoa butter cream will reduce the appearance of stretch marks. Cocoa butter creams containing additional ingredients such as collagen or elastane, are believed to be able to eliminate stretch marks altogether.
Cocoa butter cream is widely used for its ability to effectively moisturize skin. Choose a cream that moisturizes well. This will usually be the cream that contains the most cocoa butter. Different cocoa butter creams contain different amounts of the active ingredient; the rest of the cream, depending on the quality of its ingredients, can be regarded as filler.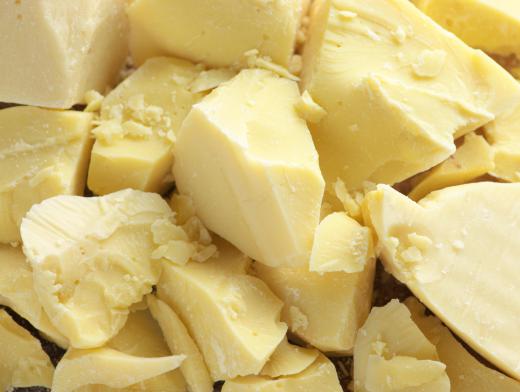 Higher priced cocoa butter cream often contains a greater amount of cocoa butter. You should however, check this with your beauty consultant or beauty store assistant as different creams do vary. Using their advice, you may be able to find a better cream at a lower price.
Cocoa butter cream is well known for its ability to reduce the appearance of stretch marks. Certain creams are also believed to eliminate them. The best cocoa butter cream should be able to reduce the length and depth of stretch marks, as well as smoothing out their bumpy texture and appearance. A very good cream can significantly alter the appearance of stretch marks from a purple or red appearance to a silvery color, or potentially eliminate them altogether.
The best cocoa butter cream has a pleasant smell that is not overpowering. Some creams can smell very strong and sweet. Choose a cream that does not overpower any other scent that you are wearing.
Your skin should feel firmer after using cocoa butter cream, especially on skin that is losing its elasticity. Cocoa butter is believed to be able to penetrate deeply into the skin to reach the dermis layer where stretch marks are formed. The cream therefore, should soak into your skin easily with minimal rubbing.
Some cocoa butter creams contain additional ingredients known to effectively improve the appearance and texture of skin. To eliminate existing stretch marks, it may be more effective to purchase these creams. Collagen is sometimes added to help improve the suppleness of skin, and elastin is also added to improve its elasticity.
Shea butter is a common ingredient, used to help the skin retain the moisture that cocoa butter provides. Vitamin E is an antioxidant which helps with healing and regeneration of the skin. It is added to eliminate harmful free radicals that can damage skin cells.
AS FEATURED ON:
AS FEATURED ON:







By: svl861

Cocoa butter comes from the cacao bean.

By: Leo Lintang

Cocoa butter cream may be used to reduce the appearance of stretch marks.

By: Africa Studio

Some body lotions and creams contain moisturizing cocoa butter and vitamin E, both of which can help restore the skin's elasticity.