What Are the Benefits of Cocoa Butter Lotion?
The main advantage of using cocoa butter lotion is that it moisturizes the skin and may help prevent or reduce the appearance of scars. It rubs on smoothly and absorbs easily, allowing it to penetrate better than many other types of lotions or creams which tend to sit on the top of the skin instead. Using this lotion daily will help keep skin, soft, smooth, and adequately hydrated when combined with one's normal skincare routine.
Cocoa butter is derived from cacao seeds, the same substance used in the making of chocolate. It is a fat and is naturally thick and creamy. When added to lotions, it is typically thicker and easier to rub into the skin than other skincare products. Cocoa butter lotion has also been shown to penetrate deep into the skin, allowing it to moisturize beyond just the top layer. When applied daily over several weeks, it will help reduce dryness and related itching or peeling.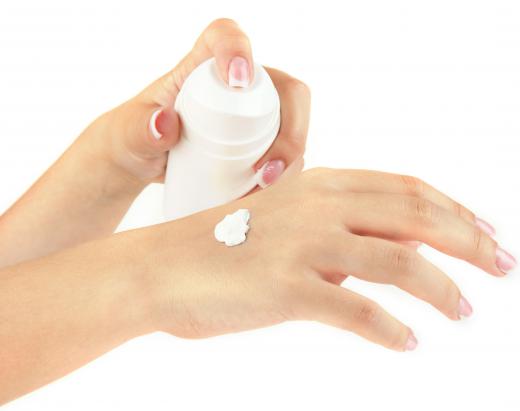 Some studies have shown that lotions containing cocoa butter may help prevent eczema and other skin disorders. Using it during pregnancy may also help prevent stretch marks to some degree, although the occurrence of stretch marks is often attributed to genetics. For the best results, cocoa butter should be used several times per day on any areas of dry skin. Those who have a pre-existing skin disorder or disease should consult a doctor before attempting to treat it with cocoa butter lotion.
There is also some evidence that cocoa butter may help reduce the appearance of existing scars when used often. Although it cannot remove scarred tissue, since scars are typically permanent unless removed surgically, the use of cocoa butter lotion has been shown to fade the dark colors often associated with scarring. Many anti-scar treatments contain cocoa butter as a main ingredient.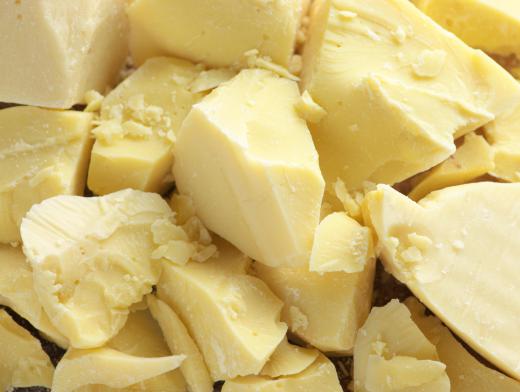 Many people use cocoa butter as a general moisturizer. It is soothing and leaves skin feeling softer and more comfortable, making it ideal for daily use. Negative reactions are uncommon, but those who experience irritation or redness after using cocoa butter-based lotions should discontinue use of the offending product. Cocoa butter lotions can be purchased in natural form with pure cocoa butter and few added ingredients, or cocoa may be be added to lotions which are comprised of several ingredients.
AS FEATURED ON:
AS FEATURED ON:







By: Africa Studio

Cocoa butter lotion absorbs quickly and keeps skin supple.

By: Printemps

Cocoa butter is made from the cacao seed.

By: svl861

Cocoa butter is a fat and naturally creamy.

By: igorborodin

Cocoa butter reduces the discomfort associated with stretched skin during pregnancy.