What Is Cocoa Butter Soap?
Cocoa butter soap is usually an organic soap primarily made of cocoa butter, which is the extracted fat from cocoa beans. The soap can appear to be creamy yellow, or sometimes even a dark brown, when chocolate is added. It also has a distinctly rich aroma and smoothness that resembles that of chocolate, as both chocolate and cocoa butter come from the same source.
The popularity of cocoa butter soap has since increased because it is one of the richest and most moisturizing soaps on the market. It is also one of the most emollient, making it an ideal product to lock in the moisture in the skin. People who have dry and flaky skin, especially in the knees and elbow areas, can benefit from using the soap. Cocoa butter is also known to have a melting point at the same temperature of the human body, hence it is absorbed easily when rubbed on the skin. For people who like soft skin, but do not like the feeling of having a film of lotion on their skin, cocoa butter soaps are good substitutes to keep the skin moisturized.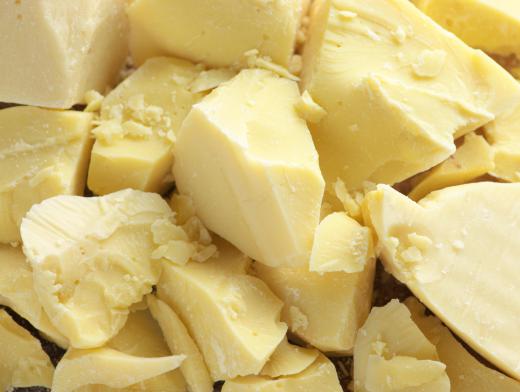 Aside from being a good moisturizer, cocoa butter soap is also used to treat stretch marks, especially for pregnant mothers. The cocoa butter helps replace the lost moisture in the skin and restores its elasticity, making the stretch marks less visible. Pregnant women can prevent the worst of stretch marks by using the soap once the baby bump appears. One can also look for cocoa butter soaps that include vitamin E for added moisture.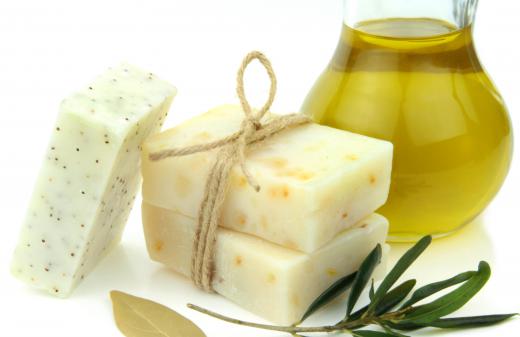 The moisturizing properties of cocoa butter soap also make it a home remedy for wounds, burns, and scars, as these heal better when properly moisturized. Aside from moisturizing the area, it also acts as a barrier to protect the skin from further irritation. A person who has undergone tattoo removal through laser surgery can also use the soap to quicken the healing process of the skin. The soap has also been known to treat other skin disorders such as dermatitis and eczema and can even heal sunburns.
The stability and the presence of antioxidants in the cocoa butter keep the soap usable even after two years. In order to make sure the skin absorbs the soap, one can keep the lather on the skin for a few seconds to a few minutes before rinsing it off.
AS FEATURED ON:
AS FEATURED ON:







By: svl861

Cocoa butter comes from the cacao bean.

By: Hayati Kayhan

Handmade soap with added cocoa butter.

By: Jiri Hera

The fat used to made raw cocoa butter is extracted from dried cocoa beans.

By: CandyBox Images

Soap made with cocoa butter is an effective emollient that is easily absorbed by the skin.