What is Permanent Lip Liner?
Permanent lip liner is a type of tattoo applied to the outer contours of the lips to define their shape. It may be used to correct abnormalities of the mouth area, or may be purely cosmetic. While permanent lip liner offers convenience to those who wish to avoid applying regular lip liner each day, it has several potential drawbacks — including high costs, fading, and changing styles — which should be considered before committing to the procedure.
Some individuals seek permanent lip liner to cover up a scar or correct an abnormal lip shape. It may also be sought by those whose lips have lost color, firmness, and definition as part of the aging process. Still others view it as a time-saving measure which reduces the need for daily cosmetic application.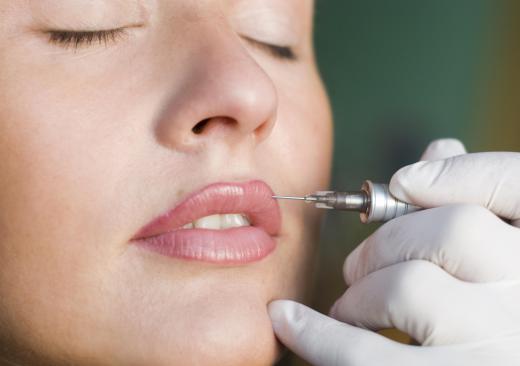 During a permanent lip lining procedure, a cosmetic dermatologist or aesthetician normally draws a liner template on the client's mouth and shows it to her for approval. The client's mouth is then numbed with a topical anesthetic, and the liner template is traced over with a tattooing tool. This tool injects pigmentation beneath the client's skin, leaving a permanent line around the lips.
Immediately following the procedure, the client's lips may swell, and the newly pigmented area may appear darker than desired. Over the following days, however, this swelling will disappear and the lined area will fade in color. In many cases, clients may find that the resultant color is lighter than what they had envisioned. This is often because the aesthetician or dermatologist has applied the permanent lip liner conservatively, as it is easier to later darken it if needed than to lighten it. Thus, some clients find it necessary to return for a touch-up application a few weeks after their first visit.
Before committing to permanent lip liner, individuals should consider the potential drawbacks associated with the procedure. First of all, it can be quite expensive, especially when multiple application sessions are required. Secondly, as with all tattoos, permanent lip liner normally begins to fade and blur over time, making touch-up procedures necessary every few years to maintain a crisp line. Finally, trends in lip color and shape tend to change over time. Thus, a shape and shade of permanent lip liner once considered desirable may fall out of fashion, potentially leading permanent liner wearers to regret their choice or resort to costly and painful tattoo removal procedures.
AS FEATURED ON:
AS FEATURED ON:







By: Katarzyna Leszczynsk

Permanent lip liner is a cosmetic tattoo.

By: alex83ch

There are several drawbacks to permanent lip liner.

By: armina

Individuals who undergo collagen injections should wait at least several months before having a permanent lip liner procedure.