What Is Propolis Toothpaste?
Propolis toothpaste is toothpaste made from bee propolis, a substance comprised of a mixture of resin, oils, beeswax, and pollen. It is thought to be a natural way to clean teeth and maintain the health of gums. While people who use it claim that it lowers the likelihood of tooth decay and cavities in the teeth, some regulating bodies disagree — the American Dental Association in the U.S., for instance, has not approved any brands of propolis toothpaste. The toothpaste is not to be used by everyone; specifically, it should be avoided by people with certain allergies, individuals with asthma, and women who are pregnant or breastfeeding.
In most cases, propolis toothpaste is mixed with several other ingredients in addition to bee propolis. For example, many toothpaste brands contain a base of baking soda and water. In addition, other natural flavors sometimes are included. These may include mint, fennel, cloves, grapefruit, or tea tree oil.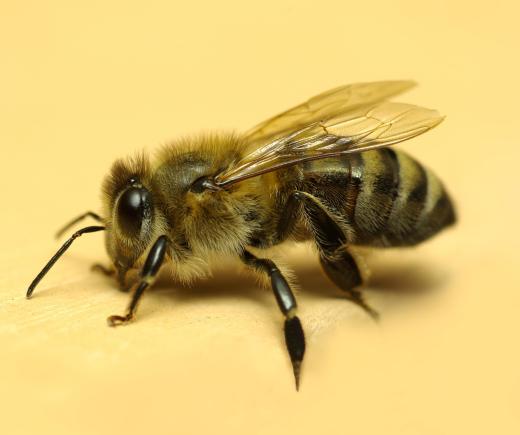 It is possible to add propolis to any store-bought toothpaste as well. For example, propolis can be purchased from natural food stores as a paste. The commercial, store-bought toothpaste can be removed from the end of the tube and then mixed with the propolis. In some cases, it is possible to place the propolis-infused toothpaste back into the open end of the tube. In other cases, it may be necessary to keep the newly formulated toothpaste in a fresh, sealed container.
People who use propolis toothpaste believe that it may reduce the likelihood of tooth decay and cavities. Since propolis is thought to be an anti-inflammatory agent, it is believed to reduce a form of gum disease called gingivitis as well as inflammation of the bones and ligaments around the teeth, called periodontitis. Propolis toothpaste is also thought to work as an antibacterial. As a result, it prevents the growth of bacteria that can cause foul smelling breath. At a minimum, many people believe that it fights plaque build-up.
Propolis toothpaste should not be used by everyone. For example, people who are allergic to bee stings and bee by-products should avoid propolis-infused toothpastes; by its very nature, propolis contains bee pollen and traces of honey. It should also be avoided by people who are allergic to balsam, poplar, and conifer trees. There have been some reports that the product causes reactions in people who suffer from asthma, and caution is advised for pregnant or breastfeeding women, as full research has not been conducted on the effects of propolis on infants.
AS FEATURED ON:
AS FEATURED ON:







By: artist_as

Propolis is naturally secreted by bees.

By: auremar

Individuals suffering from asthma should avoid using propolis toothpaste.

By: evgenyatamanenko

Breastfeeding women should not use propolis toothpaste.