What is Semi-Permanent Lip Liner?
Semi-permanent lip liner consists of using lip color to trace the outer perimeters of the lips. Unlike temporary lip liner, it can stay on the lips for as long as two weeks, depending on the brand. Certain natural dyes are mixed with individual colors for a variety of options. Applying semi-permanent lip liner isn't uncomfortable or painful as the process only involves applying the liquid color and allowing it to completely dry. Typically, the colors come in a long plastic tube with a pointed felt tip for an easy application.
Most of the time, semi-permanent lip liner is used for convenience. It will not have to be applied or touched up for several days, but it can also be a determining factor in deciding if a permanent lip liner should be used. Permanent lip liners are tattooed onto the outer lips and choosing the wrong tint can turn into a life-long mistake. Experimenting with different semi-permanent lip liner colors is a way to avoid this.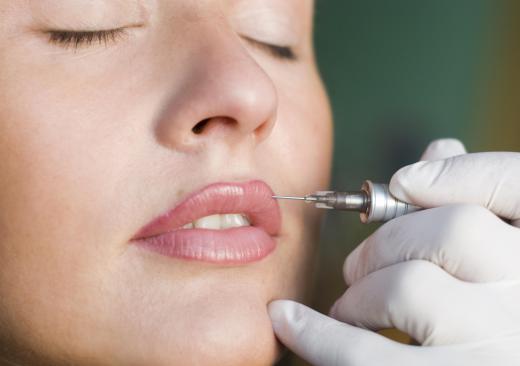 The dyes used for semi-permanent lip liner are not the same as dyes used in tattooing. They are made from herbs and they are mainly henna based. Henna is a shrub that produces tiny blue or violet blooms. The leaves are dried and crushed into powder, which produce a stain or dye when mixed with an acidic liquid. Depending on the acidic liquid used, the color of the stain will either be reddish brown or have a dark orange hue.
After applying a semi-permanent lip liner, the same natural dyes can be used to enhance other areas of the face and the hair. There are many henna-based hair colors, eyeliners, and lip gels to choose from. Similar colors can be used for an overall uniformed appearance or different colors can be used to accentuate the lips or eyes. A henna-based lip gel can also be used with a semi-permanent lip liner to fully enhance the lip area.
If the semi-permanent lip liner is henna based, there are typically no negative reactions. Certain cosmetic brands add chemicals to these products, which can cause allergic reactions. Para-phenylenediamine is sometimes added to these types of cosmetics and people who are sensitive to it should avoid henna-based products. Although these cosmetics can be applied at home, a licensed cosmetologist can provide stenciling and exact lines for a more even look.
AS FEATURED ON:
AS FEATURED ON:







By: Katarzyna Leszczynsk

Different semi-permanent lip liners might be experimented with before getting a lip liner tattoo.

By: alex83ch

Some semi-permanent lip liners last up to two weeks.