What Are the Different Types of Shea Butter Products?
Shea butter is a rich moisturizing butter used in hair-care and skincare products. It is derived from nuts that grow on the Shea tree, a tree native to Africa. Shea butter products include soaps, facial creams and body lotions, hair conditioners, body oils and lip balms.
Naturally high in skin-nourishing vitamin E and vitamin A, shea butter skincare products help to rebuild damaged skin cells. Shea butter molecules are similar in structure to the natural oils produced in the skin, allowing it to penetrate quickly and deeply into the cells for long-lasting moisture. Shea butter skincare products smooth and hydrate dry, damaged skin and rough, flaky areas.
Shea tree nuts have a hard outer shell that holds a rich, buttery kernel. The shea butter used in shea butter products comes from this oil-rich kernel. When harvested, it is a cream-colored butter that is soft and malleable at room temperature and hard when cold. A nugget of cold shea butter, when pressed against warm skin, will soften and turn into a smooth oil. When used as an ingredient in products, the hard butter is melted over a low heat and added to other oils and water-based ingredients.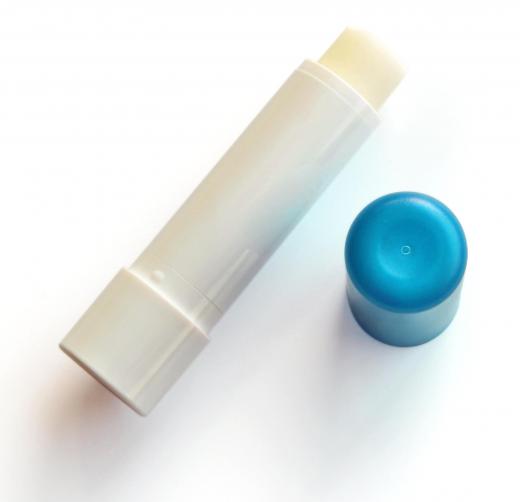 Soaps are also among the shea butter products. Soap is made by mixing oil and lye. Lye on its own is highly toxic and will burn through the skin, but once mixed with fat or oil, it becomes neutral and effectively cuts through dirt and oil. Soap made with shea butter uses lye combined with pure shea butter or a blend of shea butter and other oils. The moisturizing quality of any soap depends on the type and percentage of oil used. Shea butter soap is a highly moisturizing soap product.
Creams and lotions are types of shea butter products that blend together oil and water. Shea butter blended with a water-based ingredient makes shea body lotions, face creams and hand creams. A balm is similar to a cream but stiffer, as it contains more oil and less water. Shea butter can be made into a healing moisturizing lip treatment as well.
When shea butter is made into a body oil, it has to be mixed with other oils that remain in a liquid state at cool temperatures. Examples of these oils include almond, sesame and olive oil. The shea butter is melted and combined with the other oils. When it cools, it remains in a liquid state as a rich body oil.
Hair-care products made with shea butter are moisturizing and can help repair damaged hair. The raw butter can be added to shampoo and conditioner as well as to other hair treatment oils. Shea butter alone is heavy and oily, but when mixed with other natural ingredients, this African seed butter is nourishing and moisturizing.
AS FEATURED ON:
AS FEATURED ON:







By: Martinan

A woman using shea butter hand cream.

By: Nazzu

Some lip balms contain shea butter.

By: Konstantin Yuganov

Facial creams may contain shea butter.

By: Elenathewise

The fruit of Shea trees is the source of shea butter.