How do I Choose the Best Moisturizing Soap?
Throughout history, moisturizing soap has typically been associated with luxury and the privileged, while more common soaps would tend to dry the skin and require the use of a moisturizer after washing. In more modern times, moisturizing soap has become much more common and easily accessible. In fact, it can sometimes be difficult to choose the best option from the many possibilities available. It is generally important to consider several factors, including ingredients, effectiveness and price, when choosing the best moisturizing soap.
There are many types of moisturizers which might be used in soap, with each brand containing a slightly different blend. Common commercial brands of moisturizing soap may include glycerin, shea or cocoa butter and aloe for skin conditioning. Many soaps may also contain synthetic moisturizers, which are meant to last longer and work better than their natural counterparts, but may be harsh on sensitive skin types.
Soaps made of natural ingredients, especially handmade soaps, tend to be a bit more expensive than those which are commercially made and widely available. Natural moisturizing ingredients commonly used are olive oil, almond oil and milk. These natural ingredients in a moisturizing soap are said to be more gentle than synthetic ingredients and might be an option for those who find synthetic moisturizers too harsh for their skin. One disadvantage to natural ingredients is they do generally have a shorter shelf-life than synthetics and can sometimes spoil if left unused for more than five months or so.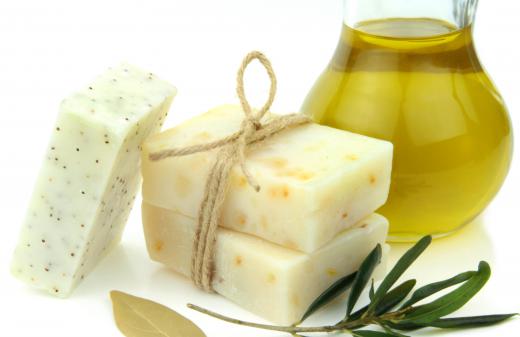 Liquid and foaming cleansers are also generally available as alternatives to bar soap. These soaps can be used in the same way as the bar and are meant to last longer. The containers for liquid soaps can often be refilled, which may cut costs overall. Foaming soaps are actually liquid soaps which have had air added to create a more lightweight formula. They may contain the same ingredients as most liquid soaps, but create less waste.
Choosing the best moisturizing soap highly depends on your preference and skin needs. As a general rule, moisturizers which are lightweight and easily absorbed by the skin are better than those which feel heavy and oily. Seeking advice from a dermatologist may help in determining whether lightweight, synthetic or natural moisturizers would work best on your skin. When dealing with skin conditions such as acne or rosacea, it is usually important to consider whether certain moisturizers will soothe or irritate the condition.
AS FEATURED ON:
AS FEATURED ON:







By: sassyphotos

Aloe is a great moisturizer.

By: Hayati Kayhan

Glycerin, a natural moisturizer, is a by-product of handmade soap.

By: siraphol

Soap in a pump bottle is ideal for bathrooms and kitchens.

By: xy

Moisturizing soap is recommended for people who regularly wash their hands so skin doesn't dry out.

By: CandyBox Images

People with oily skin may want to use gentle soaps that can reduce excess oil without leaving the skin dry and irritated.

By: Lsantilli

Moisturizing soaps often include glycerin, shea or cocoa butter and aloe.

By: picsfive

The choice of moisturizing soap can depend on the user's skin type, among other factors.