Many women want luscious, curly eyelashes and often use an eyelash curler to achieve this look. Curling mascara is a type of mascara that manufacturers claim will enhance the natural curl of a person's lashes with or without an eyelash curler. There is, however, some debate as to whether this eye makeup actually works.
Basic mascara is made with a few staple ingredients, which often include water, wax, oils, pigments, and preservatives. The waxes used in mascaras can include beeswax, carnauba wax, and paraffin wax, and they are used primarily as a base and to thicken sparse lashes. Pigments are used to achieve dark eyelashes, or, in some cases, brightly colored lashes. In many brands of curling mascara, there is an additional ingredient that is supposed to curl eyelashes. More times than not, though, this ingredient simply holds the shape of the natural or artificial curl better than other types of mascara.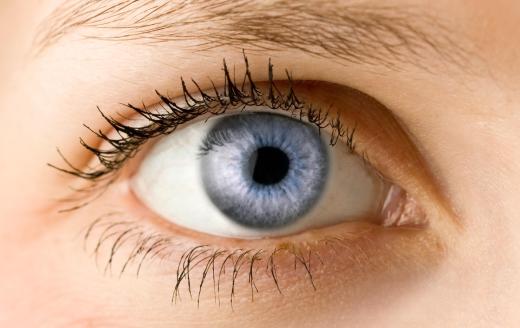 Many companies also suggest that it is not just the ingredients in their curling mascara that curls the lashes, but also the mascara wand. Most basic mascaras, for example, have a simple straight mascara wand, or brush, to apply the product to a person's lashes. Curling mascaras will typically have a curved mascara wand. This special applicator is said to provide better coverage and coat each lash.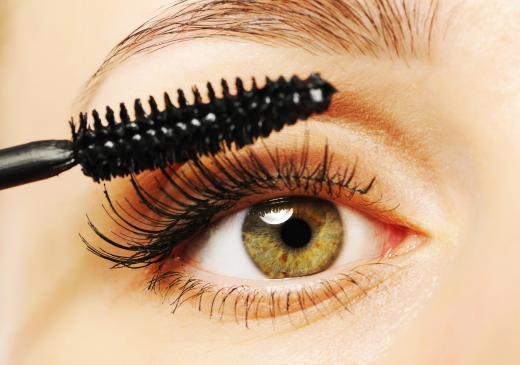 Applying a curling mascara to eyelashes is almost no different than applying any other type of mascara. First, most makeup artists stress that it is important to start out with clean lashes, and most will also suggest starting from the base of the lashes. From there, it is recommended that an individual wiggle the mascara wand quickly left and right while working her way to the tips of the lashes. This wiggling action will help separate the lashes and prevent any clumps.
If thicker or more prominent lashes are desired after applying one coat, an additional one or two coats can be applied. Applying these coats, however, should be done immediately, before the first coat dries. If curling mascara, or any other mascara for that matter, is applied after the previous coats have dried, ugly clumps can accumulate on the lashes.
Some consumers have found that a curling mascara is more likely to clump because it tends to be a little thicker than other types of mascara. To avoid this, an individual can wipe the mascara wand on a tissue before using it and apply no more than two thin coats of curling mascara. If there are still clumps, a clean mascara wand or lash brush can be run through the eyelashes after the mascara has been applied.
AS FEATURED ON:
AS FEATURED ON:







A woman wearing curling mascara.

By: haveseen

A woman applying curling mascara to her eyelashes.