What is Smudge Proof Mascara?
Smudge proof mascara is a cosmetic used to darken, thicken, and lengthen eyelashes without smearing onto the surrounding skin. It is available in numerous hues. The formulation differs from regular mascara and waterproof mascara, while giving similar cosmetic results.
Most modern mascaras are in cream form, in a tube with an applicator wand attached to the cap. In 1917, when mascara was first invented by Eugene Rimmel, mascara was a combination of petroleum jelly and coal dust compressed into a cake and applied with a small brush. Cake mascaras are rarely used today, and modern versions have much more complex formulas.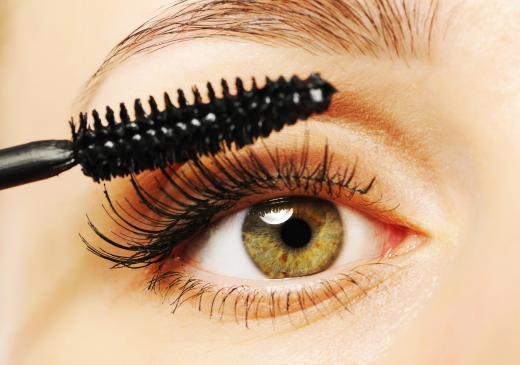 A disadvantage to wearing mascara is the tendency for the product to smear if the eyes are rubbed during the day or simply during normal wear. Smudge proof mascara is formulated to resist transferring it to the surrounding skin. The most recent versions include acrylic copolymers that form tiny tubes around the eyelashes as they dry. Removal is easy with warm water and gentle massage around the eye area. The smudge proof mascara will come off as small flecks or tubes, and will not smear during removal.
In contrast, regular mascaras mostly consist of pigments and waxes. While the darkening, lengthening, and thickening properties are effective, this mascara is more prone to smudging or running. Regular mascara is easily removed with soap and water.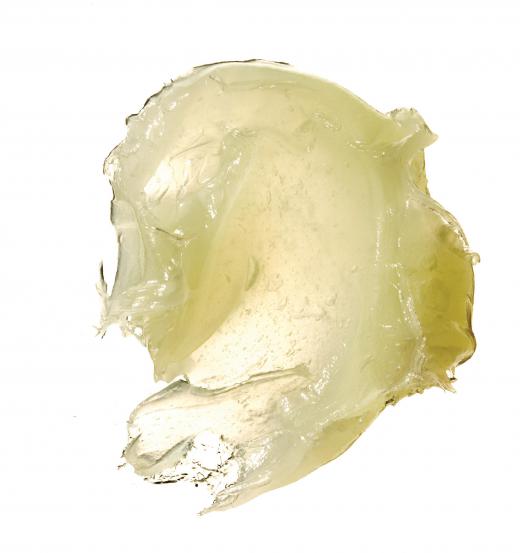 Waterproof mascara contains a solvent that makes it resistant to moisture. Sweat, tears, rain, or water generally do not affect this type of mascara. Special eye makeup remover is necessary to gently remove waterproof mascara without damaging or pulling the eyelashes.
Aside from smudge proof mascara, there are several ways to keep the pigments of mascara from transferring to the skin. Make sure all moisturizers and eye creams are absorbed into the skin prior to application. The oils from these products can cause mascara to smudge. Also, apply any concealers to the under eye area and then lightly powder with a translucent powder.
Before applying mascara, wipe any excess from the tip of the wand so that it does not clump on lashes or transfer to the skin. Carefully brush the wand through the upper lashes to coat them with mascara. Use the tip of the wand to apply the product to lower lashes. Any errant mascara can be lifted from the skin with a clean, dry cotton swab.
Whether a regular, waterproof, or smudge proof mascara is chosen, make sure to replace it every three to six months to prevent a build up of bacteria. Bacteria can cause inflammation, irritation, or infection in the eye. If an infection occurs, discard any remaining product and use a new tube once the infection has cleared.
AS FEATURED ON:
AS FEATURED ON:







By: haveseen

A woman applying smudge proof mascara to her eyelashes.

By: blueee

Mascara was originally made by mixing coal dust and petroleum jelly.

By: Africa Studio

Mascara is a makeup that is applied to the eyelashes in order to make them look longer, thicker, and fuller.

By: fotografiche.eu

Failing to wear waterproof mascara when it rains – or when sweating or crying – can cause the makeup to run and smudge.