Best Face Wash for Teenage Acne
Our Top Picks
Going through your angsty teenage years is always tough, but it can be especially challenging if you are dealing with acne. If you have acne, rest assured, you are not alone. Acne, a skin disorder that primarily affects the face, shoulders, chest, and back, impacts approximately 8 in 10 people between the ages of 11 and 30, according to the National Institute for Health. Not only is acne painful and uncomfortable, but it can also take a toll on your confidence and psyche, especially for teens.
During these years, it's important to develop good skincare habits and start taking preventative measures to combat the dreaded acne monster. While there is no one size fits all solution for everyone, the most effective way to tackle those pesky breakouts is by finding the right facial cleanser for you. It can be costly, time-consuming, and stressful searching for the best acne product for your skin type, which is why we've rounded up a go-to face wash guide for acne-prone skin. Here are the top-rated face washes for teenagers with acne, separated by formula and skin concern.
What Causes Teenage Acne?
Teenage acne is fueled by fluctuating hormones that trigger sebaceous glands to overproduce oil, which is also known as sebum. According to the Cleveland Clinic, breakouts occur when that oil combines with dead skin cells and other debris, which results in skin inflammation and clogged pores. Therefore, when you see a whitehead or a blackhead pop up on your face, it's actually a clogged sebaceous gland. People with acne have glands that make more oil and are more easily plugged, causing those glands to swell.
Acne is genetic and there's no exact age or time when this surge of sebum oil stops completely. This means, some people never get acne and others grapple with it for years, even into adulthood.
How To Choose The Best Face Wash For Teenage Acne?
To find the best acne face wash to suit your needs, you will want to keep a couple of important factors in mind. If you are dealing with a specific type of acne, such as eczema or cystic acne, certainly take that into account before you purchase a cleanser.
Find a Multi-Use Face Wash
By their teenage years, a lot of members in the under 18 club start to experiment with make-up. Even if you or your teen doesn't typically wear make-up, a lot of teens and tweens will use blemish concealers or powders in an attempt to cover up their acne.
Instead of purchasing make-up remover, toner, and cleanser, try to find a multi-purpose formula that gets the job done all at once. Many facial cleansers also remove make-up, so take that factor into account during your search.
Search for Gentle Cleansers
Teenagers dealing with acne have especially sensitive skin. When searching for the acne formula for you, extra-strength cleansing formulas might seem like an appealing choice, however, you might want to hold off on these face washes for the time being. Powerful cleansers are often full of intense chemicals, which can be overly drying, causing teenage skin to break out even more. Instead of looking for cleansers that will "kill" the acne problem the most quickly, gear your search towards cleansers that are designed for sensitive skin, and target acne by cleaning pores and removing bacteria.
Keep in mind that not all acne is the same, and it might take some trial and error before you determine what your individual skin type responds best to.
How We Chose The Best Facial Cleansers For Teenagers With Acne
There are several factors we took into consideration when selecting the best facial cleansers for teenage acne, including the ingredients, online reviews, and affordability. We selected face washes that contain confirmed beneficial ingredients including salicylic acid and benzoyl peroxide. All of these products are highly rated and recommended, not just by consumers but by dermatologists as well. Lastly, although these products range in price, none of them will break the bank.
Best Overall: Neutrogena Oil-Free Acne Wash
Luckily, you don't need to break the bank to find an effective acne wash that gets the job done. According to many board-certified dermatologists, most drug stores are filled with budget-friendly cleansers that successfully prevent and remove blackheads, whiteheads, and general breakouts.
The Neutrogena Oil-Free Acne Wash is a salicylic-acid-based cleanser and the number one dermatologist-recommended acne-fighting face cleanser. This acne-fighting formula combines a strong acne treatment and facial cleanser into one formula, therefore, it both cleanses your skin and prevents future breakouts in a single step. This drug-store favorite is residue-free, oil-free, and non-comedogenic, which means it will not clog pores, and it will not dry or irritate skin, making it an especially great option for teens.
Use: Use the cleanser twice a day. Wet your face, apply to your hands, add water, and lather up the formula. Massage your face gently and then rinse thoroughly.
Key Ingredients: Contains 2% salicylic acid acne medication
Best for Combination Skin: Murad Clarifying Cleanser – Acne Face Wash
If your skin type isn't oily and it isn't dry, then you most likely fall somewhere in-between. You have what's called a combination skin type, and Murad's Acne Control Clarifying Cleanser is one of the best options out there for you. This single-step formula works to both clear existing blemishes and prevent future breakouts for normal, oily, and combination skin types. Green tea extract is also infused into this formula, which works to help soothe and calm the skin.
Perfect for acne-prone and sensitive skin, this salicylic acid-based cleanser is composed of two types of salicylic acid, which work to clear out breakouts and remove pore-clogging oil and debris from the face. Once the foamy lather spreads across your face, this clarifying cleanser immediately begins combatting your acne, remaining active for hours after use. There have been many clinical tests on this particular cleanser, with extremely positive results. 94% of users said it dissolves excess oil and deeply cleanses skin over a 3-day trial period.
Use: Wet face and massage a small amount of formula over the face and neck. Rinse with warm water and pat dry
Key Ingredients: 1.5% salicylic acid, green tea extract
Best Moisturizing: Kate Somerville Goat Milk Moisturizing Cleanser
While this acne-fighting cleanser may be on the pricier side, it's worth every penny. This milky, moisturizing cleanser is packed with natural ingredients including goat milk, which soothes dry and sensitive skin with natural milk proteins, Manuka honey which nourishes skin without any tightness or irritation, and Jojoba and avocado oils, which work to moisturize and condition the skin.
This multi-purpose, non-foaming formula also removes makeup, dirt, oil, and other impurities while maintaining essential moisture in the skin. This nourishing face wash is also sulfate-free and has been clinically tested for sensitive skin.
Use: Wet face and apply a small amount to your face and neck, massaging gently for approximately 30 seconds. Rinse and pat your face dry. Use twice a day in the morning and at night
Key Ingredients: Goat milk, Manuka honey, Jojoba, and avocado oils
Best Exfoliator: Philosophy Microdelivery Exfoliating Facial Wash
If you are specifically looking for an exfoliating wash for teens, Philosophy's Microdelivery Exfoliating Facial Wash is one of the best options available.
This gentle mini peel exfoliating face wash deeply cleanses the skin, which helps alleviate problems such as facial skin peeling, dryness, and flakiness. By massaging this exfoliator on your skin for 30-60 seconds, the micro-exfoliating beads gently work away at dead skin and impurities to reveal a smoother, brighter, and more even complexion. Formulated with vitamin C and gentle exfoliants, this award-winning micro-delivery formula is gentle enough for daily use and helps buffer fine lines to give your skin a healthy glow. The best part? This face wash is perfect for teens with all skin types.
Use: Wet face and apply a small amount of formula to your face, gently massaging for 30-60 seconds. Rinse thoroughly. Use daily.
Key Ingredients: Vitamin C and gentle exfoliants
Best Foaming: TheFaceShop Rice Water Bright Foam Cleanser
With all of the cleansers out there to choose from, TheFaceShop's Rice Water Bright Foam Cleanser is a great foamy go-to. TheFaceShop is Korea's most commercially successful skincare brand, with every product containing approximately 600 natural ingredients such as flowers, grains, plants, mineral water, and oriental medicine to nourish and revitalize the skin.
With its rich and dense foam, this gentle, brightening cleanser is enriched with rice extracts to provide your skin with a clear and even complexion. The creamy texture of the formula combined with the infused natural rice water solution works to cleanse your skin without irritation.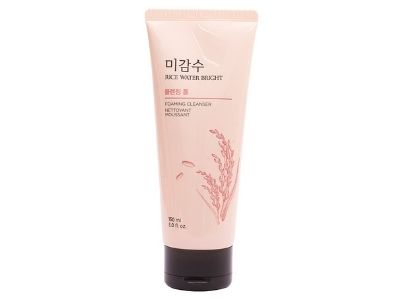 Use: Wet face and rub a desired amount of formula into wet hands. Massage onto your face and rinse thoroughly with warm water
Key Ingredients: Rice water, glycerin, purified water
Best for Dry Skin: Derma E Hydrating Gentle Cleanser
If you suffer from acne, but also are prone to dryer skin, dermatologists recommend opting for a gel formula over a foam formula. Gel formulas tend to be more hydrating than foaming cleansers and often are more effective for those with dryer skin.
Both moisturizing and sulfate-free, the Derma E Hydrating Gentle Cleanser uses hydrating and soothing ingredients such as hyaluronic acid and chamomile, along with vitamins A and E, to gently cleanse and condition skin for a smooth and dewy finish. This ultra-hydrating cleanser also successfully washes away dirt, oil, and other debris, with no drying after-effects.
Use: Pump a small amount of formula into dampened hands and massage over the face (can also apply to the neck). Rinse face thoroughly.
Key Ingredients: Hyaluronic Acid, Chamomile, Lemon Grass, and Papaya
Best for Cystic Acne: PanOxyl Foaming Wash
According to John Hopkins Medicine, cystic acne is a type of acne that is characterized by pus-filled, deep, and sore pimples. If you grapple with cystic acne, it's especially important to locate a cleanser that can remove acne-causing bacteria and soothe irritation caused by cystic pimples.
PanOxyl Foaming Wash is an affordable, deep cleaning cleanser that is the highest over-the-counter Benzoyl peroxide wash available. PanOxyl Foaming Wash can unclog pores and redness with each use, help control face oil, and kill acne-causing bacteria on contact. The most important thing to keep in mind when using this maximum-strength formula is that it contains 10% benzoyl peroxide. As with all cleansers that contain an active ingredient, you will want to keep it on your skin long enough for it to have a significant impact. Try either doing some beauty multi-tasking while the formula sits on your face, or sing the alphabet before washing it off.
Use: Wet the area to be cleansed, apply a small amount of cleanser, massage into skin for 2 minutes. Rinse the cleaned area and pat dry. Use once a day. Only increase to twice a day if instructed by your Dermatologist
Key Ingredients: Benzoyl Peroxide (10%)
Best for Hydrating: CeraVe Hydrating Facial Cleanser
Perfect for sensitive and dry skin types, CeraVe Hydrating Facial Cleanser helps restore the protective barrier of dry skin through three essential ceramides. This hyaluronic acid-based formula provides 24-hour hydration and leaves the skin feeling soft with a non-greasy finish. This gentle-lotion-based facial cleanser also removes make-up, dirt, and excess oil, without stripping the skin of necessary moisture.
Developed with dermatologists, this CeraVe cleanser has also been accepted by the National Eczema Association. Eczema is a skin condition that causes the skin to become dry and inflamed. Due to its hydrating ingredients, this formula is a great choice for teens with eczema, as the hyaluronic acid and ceramides help moisturize the skin.
Use: Wet skin with warm water, and massage formula into the skin with a gentle, circular motion. Rinse thoroughly and pat dry.
Key Ingredients: Ceramides and hyaluronic acid
Best for Sensitive Skin: Neutrogena Ultra Daily Creamy Face Wash
If you are on the hunt for a mild face wash for particularly reactive skin, Neutrogena Ultra Daily Creamy Face Wash is an optimal choice. Geared towards sensitive skin types, including skin with acne, eczema, or rosacea, this daily face wash is formulated with limited ingredients and is both hypoallergenic and noncomedogenic. This ultra-gentle formula does contain skin-nourishing polyglycerin and glycerin.
From a dermatologist-recommended brand and developed by a dermatologist, this daily face wash still effectively cleanses skin of excess oil, dirt, bacteria, and makeup, while leaving your face feeling moisturized and soft.
Use: Wet face. Pump cleanser into hands and gently massage face. Rinse thoroughly and pat dry
Key Ingredients: Glycerin and Polyglyceryl-10 Laurate
Best for Oily Skin: Mario Badescu Acne Facial Cleanser
Mario Badescu's Acne Facial Cleanser is able to deep clean even the most oily pores, helping troubled skin feel incredibly clean. This salicylic acid-based formula also includes a calming blend of aloe vera, chamomile, and thyme, to maintain necessary facial moisture, break down impurities, and encourage a balanced and healthy complexion.
Use: Wet skin and gently massage cleanser in circular motions. Rinse thoroughly with warm water. Avoid getting the product too close to the eye area.
Key Ingredients: Salicylic acid, aloe vera, chamomile, and thyme
Best for Stubborn Acne: Humane Maximum Strength Wash
Getting rid of hormonal acne can be challenging. Adopting a skincare routine and making a few changes to one's lifestyle can make a difference, but using stronger products might be necessary in some cases.
With a 10% concentration of benzoyl peroxide, this face wash from Humane is one of the strongest medicated washes you can buy over the counter. Studies show significant improvement in subjects who use topical benzoyl peroxide to treat acne, and research also suggests that benzoyl peroxide might be a better treatment for pustules.
Why We Love It:
Effective product with 10% benzoyl peroxide
Vegan and cruelty-free
Kills the bacteria that causes acne
What We Don't Like:
Some patients might respond better to salicylic acid
Use: Apply once or twice a day. Wet your face with cool water, apply a small quantity of face wash, and massage the product into the skin with small circular motions. Wait two or three minutes for your skin to absorb the product before rinsing thoroughly and patting dry.
Key Ingredients: Benzoyl peroxide
Best for Body Acne: Proactive Acne Body Wash
Did you know that almost 10% of the global population suffers from acne? Acne usually affects the face since it's the area with the highest concentration of sebaceous glands, but skin pores can become clogged in other areas, causing body acne to appear.
This body wash helps control body acne with Vitamin E, an ingredient that promotes healthy skin cells. This product also contains microbeads to exfoliate the skin, get rid of dead skin cells, and prevent pores from blocking.
You'll also find hydrating ingredients like shea butter or aloe vera extract to soothe the skin and help control sebum production.
Why We Love It:
It's easy to use
The formula is gentle and hydrates your skin
Vitamin E will result in healthier skin
What We Don't Like:
Stubborn body acne might require a medicated wash with salicylic acid
Use: Use once or twice a day. Wet your skin and lather with the gel formula like you would use a regular body wash. Take the time to massage the product into your skin to exfoliate, especially in areas where you tend to get acne.
Key Ingredients: Vitamin E, shea butter, sweet almond oil, cocoa butter, aloe vera extract
Best Gel Formula: La Roche-Posay Medicated Gel Cleanser
This medicated cleansing gel from La Roche-Posay is an effective way to control sebum production and reduce acne.
With a 2% concentration of salicylic acid, this cleanser will reduce inflammation, accelerate healing, and help your skin produce new cells.
This product also contains lipo-hydroxy acid. This ingredient stimulates collagen production for healthier skin and helps exfoliate your skin to get rid of dead skin cells.
Exfoliating is key for treating acne since acne-causing bacteria need dead skin cells to thrive. However, many exfoliating products can be harsh and cause inflammation that worsens acne. With lipo-hydroxy acid, you can exfoliate without being too harsh on your skin.
You'll also find glycerin on the ingredient list of this product. Glycerin is a hydrating agent that addresses dry skin and controls sebum production.
La Roche-Posay offers an effective and affordable face wash with this product, and it's also ideal for those with sensitive skin since there are no oils or fragrances that could irritate the skin.
What We Love:
The foaming gel is easy to apply
Lipo-hydroxy acid is a great way to exfoliate without irritating the skin
Salicylic acid is the best way to treat acne
What We Don't Like:
The product contains sulfates, which can cause dryness and irritation
Use: Add this product to your morning and evening skincare routines. Start by getting your face wet. Apply a small quantity of the face wash and use circular motions to get the product to lather. Continue massaging the product into your skin for a few minutes before rinsing thoroughly.
Key Ingredients: Salicylic acid, Lipo-hydroxy, Glycerin