What is Semi-Formal Attire?
The definition of semi-formal attire can be somewhat flexible, particularly for women. In general, the term is defined as clothing that is more dressy than everyday or business attire, but not so formal as to include tuxedos or fancy gowns. Semi-formal dress is still considered formal wear, however, and should be approached with this in mind. What type of clothing is appropriate for a semi-formal event also often depends on the event itself; semi-formal attire for a daytime wedding can be different from that worn to an evening business event or a party. For men, semi-formal attire typically means a dark suit and tie, while for women, it can include a cocktail dress or dressy suit.
Men's Attire
For men, semi-formal attire means wearing a full suit, with vest optional. A tie, either bow or straight, should be worn, and the shirt should be a simple button down. Suit fabric choices are primarily wool gabardine or cashmere; however, a wool blend is usually acceptable. Linen or seersucker suits are not formal enough for semi-formal attire. In the modern sense, a tuxedo is considered formal attire, and a man wearing one to a semi-formal event would likely be considered overdressed.
Semi-formal dress is typically conservative, so the color of the suit, shirt, and tie should be muted. For most occasions, the suit should be dark; black or dark blue are often the best options, although a lighter color would be acceptable for a daytime event. The shirt should typically be white, and neckties should also be conservative, with a subtle pattern and in colors that coordinate with the suit. Dark trouser socks and dress shoes like Oxfords should be worn. Sports coats, novelty ties, polo shirts, and khaki pants are not appropriate at any semi-formal event, nor are jeans or shorts.
<! -- photo: closeup of men's business suit -->
Women's Attire
For women, a relatively wide variety of clothing can be considered semi-formal attire. According to some strict definitions, a woman should always wear a dress to a semi-formal event, although other etiquette experts suggest that a dressy pantsuit or dress suit would also be appropriate. Preferred fabrics include silk, velvet, cashmere, or high quality polyester brocades; usually, anything silky-looking can be a good option. Except for cashmere, a wool business suit is not considered semi-formal attire since it is typically not dressy enough.
As with men's clothing, women's outfits for a semi-formal event should be relatively conservative, and avoid showing too much leg or cleavage. Hem lengths vary, but dresses or skirts should end no more than 1 inch (2.54 cm) above the knee. Longer skirts paired with a dressy top can be appropriate, but a floor-length gown might be too formal for most events. Tops should not be cut too low or be too revealing. Strapless tops or dresses can be acceptable choices for some semi-formal events provided that they aren't too skimpy, but should be avoided at business functions.
<! -- photo: woman raises her wine glass --->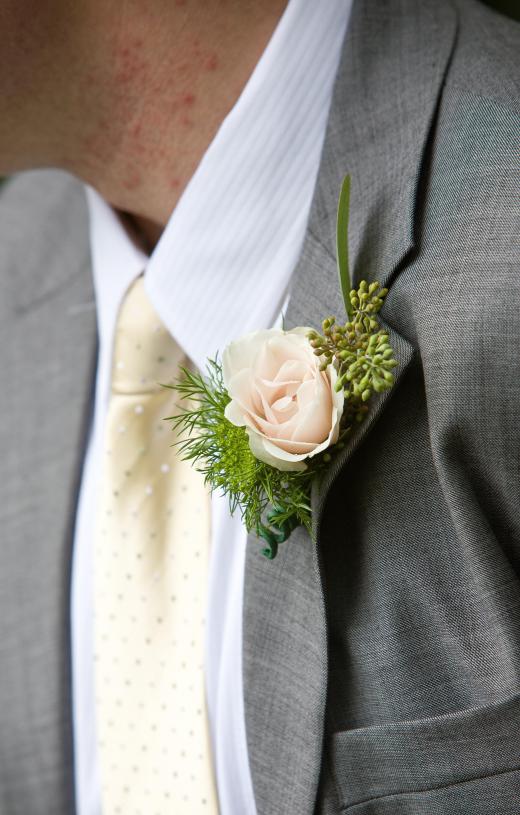 Pantsuits can work as semi-formal attire, if they are made in silk, polyester, cashmere, or a similar fabric and accessorized appropriately. A woman might also wear a dressy top and tuxedo pants made out of appropriate fabrics and still fit in. Jeans, shorts, very short skirts, and other casual clothing items should not be worn to a semi-formal event.
Shoes and Accessories
Generally, semi-formal attire means dress heels for women, usually in colors coordinating with the outfit. A dressy flat or strappy sandal could also be appropriate, depending on the style; a metallic or shiny patent leather shoe is often a good choice. Flip flops or other casual shoes are not dressy enough for this look.
A range of jewelry is also acceptable for a semi-formal outfit, with bracelets, rings, and necklaces all adding to the elegance of a dress. Materials should coordinate with the outfit; silver, gold, and other metallics would fit with nearly any semi-formal attire, but jewelry made of plastic, wood, or cord would probably seem too casual in most cases. Precious and semi-precious stones could add sparkle, but a wide necklace covered in diamonds would probably be too showy.
The Confusion Over Semi-Formal Attire
Very strict dress codes are less common in most levels of society than they were a few decades ago, and the definition of semi-formal attire has become far less stringent than it once was. Although this means that people have more choices when it comes to dressing for events, it also means that the lines between formal, semi-formal, business semi-formal, cocktail, and other degrees of formality have become confused. In some cases, the host of an event might not be entirely clear on what "semi-formal" really means.
When dressing in semi-formal attire, a person should consider the nature of the event. Clothing for a daytime event is typically slightly more relaxed than for an evening party, while a semi-formal business dinner usually requires a different look than a holiday cocktail party. If in doubt, individuals should take the time of the event and the type of people who will be there into account; a phone call to the host or hostess can also help better define the dress code.
Dressing for Specific Events
For a daytime wedding, semi-formal attire means a light colored suit for a man and a knee-length dress, dress suit, or pantsuit for a woman. Darker colors and very rich fabrics should generally be avoided as they can seem too formal for the daytime; they would be appropriate for an evening wedding, however. Other semi-formal evening wedding attire could include a dark suit for a man and little black dress or dressy top and skirt for a woman.
A semi-formal business event doesn't necessarily mean a lot of variation for men, but women's clothing should be more business-like. A dressy suit is usually more appropriate than a cocktail dress, unless the dress includes a jacket. Sleeveless and strapless tops are usually considered inappropriate business attire and should be avoided; in general, clothing should be on the more conservative side.
Cocktail and holiday parties generally allow for a wider range of clothing choices for both men and women, although these options should not stray too far outside of the traditional semi-formal definition. There is more room for creativity for men, with a wider range of tie or vest choices still being appropriate; a red or green tie could be worn to a holiday party, for example. For women, the best choice is usually a slightly shorter cocktail dress rather than a long skirt or dress suit. Jewelry also might be a little flashier, in keeping with a slightly more relaxed mood.
AS FEATURED ON:
AS FEATURED ON:







By: Nejron Photo

For men, semi-formal usually means wearing a suit.

By: singulyarra

Woman in a black dress.

By: pelvee

A cocktail dress.

By: Elnur

Semi-formal attire for men.

By: Eric Limon

Men sometimes wear a boutonniere with semi-formal attire.

By: fabi33

Semi-formal attire may consist of dress shoes like Oxfords.

By: alarsonphoto

A solitaire diamond necklace may be worn with semi-formal attire.

By: biker3

Semi-formal attire may be worn to a prom.