Shower oil is one of many beauty products offering an in-shower solution to softer, fragrant skin. Combinations of oils and other products can create many results as preferred by the user, from soft skin to a smoother shave to a favorite scent. Other shower products may consist of shower oils to get similar results, secondary to cleaning the skin. Homemade varieties can be tried for ultimate control of ingredients. A product's instructions should be studied, as application may be most beneficial either before or after the shower, depending on the recommendations of the producer.
Contents vary widely among the various types of shower oil. Some contain almond oil to smooth skin, grape seed to hydrate, and rosemary to soothe. Others include ingredients similar to soap, so that a lather can be worked up and even used for shaving. Many types of moisturizing body wash on the market contain oils to achieve similar results.
Varieties of shower oil can be found by numerous retailers online or among skin-care products at a beauty supply store. People with sensitivities to specific ingredients should carefully read the contents list of chosen products to minimize the risk of an allergic reaction. Others may want to try to rub a small portion into an inconspicuous spot on the body, then wait and watch for a reaction before using on the rest of the body.
Sometimes people suffer from dry skin, especially during cold winter months. Shower oil adds oils and moisture back into the skin, providing a soft, more natural result. Individuals with oily skin, however, may find the skin with an excess of oils and should not use this product.
Some individuals prefer to make homemade shower oil. Recipes are plentiful on the Internet, but the basic ingredients are oils such as jojoba, macadamia, and wheat germ, plus essential oils to achieve desired scent. For example, concoctions may be tailored with lavender to achieve relaxation, or citrus or mint to rejuvenate. The oils should be kept fresh for best results.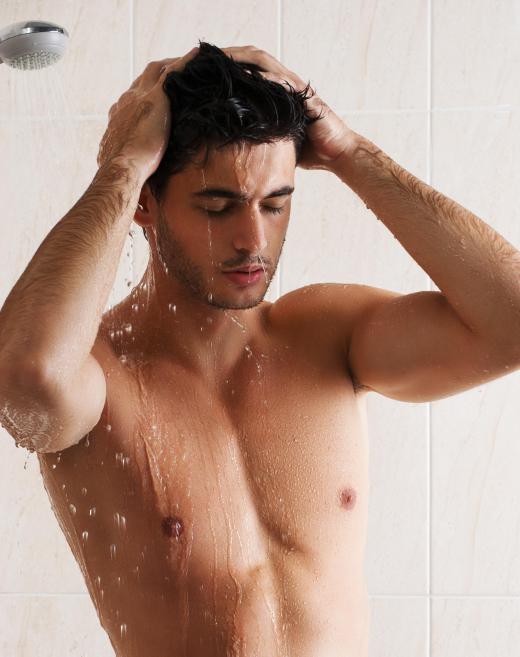 Application of shower oil varies, and instructions should be carefully examined. Some products direct the user to rub the oil in after the shower, giving it a few moments to sink in, then toweling it off. Others recommend application before the shower begins, and then following the normal cleansing routine. Others may instruct to add the oil to bathwater for the best absorption results. The skin shouldn't be shiny or wet-looking when used properly.
AS FEATURED ON:
AS FEATURED ON:







By: Serghei Velusceac

A shower head.

By: Daniel Hughes

Lavender shower oil promotes relaxation and feelings of peace.

By: Iurii Sokolov

Shower oil can help an individual to achieve soft, fragrant skin.

By: Ariwasabi

People who have dry or sensitive skin should choose carefully among the numerous types of shower oil on the market.