What Are the Effects of Soft Water on Hair?
While there are many effects of soft water on hair, two of the most noticeable pertain to cleanliness and overall texture and feel. "Soft" water is water that is generally low in calcium, and this characteristic often leads to increased lather and better bubbles from shampoo and other cleansing products. Hair often gets a lot cleaner as a result, since the shampoo is able to more deeply penetrate each strand. Deep cleaning can strip some of the hair's essential oils away, though, which can lead to locks that look listless, flat, or dull. Many people also find that their hair lacks body or volume under these circumstances. Styling products and tools can often overcome these effects, but getting the right coif often takes a bit of time and experimentation.
Understanding Water Softness
Whether water is classified as soft or hard mainly depends on its measured calcium content. Basically, the higher the calcium content, the harder the water. Soft water tends to be found in places with low levels of limestone deposits or in residences where water softeners or filters are installed. In addition to hair, the chemical composition of water can also impact things like dishwashing, appliance maintenance, and erosion. It's usually somewhat difficult to taste a difference in drinking water, but both are usually safe to consume. The biggest contrasts come with respect to how they interact with different substances and whether they leave a residue.
Calcium content is typically measured in parts per million. To be considered soft water, less than 160 parts per million of calcium must be present. For slightly hard water, the acceptable range is 160 to 320 parts per million, and anything over 460 parts per million is considered very hard. In addition to calcium, other minerals such as magnesium and manganese are also present in hard water, although in minimal amounts. The calcium content in water naturally rises wherever significant amounts of limestone are found in the ground.
Impact on Shampoo
One of the biggest and usually also one of the most noticeable effects of soft water on hair has to do with how well shampoos perform, and how clean the hair actually gets as a result. People who lather their hair with soft water often see more bubbles than they would in more calcium-rich water, in part because the calcium ions tend to bind to the shampoo as well as the hair, reducing the foam that ultimately results. Bathers using soft water typically don't have to use much cleanser, since a little really will go a long way.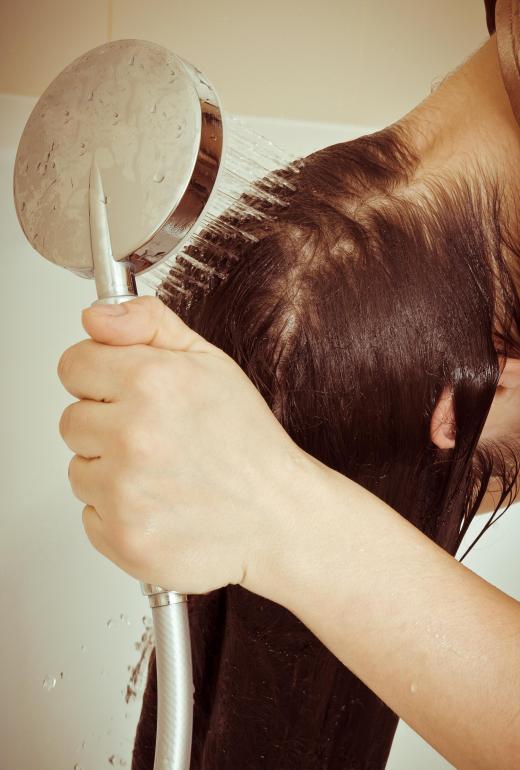 Natural soaps, such as Castile soap, tend to leave a residue behind after washing that makes the hair look stringy and greasy when washed in hard water. Under these circumstances, using soft water on hair proves superior, as all residue is easily rinsed away. As people migrated to increasingly urban areas and in many cases lost ready access to soft water, manufacturers began coming up with alternative cleaning agents, such as sodium lauryl sulfate, to make their products react well under hard water conditions. Otherwise, the only options available would be to purchase water softeners or shower filters to soften the hard water so it would clean more effectively.
Shine and Body
Despite having better cleaning properties, using soft water for hair washing has its drawbacks. Putting the effects of cleaning agents aside, using soft water tends to make hair appear flat and lifeless. While using soft water on hair is helpful in washing away unwanted residue and buildup, factors such as shine and body tend to be sacrificed.
There's also some controversy when it comes to how clean hair really needs to be, or even how clean it should be. Soft water often leads to hair that is literally "squeaky clean," since the chemical composition of the water usually strips out almost all oils and residues. This can cause the strands to make a slight squeaking or high-pitched sound when they're rubbed against each other. While this can be good when it comes to removing the effects of styling products, it can be bad where natural oils are concerned. Most experts agree that some natural build-up is healthy, and can actually prevent strands from damage.
Solutions and Work-Arounds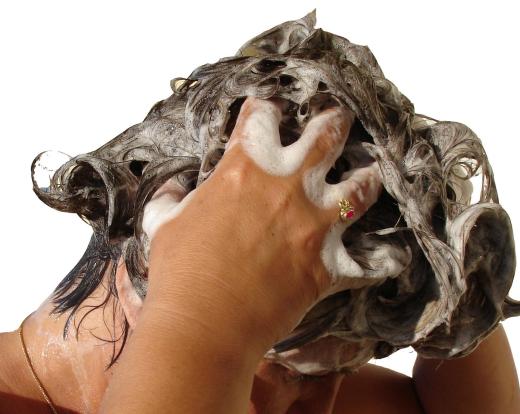 People using soft water often end up using volumizing styling products to give their hair additional body and bounce. Heated tools like blow driers, curling irons, and straighteners can also be helpful, and certain gels and creams can restore lost shine. Whether people prefer using soft or hard water usually depends on personal preferences and what they're used to, and there are pros and cons each way.
Does Soft Water Change Hair Texture?
Both hard and soft water can impact the condition of your hair. But these two kinds of water affect it in different ways. As mentioned earlier, soft water contains less calcium. Conversely, hard water has a higher calcium content. Let's compare and contrast how each type changes how your hair looks, feels and behaves.
Hard Water and Human Hair
Because of its higher calcium content, hard water can have less-than-desirable effects on human hair. Calcium can build up on the hair itself, drying it out and making it feel weighed down. It could also collect on your scalp and dry it out, leading to dandruff flakes. When that buildup is severe, it may clog hair follicles where strands emerge onto the scalp's surface. If not corrected, that buildup could cause hair to break off at the roots.
Hard water can also reduce the effectiveness of chemical treatments on your hair. Calcium buildup causes relaxed and permed hair to become more brittle and prone to breakage. Perms can also fade faster. Hard water may fade permanent and semi-permanent color more quickly than standard or soft water. In some cases, hard water can make color-treated hair lose its shine and, in extreme cases, become discolored.
Soft Water's Effects on Your Hair
Soft water lacks high calcium content, so it doesn't cause the same problems on your hair as hard water does. Depending on the condition of your hair, washing it in softer water may result in softer strands with more shine. Perms, relaxers and color treatments also won't fade as quickly, plus you also risk less damage to your hair due to lower calcium levels in the water.
To be clear, soft water cannot completely transform your hair's natural texture. You can't expect straight hair to become curly and vice versa just by washing it in soft water. These characteristics are determined by your DNA. So far, scientists have discovered that oval hair follicles produce straight hair and curved follicles produce wavy, curly or kinky hair.
What soft hair can do, however, is change how your hair feels to the touch. Minus the excess calcium deposits, hair washed in soft water experiences greater benefits from the shampoo you use. This can result in softer hair, but you may also notice greasier strands. As previously discussed, soft water washes away more natural oils on the scalp and hair. You may have to adjust your hairwashing frequency if you move to an area where the water has lower calcium levels.
Can Soft Water Make Your Hair Dry?
While hard water is notorious for drying out your hair, soft water may end up doing the same thing in different ways. We mentioned earlier that soft water boosts shampoo's effectiveness, resulting in "squeaky clean" hair. But this also leaves behind very little of your hair's natural oils. If you keep washing your hair in soft water at the same frequency you would with hard water, you repeatedly strip those oils and risk having drier hair.
Meanwhile, there's another consequence of overwashing your hair: It becomes greasier. Why does this happen? When you keep removing its natural oils too often, the scalp's sebaceous glands produce even more sebum in response. It's meant to help hold more moisture on your scalp and in your hair, but the end result is over-production of oil. Your scalp becomes oilier, resulting in that unpleasant greasy feeling.
Recommended Hairwashing Frequency
Because overwashing hair leads to dry or greasy locks, it's important to find the right balance. Unless your job or lifestyle gets you dirtier or sweatier than average, you probably don't need to wash your hair every single day. People with oilier hair may benefit from waiting at least a day between washings. For people with normal hair, consider waiting two days between washings. Individuals with dry hair should wash even less often — no more than one to two times per week.
Your hair texture also impacts ideal hairwashing frequency. Thin hair should be washed every other day to remove oil buildup. Thick hair does best when it's washed every two days or so. Textured hair, especially African-American hair, stays healthiest when shampooed only once a week.
Does Soft Water Make Hair Flat?
You've already seen that flatter hair is one downside to washing it in soft water. That's why adjusting your hairwashing schedule can fix this common problem. In the meantime, you can use dry shampoos between washings to remove excess oil on your scalp.
Frequently Asked Questions
What is soft water?
Low concentrations of dissolved minerals, such as calcium and magnesium ions, are indicative of soft water. It is made by eliminating these minerals using a technique known as ion exchange, which entails running hard water through a resin that captures the mineral ions and switches them out for sodium ions.
How does soft water affect hair?
Since it doesn't leave behind the mineral buildup that hard water may, soft water can be good for hair. Yet it may also deplete the hair's natural oils, making it seem dry and lifeless. Due to its enhanced capacity to pierce the hair shaft, it may also cause color-treated hair to fade more quickly.
What are some symptoms of hard water on hair?
A dry, brittle, and itchy or flaky scalp are a few signs of hard water on the hair. Hard water may also make hair heavier and more difficult to style. Hard water mineral accumulation may eventually make hair seem lifeless and lackluster.
Will using soft water prevent hair loss?
While there is some evidence that soft water may enhance hair health and reduce breakage, there is no proof that it can stop hair loss.
How can I prevent hard water from harming my hair?
To assist in eliminating mineral buildup from hard water and restoring the pH balance of the hair, use a clarifying shampoo or vinegar rinse. Regular deep conditioning treatments are also advised to keep the hair hydrated and nourished.
AS FEATURED ON:
AS FEATURED ON:







Soft water effects on hair.

By: Konstantin Yuganov

Hair becomes cleaner when washed with soft water.

By: esp2k

Shampooing in soft water can leave hair looking flat and limp.

By: Roman Gorielov

Soft water may remove hair product residue better than hard water.

By: Laurent Hamels

To maintain healthy locks, it's important to leave some natural oils to help ward off dry, damaged hair.

By: corinne matusiak

Soft water can make it easy to create a lather when washing hair.

By: akulamatiau

Soft water is simply water which lacks a number of dissolved minerals, such as calcium and magnesium.

By: ysbrandcosijn

Soft water may strip away the hair's natural moisture.