Best Moisturizer for 70 Year-Old Skin
Our Picks
Whether we like it or not, as we mature, our mature skin isn't as bright or smooth as it used to be. When you surpass 50 years old, wrinkles, dark spots, fine lines, and sagging skin begin to set in. Don't worry, that's perfectly normal! The best way to combat aging skin? Select the perfect moisturizer for you. Moisturizers not only hydrate your skin but also provide you with necessary topical vitamins and antioxidants. By nailing down what facial lotion works best for you, you can help maintain vital moisture in your skin, giving yourself a smoother, bouncier, and brighter complexion.
There are hundreds of customized moisturizers out there, each of which is catered towards a different skin type and skin issue. To make things easy for you, we've broken down this skincare round-up into categories, highlighting the strengths and weaknesses of each daily formula. If you are over 70 years of age, here are some top-tier moisturizers that will give your skin a youthful, radiant glow. Let's get started!
What To Look For In Moisturizers For 70-Year-Old Skin
It's important to keep in mind that the moisturizer you favored when you were 25 may no longer be the best option for your skin type. Here are a few tried and true tips to ponder before selecting the perfect face moisturizer for your skin.
Figure Out Your Skin Type
The first step to finding the perfect moisturizer? Figuring out what your skin type is. Most anti-aging moisturizers will feature active and natural ingredients that will be geared towards dry, oily, or combination skin. If you don't already know what your skin type is, think about how your skin usually feels after bathing or washing. If your face immediately starts feeling dry or flaky, you most likely have a dry skin type. If your face feels greasy or looks shiny, then you have an oily skin type. Falling somewhere in-between? Your skin falls into the combination skin type category.
Having your skin type information handy will be crucial when selecting the best aging moisturizer for you. This way, you don't need to memorize the dozens of ingredients that work best for your skin type, all you need to remember is one key detail.
Pay Attention to Ingredients
Are you combatting sagging skin or wrinkles? What about skin discoloration or hyperpigmentation? If you are looking to alleviate a skin condition with a moisturizer, deciphering what ingredients work best for your particular needs will certainly prove useful.
Dry Skin – look for treatments packed with hyaluronic acid
Sensitive Skin – for sensitive skin concerns, search for formulas with soothing ingredients, such as hyaluronic acid, green tea, face oils, and cucumber
Skin Discoloration – Skin discoloration, such as sunspots or hyperpigmentation, can be treated with niacinamides
Sagging Skin – vitamins C, peptides, collagen, antioxidants, and squalene will be your new best friends
Wrinkles and fine lines – your best defense against these skin features will be retinoids, bakuchiol, and vitamin B
How We Chose The Best Moisturizers For 70-Year-Old Skin
Many individuals from the 70 and over crowd suffer from the same problems, whether that be wrinkles, fine lines, or dark spots. However, we wanted to ensure that this go-to aging skincare guide was as inclusive as possible, therefore, we selected moisturizing products that address a wide range of concerns for individuals with mature skin.
Additionally, we also wanted to ensure that these products were easy to access and highly rated. All of these products are available at Amazon and other online retailers. Each product has also garnered a loyal fanbase from adoring customers. While these products widely vary in price, you are guaranteed to find a product on this list that meets your mature skin needs.
Our Picks for the Best Moisturizers for 70-year-old skin
Best for Dry Skin: Murad Hydro-Dynamic Ultimate Moisture
When it comes to signs of aging skin, dry skin is one of the biggest culprits. Wrinkles form more quickly and more noticeably when you have dry skin, which is why using a daily moisturizer is so important when you reach a certain age. If you happen to suffer from particularly dry skin, Murad's Hydro-Dynamic Ultimate Moisture is about to make all of your dreams come true.
This lightweight, indulgent cream noticeably reduces fine lines and wrinkles, while also providing your mature skin with the hydration it needs for 24 hours. According to a clinical trial conducted by Murad, 92% of customers had visibly fewer wrinkles just one week after using this moisturizer. This formula's primary ingredient is hyaluronic acid, which possesses moisture-boosting and retaining properties. Another key ingredient in this formula is collagen, which helps restore youthful bounciness and softness to dry, mature skin.
Use: Apply a generous amount of formula to the face, neck, and chest. During the day, apply sunscreen after using this moisturizer
Ingredients: Hyaluronic acid, shea butter, coconut extract
Best Splurge: ELEMIS Pro-Collagen Marine Cream
You can't put a price tag on good skin, and sometimes splurging for the perfect product can be 100% worth it. Known as the number one Luxury British Skincare Brand, ELEMIS has received multiple awards and accolades for its effective skincare products. This nourishing, award-winning moisturizer has received rave reviews in several completed clinical trials. 100% of users agreed that this product immediately improved facial hydration, while 95% of candidates declared this product the best anti-aging cream they have ever used. To top that off, this formula has also been clinically proven to reduce fine lines and wrinkles in just two weeks.
Since this superior skin cream's debut, it has been globally recognized for its gel-cream texture and its ability to increase facial moisture by up to 248% in just one hour. This moisturizing formula is packed with Padina Pavonica, a Mediterranean algae that hydrates mature skin leaving it elastic, firm, and smooth. Other key ingredients include mimosa and rose flower extracts which have anti-inflammatory and soothing properties.
Use: Apply a small, pea-sized amount, into your hands, and gently smooth over the face and neck. Use every morning on clean skin
Ingredients: Padina Pavonica, mimosa absolute, chlorella
Best Hydrating: Philosophy Anti-Wrinkle Miracle Worker Moisturizer
Philosophy's Anti-Wrinkle Miracle Worker Moisturizer truly lives up to its name. This clinically tested product has been proven to instantly boost suppleness in mature skin, as well as deliver smoothed out wrinkles and improved skin radiance over time. Like many hydrating moisturizers, this formula is bursting with hyaluronic acid, which helps your face maintain its necessary moisture. This formula also contains vitamin C and Indian Gentian extract to brighten your mature skin and remove dark spots.
The true heroes of this miracle-working formula are the strong peptides. These potent ingredients contain powerful anti-wrinkle and smoothing properties.
Use: Apply the desired amount to face up to twice a day, in the morning and/or evening
Ingredients: Hyaluronic acid, vitamin C, and Indian Gentian
Best for Sensitive Skin: TONYMOLY The Chok Chok Green Tea Watery Lotion
TONYMOLY's Chok Chok Green Tea Watery Lotion is a prime pick for mature individuals with sensitive and acne-prone mature skin. This premier Korean skincare product utilizes over 85% fermented green tea extract to keep moisture locked into the skin. Once this ultra-hydrating moisturizer is applied, the green tea forms an invisible, thin layer on aging skin that continuously hydrates your face throughout the day.
In addition, this lotion features many antioxidants that help alleviate sun damage, oxidative stress, and calm inflammation, which can be particularly helpful for those with mature skin and sensitive skin types. Last but not least, this formula also takes advantage of natural ingredients such as lemon seed oil, which has antibacterial properties, and rosewood oil, which helps to soothe and revitalize aging skin.
Use: Once your face has been cleansed, apply the lotion to the face with palms and fingertips
Ingredients: Pure fermented green tea extract, lemon seed oil, rosewood oil
Best Lightweight Moisturizer: L'Occitane Shea Light Comforting Face Cream
While you might need something heavier in the dryer, winter months, L'Occitane's Light Comforting Cream is a feather-light moisturizer perfect for summer. One of the primary, powerhouse ingredients included in this moisturizer is shea butter, a beauty ingredient that has been used for centuries to hydrate and protect the outer skin layer. Glycerin is also featured in this product as an added component to keep your skin moisturized.
Formulated with 98% natural ingredients, this silky and non-greasy cream soaks into your skin quickly, leaving your face with a soft, dewy complexion. Packed with vitamin E and omega-6, this non-comedogenic formula also keeps your face safe from air pollutants and bacteria that cause wrinkles and fine lines.
Use: Apply the desired amount to the face and neck. Use twice a day in the morning and evening
Ingredients: Glycerin and shea butter
Best Firming: Belif the True Cream Moisturizing Bomb
Belif's True Cream Moisturizing Bomb was designed to feel like a refreshing, burst of water on your face, and it does exactly that. With a luxurious, whipped cream texture, this hydrating lotion helps mend cracked and dry skin by providing comforting, long-lasting hydration for up to 26 hours.
This dermatologically-tested formula contains a mixture of nourishing and hydrating apothecary herbs such as heartsease, rose, and meadow leaf. One of the most significant ingredients is comfrey leaf, a strong but soothing plant that's been used around the globe for centuries to heal wounds. This stellar blend of herbs not only hydrates your skin but also aids in signs of aging, particularly with the loss of facial firmness and elasticity.
Use: Massage a small, quarter-size amount to face and neck, spread evenly. Use twice a day, in the morning and evening. If you need a midday top-up, tap gently onto dry areas of the skin.
Ingredients: Comfrey leaf, macadamia seed oil, oat kernel extract
Best Vegan: boscia Cactus Water Moisturizer
When it comes to an anti-aging moisturizer with all-natural, vegan products, boscia's Cactus Water Moisturizer is a tough one to top. When you think about hydration, desert cacti are most likely not the first things that come to mind. However, these prickly succulents can retain a staggering amount of water. This exceptionally lightweight moisturizer utilizes the "Queen of the Night" cactus succulent to quench dehydrated skin, leaving your face feeling soft, smooth, and plump.
Perfect for combination and oily skin types, this fast-absorbing lotion helps boost moisture levels in the face, without leaving it feeling sticky and heavy. An added bonus? This moisturizer also happens to be 100% vegan and cruelty-free.
Use: Using the provided spatula, apply formula onto fingers and apply generously onto clean skin. Use formula twice a day. Rinse spatula after every use.
Ingredients: "Queen of the Night" cactus succulent, aloe vera flower extract
Best Budget: Neutrogena Hydro Boost Water Gel
If you are searching for the perfect affordable moisturizer, Neutrogena's Hydro Boost Water Gel is your budget-friendly friend. Neutrogena is the number one dermatologist-recommended brand, offering best-selling skincare products at affordable prices. While this product is not marketed as an anti-aging moisturizer, its highly nourishing ingredients can delay many visible signs of aging. This dermatologist-tested product is formulated with hyaluronic acid, which keeps the skin hydrated for 48 hours. When this basic moisturizer is applied, aging and mature skin immediately looks and feels smoother and silkier.
This non-comedogenic and oil-free formula absorbs quickly and effectively. It also doubles as a make-up primer.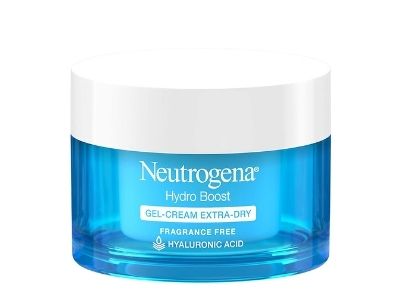 Use: Apply evenly to the neck and face after cleansing.
Ingredients: Hyaluronic acid
Best for Oily Skin and Large Pores: Tatcha The Water Cream
Tacha's Water Cream moisturizer feels like bathing your skin in a calming cup of tea. This oil-free, lightweight cream is formulated with skin-improving Japanese nutrients and potent botanicals that work towards poreless, healthy skin with each use. The infused Japanese Wild Rose visibly tightens pores and smooths skin texture, while the Hadasei-3 Complex, a trio of Japanese superfoods, helps to restore healthy, youthful radiance in the face.
This dermatologist-tested formula is perfect for oily or combination skin, as it hydrates without leaving skin sticky or greasy. Another interesting addition? The one-of-a-kind water-burst cream explodes upon contact with the skin to deeply transfuse treatment benefits. This lavish moisturizer may air on the pricier side (there's a touch of 23-karat gold included), but only a pearl-sized amount is needed per use to both replenish your complexion and reduce pore visibility.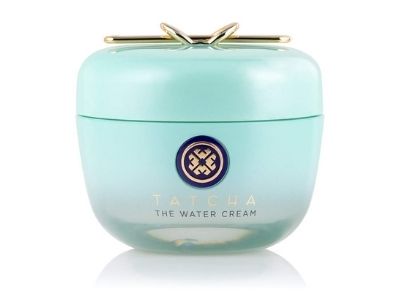 Use: Use the included golden spoon to scoop up a small, pea-sized amount of formula. Massage onto face, neck, and décolletage in upward strokes. Use twice a day, during the morning and evening
Ingredients: Japanese Wild Rose, Japanese Leopard Lily, Hadasei-3 Complex
Best for Brightening: Bliss Bright Idea Moisturizer
Looking to bring back your youthful glow? One characteristic of mature, aging skin is the loss of elasticity in your face. Luckily, Bliss's Bright Idea Moisturizer provides the perfect solution to that very problem. This vegan-friendly formula uses several spa-powered ingredients to help visibly brighten and boost your skin's natural elasticity. A killer combination of clinical-grade vitamin C and tri-peptide work as a team to provide the face with extreme hydration for a healthy, dewy glow. What's more, antioxidant-rich green tea extract is also blended in to help defend the skin against external factors that can cause dull, unhealthy-looking skin.
Use: Massage desired amount onto clean skin. Use twice a day, during the morning and at night
Ingredients: Clinical-grade vitamin C, tri-peptide
Best Fragrance-Free: Paula's Choice Moisture Boost Hydrating Treatment Cream
In a world filled with harsh environmental conditions and skin-damaging agents, it's important to have a product like Paula's Choice MOISTURE BOOST Hydrating Treatment Cream. This cream protects your skin against harmful environmental effects. It also boasts a unique blend of antioxidants, plant oils, and emollients. It also features skin-replenishing and restorative ingredients that will give you a youthful complexion.
The texture is creamy and glides on easily, leaving your skin with a radiant finish that never feels greasy or heavy. It will also leave you with hydrated, ultra-soft skin. So don't wait any longer - give your skin the Paula's Choice moisture boost it deserves.
Use: Apply to the face and neck in the morning before sunscreen and in the evening as the last step after washing your face.
Ingredients: Magnesium Ascorbyl Phosphate (a hydrating form of Vitamin C), Ceramide NP⁠, Squalane⁠, Vitamin C⁠, Jojoba Oil⁠, Niacinamide⁠, Sodium Hyaluronate⁠, and Glycerin⁠.
Best Moisturizer With Active Ingredients: Éternel Beauty Moisturizing Soft Cream
We all know that Irish moss is great for us, but did you know it can also help keep our skin looking young and healthy? That's right - Éternel Beauty Moisturizing Soft Cream contains Giant Irish Moss, an edible seaweed from Ireland that is packed with nutrients and minerals. These essential vitamins and minerals help moisture the skin, balance the skin microbiome, and promote cell regeneration. In other words, this cream is like a fountain of youth in a jar. So if you're looking for a way to keep your skin looking its best, try Éternel Beauty Moisturizing Soft Cream.
Use: Apply on your face and neck. To wring the most out of this moisturizer, apply in the morning & night.
Ingredients: Giant Irish moss, Hyaluronic acid, Spirulina, Vitamin E, Vitamin B5, Aloe vera, Glyceryl Stearate, Cetyl Alcohol, Stearic Acid, Vegetable Glycerin, Xanthan Gum, Shea Butter, Jojoba extract, Dandelion, Green Tea, Isopropyl Palmitate, Yarrow, Wild Geranium, Organic Gotu Kola, Equisetum Arvense Extract, Ethylhexylglycerin, Sunflower Oil, and Phenoxyethanol.
Best For Rosacea: Dr. Jart Cica Moisturizer
If you're looking for comprehensive treatment for rosacea, look no further than the Dr. Jart Cica Moisturizer. This moisturizer features color-changing capsules that turn beige from green to cover blemishes and neutralize redness. This moisturizer also restores tired skin, giving you a vibrant complexion. The formula boasts Centella Asiatica, popularly known as tiger grass. This ingredient heals sensitive skin and reduces irritation and inflammation. What's more? The non-greasy formulation is perfect for dry or sensitive skin types and can be used under makeup. So if you're searching for a multitasking moisturizer to help alleviate the symptoms of rosacea, the Dr. Jart Cica Moisturizer is a great option.
Use: Clean and moisturize your skin. Remember to build up on areas of concern. It would be best to use a good moisturizer before applying.
Ingredients: Tiger grass Centella Asiatica leaf water, Cetearyl Alcohol, silicones, mineral sunscreens, Polyglyceryl-2 Triisostearate, Stearic Acid, and Aluminum Hydroxide.
Best Moisturizer For Milia: Paula's Choice Weightless Body Treatment 2% BHA
Paula's Choice Weightless Body Treatment 2% BHA is a great choice for those dealing with milia. This body treatment helps to hydrate the skin while simultaneously smoothing away any stubborn clogged pores or hard bumps. The 2% BHA concentration is perfect for keratosis pilaris-prone skin, making this an excellent choice for anyone struggling with this condition. In addition, the weightless formula ensures that your skin will never feel greasy or heavy, making it the perfect body treatment for those with sensitive skin. So if you're looking for a body treatment that can hydrate and smooth your skin without aggravating your keratosis pilaris, Paula's Choice Weightless Body Treatment 2% BHA is perfect.
Use: Apply the treatment to clean skin before anything else. If you're using it with a moisturizer, put the moisturizer on after. If you need to head out into the sun, follow this treatment with a broad-spectrum sunscreen rated SPF 30 or higher.
Ingredients: Bisabolol, Epilobium Angustifolium Extract, Vanilla Planifolia Fruit Extract, Tocopheryl Acetate, Allantoin, and Salicylic Acid.