Best Moisturizer for Sensitive Acne-Prone Skin
Our Picks
Finding the right moisturizer can be a challenge for everyone, especially for individuals who are dealing with acne-prone skin. Out of all the skincare myths regarding acne treatment, the biggest misconception is that moisturizers have the potential to make your skin situation worse. That's certainly not the case.
Dermatologists agree that moisturizing is a crucial step in every skin-care routine to maintain a healthy skin barrier, prevent breakouts, and counteract the drying effect of acne treatment products – if it's done correctly. Individuals who choose not to moisturize will be plagued with rough, flaky, and red skin, which will only exacerbate their breakouts. With all the exceptional moisturizers out there, it can be overwhelming trying to select the perfect product. That's where we come in! Below is a breakdown of the best moisturizers for acne-prone skin on the market, separated by skin type and skin problem.
What Causes Acne?
If you are constantly dealing with irritable skin and angry zits, rest assured, you are in good company. According to the American Academy of Dermatology (AAD), acne is the most common skin condition in the United States, impacting up to 50 million Americans every year. Around 85% of people between the ages of 12 and 24 experience mild to severe acne, however, acne can occur at any stage of life and can continue into late adulthood.
Acne is a skin condition that causes pimples or zits to appear on the face, chest, shoulders, and upper back. This widespread skin condition is caused when the pores of your skin get blocked by hair, sebum (facial oil), bacteria, and dead skin cells. These clogged pores produce blackheads, whiteheads, nodules, and other types of pimples. It can be hard to isolate what exactly causes acne on an individual basis, as many factors can contribute to producing these infuriating spots including genetics, fluctuating hormone levels, stress, humidity or heat, and greasy personal care products.
How To Choose The Best Moisturizers For Acne-Prone Skin?
With all of the moisturizers out there to choose from, it's especially important that you are finding the best moisturizer for your skin type. There is no one size fits all moisturizing solution for acne, but here are some tried and true tips to help you make the most appropriate selection.
Read the Fine Print
When scanning the internet or drugstore for moisturizers, read the labels carefully before making an impulse purchase. Two of the most important phrases to keep an eye out for are "oil-free" or "non-comedogenic." If a moisturizer is advertised as either, then you can rest easy knowing that this formula will not make the clogging pores issue even worse.
While heavy oils like avocado, carrot seed, and coconut oil can clog your pores, lighter oils such as hemp seed and argan oil can help restore balance to troubled skin. Other beneficial ingredients to look out for include hyaluronic acid, aloe vera, vitamin C, and retinol.
Search for SPF
When it comes to acne, sun exposure is not your friend. Numerous moisturizers for acne-prone skin include mild sunscreens, which can help prevent the development of long-lasting blemishes that persist longer after breakouts have come and gone.
While SPF moisturizers are ideal for application in the AM, you won't want to use these moisturizers at night. Therefore, it's highly recommended that you invest in two different moisturizers, one with SPF for the morning and one without for the evening.
How We Chose The Best Moisturizers For Acne-Prone Skin
While many individuals who suffer from acne have oily skin, not all acne-prone skin is greasy or oily. People with dry skin, normal or combination skin, sensitive skin, or any skin type in between can also be prone to breakouts, depending on genetic, hormonal, or environmental determinants. Therefore, it was important for us to select a wide range of products for all skin types. For example, if your skin is on the dryer side, we searched for moisturizing creams, and for oily skin types, we opted for lightweight lotions.
We also wanted to ensure that these products were accessible and available. While these products vary in cost, you will certainly be able to find a product in your price range, whether you decide to purchase something online or at your local drugstore.
Our Picks Of Best Moisturizers For Acne
Best for Oily Skin: Kate Somerville Oil-Free Moisturizer
There are ways to keep your skin hydrated and healthy, while still keeping excess oil at bay. All it takes is finding the right moisturizer for you. When it comes to oil-free moisturizers, Kate Somerville's Oil-Free Moisturizer is the cream of the crop.
Designed to hydrate your skin while keeping excess oil in check, this unique moisturizer leaves behind smooth, radiant, and shine-free skin. Additionally, this lightweight formula is also a noncomedogenic moisturizer, making it the perfect solution for those with acne-prone skin, as it won't leave behind a greasy residue. Not only does this special formula provide instant hydration, limit essential water loss, and prevent excess oil production, but it also helps strengthen your skin, defending it against future external aggressors.
Use: Apply a thin, even layer over the face and neck. Use in the morning and evening.
Ingredients: Red marine algae and oil-absorbing spheres
Best for Dry Skin: TONYMOLY The Chok Chok Green Tea Watery Cream
TONYMOLY's Chok Chok Green Tea Watery Cream is a gel-based cream that provides highly effective hydration without being sticky or too heavy on the face. This antioxidant-rich formula contains over 63% of a fermented Korean green tea called "ChungTaeJeon" which is fermented in the sun for over a year and provides gentle yet intense moisture and hydration. Once the formula is applied to the face it can retain moisture for hours on end, by forming a thick hydrating layer on dry skin.
Additional ingredients in this formula include lemon seed oil, which is packed with antibacterial and antifungal properties, and rosewood oil, which is both soothing and revitalizing. This 2-in-1 formula also doubles as a moisture mask.
Use: Apply the desired amount to the face and neck. Use twice a day in the morning and evening. If using it as a mask, apply a generous amount of formula to the face and let it sit for five minutes. Rinse thoroughly.
Ingredients: Fermented green tea, lemon seed oil, and rosewood oil
Best for Combination Skin: Belif the True Cream Aqua Bomb
If your skin isn't dry but it isn't oily, then you most likely have a combination skin type. When it comes to moisturizers, you can't go wrong with Belif's True Cream Aqua Bomb, Belif's bestselling moisturizer. This fan-favorite is a gel-based formula geared towards lightweight, oil-free hydration. When applied, this refreshing formula provides a cooling burst of hydration, protecting the skin from potential breakouts. This hydrating formula also absorbs quickly, making it great for combination or slightly oily skin types, as it won't leave a feeling of heaviness or greasiness.
This lightweight formula features a blend of nourishing and hydrating herbs such as Lady's Mantle, Chickweed, and Nettle, as well as ceramides and glycerin, which are both known to help maintain skin's moisture levels. This dermatologically-tested moisturizer has also been clinically tested to boost skin's hydration levels by 70%. This multi-purpose formula also doubles as a makeup primer and a 10-minute emergency moisture mask.
Use: Spread a coin size amount to face and neck, spread evenly. Can be used twice a day, in the morning and evening. If you need a midday top-up, tap gently onto dry areas of the skin. If you wish to use this as a moisture mask, apply the formula generously to your skin and let it sit for 10 minutes. Rinse thoroughly.
Ingredients: Lady's mantle, squalene, panthenol, calendula extract, oat kernel extract, glycerin
Best Vegan: Mamonde Rose Water Gel Cream Face Moisturizer
If you are a fan of gel-based moisturizers, Mamonde's Rose Water Gel Cream is a great hydrating and soothing solution for you. Perfect for dry, combination, and sensitive skin, this refreshing formula is infused with antioxidant-rich 68.7% Damask Rose Water that immediately absorbs into your skin once applied.
This effective moisturizer feels light on the skin without stickiness and creates a moisture barrier for long-lasting hydration and a soft and dewy complexion. This magical formula is a certified vegan product and is free of animal ingredients, mineral oil, polyacrylamide, imidazolidinyl urea, triethanolamine, tar pigment, and PEG surfactant.
Use: Apply from the center of the face outward.
Ingredients: Damask Rose
Best Splurge: Philosophy's Renewed Hope in a Jar Water Cream Hyaluronic Glow Moisturizer
This moisturizer may air on the pricier side, but trust us, it's worth every pretty penny. This weightless, fast-absorbing formula contains Norwegian glacial water, enhanced hyaluronic acid, and pineapple extract, increasing skin's hydration level by up to 86%. Hyaluronic acid is a key ingredient in acne-fighting formulas, as it helps reduce redness and protect the skin from external impurities. Once applied, this clinically-tested formula will deliver an explosive cooling and refreshing burst of 72-hour hydration, and unleash a fresh and natural facial glow.
While this formula does not contain SPF, Philosophy has a slew of other moisturizers that incorporate SPF, which would all make perfect morning moisturizers.
Use: Apply the desired amount to a clean face. Use in the morning and evening.
Ingredients: Norwegian glacial water, hyaluronic acid, pineapple extract
Best SPF Moisturizer for Oily Skin: Murad Oil and Pore Control Mattifier Broad Spectrum SPF 45
The problem with sunscreen is that it tends to leave your oily skin even more oily, which just won't do. That's where Murad's Oil and Pore Control Mattifier comes in. Perfect for oily and sensitive skin, this lightweight formula offers oil-free, sun protection that won't clog your pores and will help balance your oily skin. This clinically tested formula minimizes the appearance of pores by 54%, and 96% of candidates reported less oily skin after two weeks. African yellow wood bark and avocado extracts also help keep excess oil at bay.
A true multi-purpose formula, this magnifying primer controls oils, shine, and pores so that makeup won't streak throughout the day. Take note: this SPF formula is perfect for morning use, but you will want to find another moisturizer to use at night.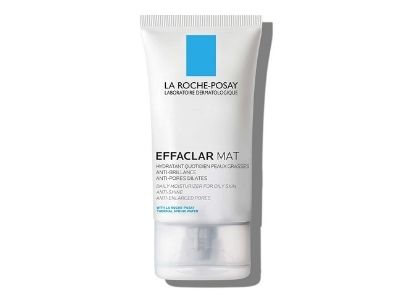 Use: Apply generously to the face, neck, and chest. Use in the morning.
Ingredients: Avocado extract and African yellow wood bark extract
Best for Shiny Skin: La Roche-Posay Effaclar Mat Oil-Free Mattifying Moisturizer
Ready to rid yourself of shiny skin? La Roche-Posay's Effaclar Mat Daily Face Moisturizer targets and minimizes excess oil and improves the appearance of visible pores with its matte finish. Targeted towards oily and sensitive skin types, this oil-free face moisturizer utilizes Sebulyse technology to reduce facial shine, zinc picolinate to neutralize shine, and perlite and silica to help absorb excess oil.
Both dermatologist-tested and allergy-tested, this dual-action formula also includes La-Roche Posay Thermal Spring Water to soothe oily skin and lipo-hydroxy acid, which has skin renewing, exfoliating, and acne-treating properties. This versatile formula is also non-comedogenic and creates an excellent foundation for makeup.
Use: Apply to clean skin. Use in the morning and/or evening.
Ingredients: Lipo-hydroxy acid, zinc picolinate, La Roche-Posay Thermal Spring Water
Best Drugstore: CeraVe AM Facial Moisturizing Lotion SPF 30
Regardless of skin type, you can't go wrong with CeraVe's AM Facial Moisturizing Lotion. Suitable for dry skin, sensitive skin, oily skin, and acne-prone skin, this broad-spectrum SPF 30 moisturizer absorbs quickly into the skin leaving a non-greasy finish. Packed with numerous active ingredients, this multi-purpose moisturizer helps restore the skin's protective barrier with three essential ceramides, hydrate the skin with hyaluronic acid, and provide soothing benefits with niacinamide. To top that off, this oil-free and non-comedogenic formula was developed by dermatologists and recommended for daily use by the Skin Cancer Foundation.
As with all SPF moisturizers, this moisturizer should only be used in the morning, as the last step in your skincare routine. CeraVe has equally effective nighttime moisturizers that you can pair with this daily facial moisturizer.
Use: Apply generously 15 minutes before sun exposure. Reapply at least every 2 hours during the daytime.
Ingredients: Ceramides, hyaluronic acid, niacinamide
Best Hydrating: Neutrogena Hydro Boost Water Gel
If you have both dry and acne-prone skin, Neutrogena's Hydro Boost Water Gel is the budget-friendly moisturizer of your dreams. Neutrogena is the number one dermatologist-recommended brand, offering especially affordable products for skincare. This award-winning and best-selling water-gel formula delivers intense hydration and quenches dry skin, leaving your face feeling smooth and soft.
Formulated with hyaluronic acid, this fast-absorbing formula can attract and lock in moisture for 48 hours without clogging your pores. This oil-free and non-comedogenic formula also has a gel-like consistency, which means you can easily wear it under makeup as a primer.
Use: Apply evenly to the neck and face after cleansing.
Ingredients: Hyaluronic acid
Best for Sensitive Skin: Cetaphil Moisturizing Lotion
Cetaphil's Moisturizing Lotion is proof that a solid moisturizer doesn't need to cost you an arm and a leg. This budget-friendly moisturizer is recommended by dermatologists for users who have acne-prone and sensitive skin. This non-greasy and non-comedogenic lotion delivers lightweight, fast-absorbing moisture for the most sensitive skin types, including those with acne, eczema, psoriasis, and rosacea.
Featuring vitamin E, glycerin, and dimethicone, this daily moisturizer leaves the skin feeling naturally smooth, supple, and hydrated for 24 hours.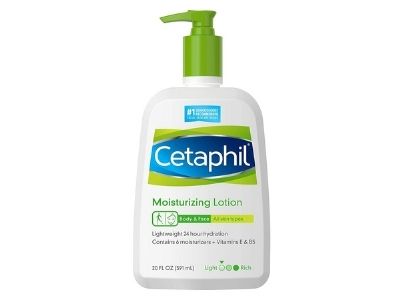 Use: Apply as generously and frequently as directed by a physician. For best results, use directly after cleaning your face and body.
Ingredients: Glycerin, vitamin E, and dimethicone
Frequently Asked Questions
You may still have questions about choosing the right moisturizer for your sensitive, acne-prone skin. The answers to these FAQs may give you the additional information you need when looking for the best moisturizer for your skin.
At what age does acne go away?
For many people, acne starts in the early teen years and can last through their 20s, but others have acne-prone skin throughout their lives. It is not uncommon for women to have pimples and acne breakouts throughout their 30s and 40s. These can be worse during menstrual cycles. 
About half of women ages 20 to 29 have acne. About 25 percent of women in their 40s have acne.
The changes in hormones women have as they age can cause pimples to form. Another problem women have is that drops in estrogen can cause hairs in the chin area to grow. These hair follicles can become clogged and irritated, causing breakouts.
Is acne influenced by hormones?
Fluctuations in hormones caused by menstruation, polycystic ovarian syndrome, menopause, and increased androgen levels can cause acne. Hormonal acne tends to form on the lower part of the face instead of the T-zone area of the forehead and nose. This type of acne shows up as blackheads, whiteheads, and cysts that form deep under the skin and don't come to a head.
Other causes of hormonal acne include using hormone-replacement therapy to treat symptoms of perimenopause and menopause. 
Taking oral contraceptives that contain ethinylestradiol and drospirenone, norgestimate, or norethindrone can ease fluctuations in hormones that cause acne breakouts in some women. Topical retinoid treatments can also help stem these breakouts.
Will a moisturizer for acne-prone skin prevent wrinkles and fine lines?
Women in their 30s and 40s may find themselves treating acne and wrinkles. Women who want to prevent wrinkles while keeping acne at bay should stay away from heavy oil-based moisturizers designed for women with dry skin. Those can clog pores and cause pimples to form.
Instead, look for lighter moisturizers with anti-aging ingredients such as hyaluronic acid and niacinamide, which help skin hang on to moisture.
What moisturizer ingredients can irritate skin?
If you have sensitive, acne-prone skin, the last thing you want to do is leave skin irritated. Some moisturizers contain ingredients that can irritate skin and cause acne breakouts. Niacinamide, baking soda, and lemon have been known to cause a burning sensation in those who have sensitive skin or are allergic to those ingredients.
Niacinamide is a common anti-aging ingredient, so if you are looking for anti-aging moisturizers that will not irritate, test it on a small area of skin away from the face to make sure you are not bothered by it.
Other ingredients that could irritate skin or cause pimples and acne breakouts include alcohols, fragrances, sulfates, preservatives, and dyes.
What moisturizer ingredients soothe sensitive skin?
Read the labels when shopping for a moisturizer for your sensitive, acne-prone skin. Look for ingredients such as hyaluronic acid, ceramides, aloe vera, colloidal oatmeal, and soy, all of which are known to soothe sensitive skin.
Also, look for the words "non-comedogenic" and "hypoallergenic." Non-comedogenic moisturizers won't clog pores, and hypoallergenic moisturizers are formulated with ingredients that are not found to cause allergic reactions in most users.
The best kind of moisturizer for sensitive skin is one that prevents outside elements from penetrating the skin while providing hydration.
Are there natural moisturizers for sensitive skin?
While it may sound counterintuitive to use oil on acne-prone skin, there are a few natural options for skin hydration. Olive oil and hemp seed oil do not clog pores, and hemp seed oil is known to have antibacterial properties that can help prevent pimples and acne breakouts from forming.
How often should you moisturize sensitive, acne-prone skin?
Finding the right amount of moisturizing is essential to having healthy skin. If the skin is too dry, the skin will produce more oil, which can trigger acne breakouts. Skin that's too hydrated will cause the skin to stop the production of essential lipids, and applying too many skin treatments can also cause pimples and irritation.
Start by applying moisturizer after cleansing your skin in the morning and before bed, and adjust as needed.