How Can I Match My Bangs and Face Shape?
Wearing bangs may be a good way to accentuate or de-emphasize particular facial features. In order for them to look presentable, matching your bangs and face shape is very important. To do this, your face shape must first be determined as well as your hair type. Once this information has been established, it should be easier to select a bang style that will compliment your particular face shape.
In some cases, a person's face shape may be obvious, but in most instances, it is not always so clear. The most accurate way to determine the correct bangs and face shape combination is by measuring the dimensions of your face, which may be done using a craft tape measure. Oval and oblong faces tend to be longer in length than width, whereas round and square tend to be the same all around. The only difference between these two shapes is the defined angles in a square face. Heart shaped faces usually have wider foreheads with narrow and often-pointed chins.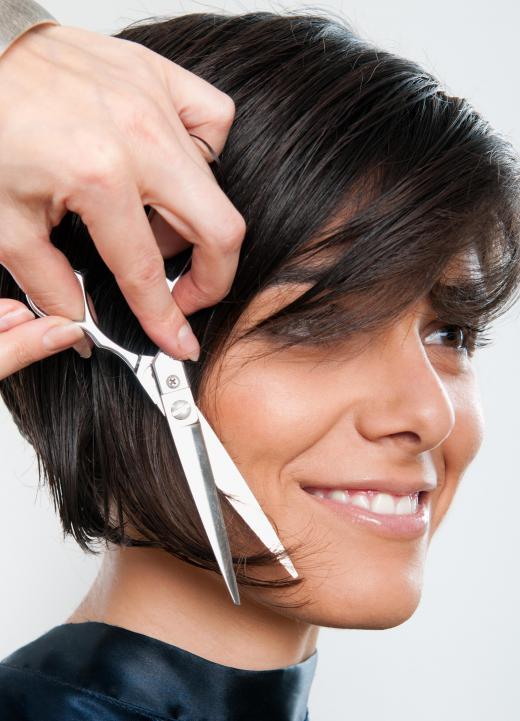 Another important factor in choosing suitable bangs and face shape options is the overall texture and type of hair. This is because not all hair types and textures can maintain every style for bangs. For instance, thin and flat hair may not hold a wide, fuller look, while thick, frizzy hair may puff out with shorter bang styles. Some hair styling products, however, may help with these issues.
Typically, oval faces may be able to choose any style of bangs. This is because an oval shape is versatile enough to hold most styles without changing or overemphasizing the face shape too much. Some beauticians recommend that women with oval faces choose longer bang options so as to allow for more hairstyling options. If a woman's face leans more toward oblong than oval, thicker and wider styles may be able to shorten the face shape.
Round faces are usually make it harder to find complimenting bangs and face shape combinations. This is because many bang styles accentuate the roundness of the face. Women with particularly thin or fine hair may especially have difficultly finding a good bang style, as their hair tends to cling to the face more. Generally, side-swept bangs with wispy ends that are slightly feathered or choppy as well as imperfect bangs may compliment a round face. These particular bangs add texture as well as some contouring on the face.
Square faces usually can stand bangs that soften the angles of the jaw and forehead. As such, to match your bangs and face shape, longer bangs with wispy ends may be suitable. Full fringes may also fit a square face as long as they do not cover the entire forehead. Instead, some beauticians recommend using the eyebrows as an end mark for the bangs.
Heart-shaped faces typically require bangs that soften the point of the chin, while also minimizing the forehead. Long side-swept bangs may fit this face-shape as would shorter bangs — just so they are not too wide. In the case of heart-shaped faces, matching the bangs and face shape is open to several options as long as a minimal amount of hair is used for the bangs.
AS FEATURED ON:
AS FEATURED ON:







By: Rido

A hairstylist cutting a graduated bob with long bangs.

By: ingaivanova

Stylists often recommend using the eyebrows as an end point for the bangs.