How Do I Choose the Best Coal Tar Shampoo?
The best coal tar shampoo will alleviate dandruff or other skin conditions without causing further damage to the scalp. When choosing a coal tar shampoo, look for a brand with a high concentration of coal tar as the main ingredient. Select a shampoo with a consistency and smell that you prefer. If you have a sensitive scalp look for a hypoallergenic or sensitive formula.
Coal tar shampoo is a medicated shampoo that works to heal dandruff and other conditions such as psoriasis and seborrhea dermatitis. These skin conditions often cause itching and uncomfortable feelings along the scalp, and the shampoo helps to alleviate the itching and discomfort while it heals skin conditions.
The main active ingredient of these shampoos is coal tar, which comes from a class of drugs called keratoplastics. The coal tar causes the scalp to shed dead skin cells from the outermost layer and slows the growth of new skin cells. As a result, the shampoo lessens the effects of skin conditions on the scalp.
Other ingredients are water, lathering agents, and soothing ingredients such as aloe. Lathering agents make applying the shampoo easier, helping the product to foam and disperse throughout the hair. The soothing ingredients help alleviate some of the pain and itching associated with scalp problems.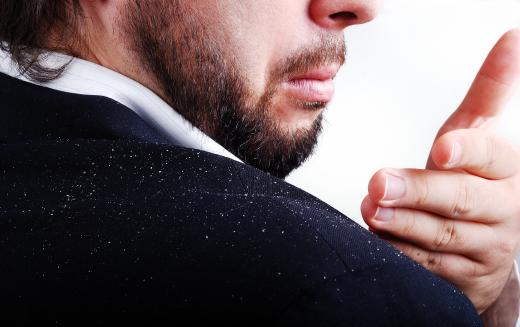 Many manufactures sell coal tar shampoo without a prescription. Depending on the brand, the shampoo has a thin to creamy texture and a distinctive smell. The smell may irritate some consumers, but a few formulas have fragrances that reduce the odor of the coal tar.
The usage of coal tar shampoo depends on the brand. For example, the instructions may call for weekly or biweekly use. The instructions often state that the user should allow the coal tar shampoo to rest on the skin for several minutes for the best results. This gives the ingredients time to work into the outer layer of the scalp and remove dead skin cells.
An active ingredient in the shampoo might irritate the skin, especially if the consumer has a damaged scalp. Some consumers report a burning irritation, the formation of bumps along the hairline, and itching. Consumers with sensitive skin should purchase formulas designed for a sensitive scalp. These hypoallergenic formulas do not contain perfumes or dyes, which helps reduce the chance of irritation.
AS FEATURED ON:
AS FEATURED ON:







By: Irina Brinza

Coal tar shampoo.

By: Jasmin Merdan

Dandruff may be treated with coal tar shampoo.

By: Farina3000

Coal tar shampoo helps relieve scalp symptoms caused by psoriasis.

By: cirquedesprit

Lathering agents helps the shampoo distribute thoroughly through the hair.