How Do I Choose the Best Elastic Hair Bands?
The best elastic hair bands for you will largely depend upon your hair thickness and the styles you plan on using the elastic bands to create. One guideline that applies to everyone, however, is that it is generally healthier for your hair to choose an elastic band that is fully encased in a cloth covering, rather than those with a metal closure or, worse, an exposed rubber band. Aside from that, the size and thickness of the bands will be the most important detail for those with heavy, thick hair who want to pull all of their hair back at once. Additionally, you have the option of choosing plain elastic hair bands that blend into your style unobtrusively, or brighter colors and bands with decorations such as beads, glitter, and other additions.
If you plan on using the elastic bands to hold all of your hair back, such as in a ponytail or bun, it is important to buy elastic hair bands that are large enough and strong enough. A good general rule of thumb is that, for your hairstyle to be held securely for several hours, the elastic band should wrap around your hair at least twice. If you have thicker hair, you can judge whether the elastic hair band will be large enough if it fits around your wrist.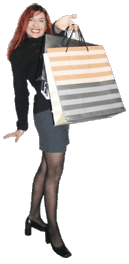 In addition to the overall size, the thickness of the elastic bands themselves also matters. People with thinner hair often prefer smaller, thinner elastic hair bands because they find that the thicker and stronger bands hold their hair too tightly, which pulls uncomfortably after a while. Thick-haired individuals find that thin elastic hair bands snap too easily or do not hold back their heavy hair effectively after a while. If you are unsure which ones would be most effective for you, you can always choose to purchase a variety pack with various sizes and thicknesses of bands included.
You may want more subtle colors, such as brown, black, or navy blue for styles where the elastic bands should not be obviously visible. Colorful elastic hair bands, however, can add youth and fun to an otherwise unremarkable ponytail. Match your elastic band color to your outfit for color coordination, or choose elastic bands with glitter, beads, feathers, and other fun decorations for a more creative look. Elastic bands with very thick, scrunchy cloth coverings can be used to decorate ponytails and buns with a larger splash of color.
AS FEATURED ON:
AS FEATURED ON:







Woman shopping