How Do I Choose the Best Eyeshadow Applicator?
Choosing the best eyeshadow applicator is all about what type of look you're going for. Less complicated looks using only one or two shades can typically be applied with a sponge tipped applicator, cotton swab, or even the fingers. More dramatic looks typically require quality eyeshadow brushes; the type you will need depends on where you plan to apply the eyeshadow.
When applying just a single wash of color over the lids, nearly anything can be used as an eyeshadow applicator. For laying down the color, a sponge tip applicator — which typically comes with less expensive eyeshadow — or your fingers can work. While sponge tipped applicators can be helpful for getting the color on your lid, their uses tend to end here; it is extremely difficult to blend out color adequately with one of these eyeshadow applicators. When choosing a sponge tipped applicator, pick the stiffest one you have; this will give more control over color placement.
For blending a single shade, your fingers or a cotton swab is generally the best eyeshadow applicator. If you apply the color with a finger, you should be able to blend the color out as it is applied; experts typically recommend using the ring finger because it is the weakest and therefore gentler. A cotton swab may be the best eyeshadow applicator if you are looking to blend the color into the crease or under the lash line becuse it can provide more precise application. For blending, softer tips are the most useful, while more tightly wound cotton swabs are best for lining the eyes with shadow.

With anything more than one or two colors, the best eyeshadow applicator is typically a brush. For all-over color, a flat soft brush is usually ideal. Try to find one with dense, soft bristles. For applying a crease color, a stiff dome shaped brush is often the best. Choose one that fits neatly inside of your crease because anything larger may deposit too much color; the size will depend on the shape of your eye.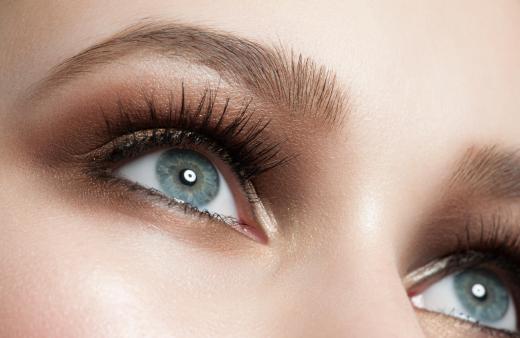 A blending brush is usually best for highlighting and softening the edges of a color; it is also useful for fading one shadow into another. This type of eyeshadow applicator is shaped much like the crease brush, except that it tends to be fluffier and slightly larger. Despite being softer, it is important that the blending brush does not have too much give, otherwise it will be difficult to work with. If you need an eyeshadow applicator to apply shadow liner, look for a short, stiff, thin brush that is either flat or angled. A flat brush tends to work best for tight lining, while an angled brush makes it relatively easy to line evenly at the lash line.
AS FEATURED ON:
AS FEATURED ON:







By: studiovespa

An eyeshadow brush should have soft bristles.

By: phasinphoto

Pressed powder eyeshadows are best applied with a brush or a cotton swab.

By: Mikhail Malyugin

Some eyeshadow applicators are designed to produce a smoky effect.

By: Antonioguillem

Eyeshadow may help enhance a person's eye color.