How Do I Choose the Best Facial Sponges?
Choose the best facial sponges according to their purpose. There are different types of facial sponges, for example, for exfoliating, cleansing or applying make up. Decide if you want natural or synthetic sponges. Natural sponges generally have larger pores and a rougher texture making them good for exfoliation. Artificial sponges can be manufactured with a softer texture for gently cleansing and removing makeup.
The importance of facial sponges is often overlooked when choosing beauty products. Choose the best type of facial sponges for certain tasks. The loofah is a natural type of sponge used for exfoliation; it removes dead skin cells and dirt. Cleansing sponges and facial buffer sponges are also used to remove dead skin cells, but can be used with facial cleansers. They are not as abrasive as exfoliating sponges.
Cleansing sponges can be manufactured with a very soft texture and are best for sensitive skin. They are gentler on red or sore skin such as acne, but still able to renew the skin and create a more even complexion. The best sponges are easy to clean and dry, because bacteria survive on wet sponges, potentially causing face and eye infections. Cellulose sponges are used for deep cleansing. They are made from natural plant fibers and are good for removing make up.
Makeup sponges should be soft and durable, and come in a wide range of shapes such as wedges, blocks and flat rectangles. Choose the shape that you find easiest to grip onto and that provides the most even coverage. Buy make-up sponges with fine pores; these do not absorb as much of your expensive foundation or powder. For facial massage, the best massage sponges are relatively soft to avoid damaging the skin. They are shaped to massage your face as you rub.
Facial sponges can be made with natural or artificial materials. Due to their comparatively large pores and rough texture, natural sea sponges are best for cleansing and massaging. Natural sponges are usually more expensive than synthetic sponges. Artificial sponges are manufactured with specific properties to suit different purposes. PVA (polyvinyl alcohol) material is used to make both soft facial puff sponges with fine pores, and harsher facial cleansing sponges for exfoliating.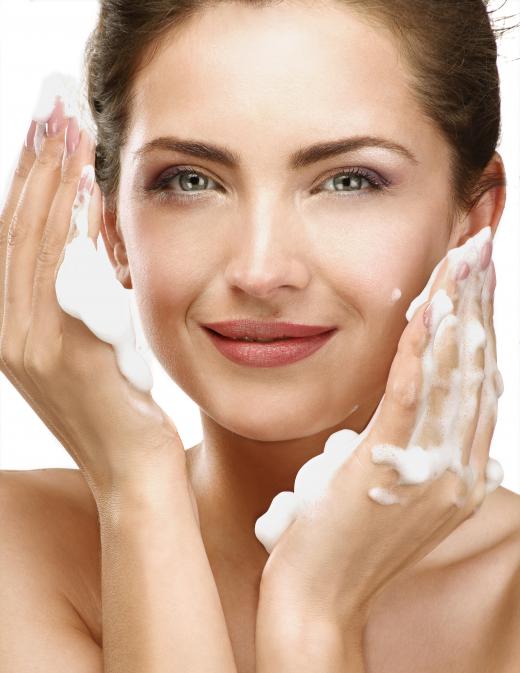 Ask your beauty therapist or beauty store assistant about the best facial sponges for your complexion. They will be able to recommend the most popular facial sponge brands. Choose the best facial sponges within your budget and always purchase sponges that are clean and sealed in packets. Buy the best shape of facial sponge for its purpose, for example, with an easy grip for exfoliating.
AS FEATURED ON:
AS FEATURED ON:







By: Africa Studio

There are several types of facial sponges.

By: Africa Studio

Facial sponges can be used to gently remove makeup.

By: fotocomo

With their large pores and rough texture, natural sponges tend to be better than synthetic ones at exfoliating skin.

By: ipag

Preventing breakouts is best done through an exfoliating facial wash.

By: Valua Vitaly

Soft cleansing sponges are best for the renewal of sensitive skin and can create a more even complexion.

By: schankz

Bacteria on wet sponges may cause eye infections.

By: micro10x

Some people prefer a washcloth to clean their face instead of expensive facial sponges.