How Do I Choose the Best Hair Colors for Cool Skin Tones?
Some of the best hair colors for cool skin tones are those that do not include warm tones. People with cool skin tones should usually avoid hair color with yellowish undertones, choosing colors with cool undertones instead. Asking the advice of a professional stylist can also help determine the best hair color for any person. Drastic hair color changes should also be left to the professionals.
Some of the best blonde hair colors for cool skin tones include ash and platinum blondes. A few people with cool skin may also look good with honey blonde hues. Blonde hair colors with yellowish undertones, however, should be avoided. This includes bronze or golden blonde.
Browns typically offer the most versatility for people with cool skin tones, although ash browns and light browns are typically considered to be the best. Golden browns should be avoided.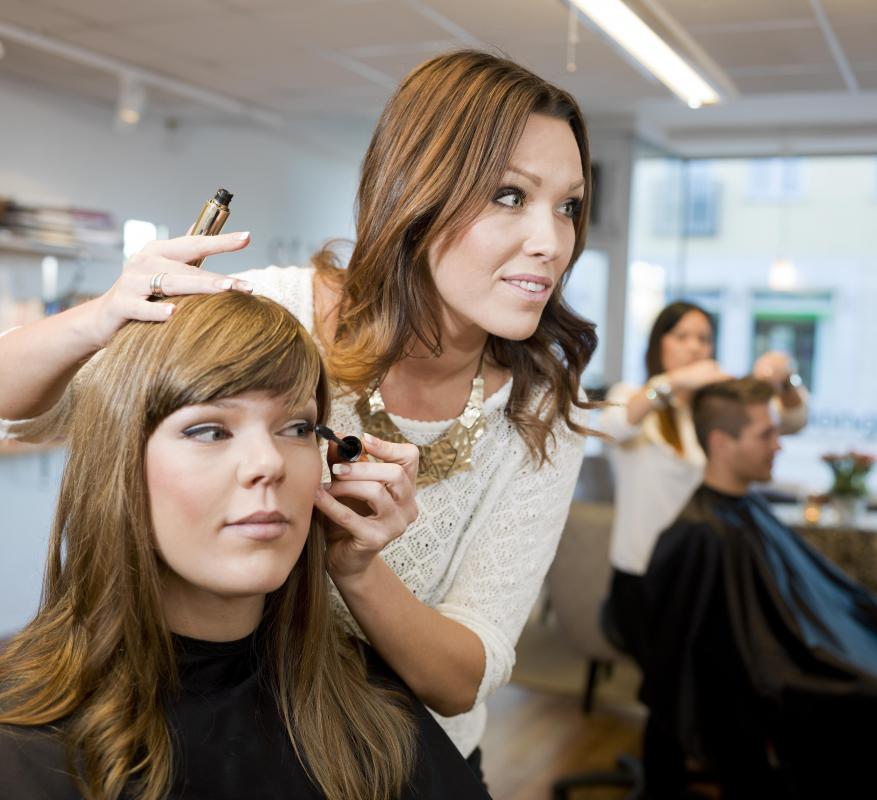 Black is another hair color that may look good on people with cool skin tones. Some black hair colors even have hints of cool blue in them, especially in the sunlight. Very dark hair like black, however, typically looks best on people with darker skin. Black hair often contrasts sharply on people with fair skin, and it can make them appear washed out.
When deciding on the best hair colors for cool skin tones, extra caution should be taken when looking at red hair colors. Most reds work well for people with warm skin tones, due to their yellowish undertones. Cool reds with a hint of blue, however, may be suitable for some people with cool skin. Hair dyes with burgundy or ruby in the name usually have cool undertones.
When choosing at-home hair coloring kits, keep in mind that the color of your hair after you dye it may not be the same as the color indicated on the box. Also, it is typically advised to only dye your hair a color that is no more than two or three shades different than your natural hair color. For a more drastic change, like dying black hair blonde, most experts advise that you visit a professional stylist.
Drastic hair color changes also typically require more upkeep. Dark roots need to be retouched every few weeks, for instance. To keep your hair color longer, many experts typically recommend using a shampoo and conditioner formulated for colored hair. These hair products are usually gentle on hair, and will prevent the color from fading too quickly.
A hair dyeing kit.

Red can be a tricky hair color to pull off.

An experienced hair stylist who is comfortable with your hair type and who does a good job can be great source of information.

Platinum blonde looks best with cool skin tones.

Most hair colors complement people with pale, cool skin tones.

Someone wishing to dye their black hair blonde should probably visit a professional stylist.

Black hair with blue tones may be suitable for people with cool skin tones.