How do I Choose the Best Nail Art Stickers?
Nail art stickers, also referred to as nail art decals, are an easy way to add interest to your nails. They can be applied by yourself, which is often not possible with airbrush or freehand nail art unless you are very skilled. To choose the best nail art stickers, begin by considering the type of look you are going for, as well as how many nails you want to put the stickers onto.
Nail art stickers are typically very small and intended to be applied to the fingernails as well as the big toenail. The nails on the other toes are often too small to allow you to use nail art stickers on them; many people simply paint them and then only apply a sticker to the largest toenail. In addition, you may choose to apply stickers to all of the fingernails, or to just one or two. The nail on the ring finger is a common location for a nail art sticker.
There are many different designs of nail art stickers available for various occasions or holidays, and they may be ordered online or purchased in drugstores. You may choose a simple design such as a heart or a flower for everyday wear, for example. For the holidays, one might choose a pumpkin or a Christmas tree, or for a wedding or special event you might select a small gemstone to go on the fingernails. The type of nail art stickers you choose is based on your personal preferences.
Most nail art stickers are capable of adhering fairly well to nails. It is generally a good idea to paint the nails first, with a base coat at the very least, to allow the stickers to adhere better; it will be much more difficult for them to adhere to natural nails. Once the polish is dry, apply the sticker; if the sticker is flat, as most are with the exception of the gemstones, apply a thin coat of clear nail polish over the sticker. This will help keep it in place on the nail, and prevent it from ripping, wrinkling, or peeling off.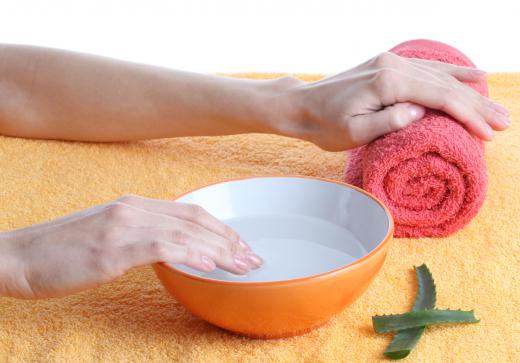 If you find that the stickers you choose are peeling or coming off, you may want to select a different brand. The stickers should be able to last as long as your manicure, or at least a few days to a week. Nail art stickers are a simple, easy way to be creative and add a festive look to your nails.
AS FEATURED ON:
AS FEATURED ON:







By: sakura

Nail art stickers provide an alternative to freehand nail art.

By: dusk

A thin coat of clear nail polish should be placed over the nail art sticker.

By: Photographee.eu

Nail art stickers should be applied to nails that have been cleaned and prepped.