How Do I Choose the Best Nail Buffer?
Healthy-looking, shiny fingernails are attractive, enticing and a sign of good grooming. You can achieve these on both your hands and feet by buffing your fingernails and toenails regularly. To choose the best nail buffer for your purposes, decide what your requirements are and research those products that fulfill them. You might have to test several nail buffers before you find one that you prefer. Try out the traditional nail file buffer, the sanding block and the four-way block nail buffer and shiner.
The traditional emery board shaped nail buffer is made from a strip of cardboard or wood covered with a layer of crushed emery, which gives the nail file its sanding qualities. You can buy these with two sanding sides or with one sanding side and one buffing side. They sell in a variety of thicknesses, widths and colors.
Choose a nail sanding block if you regularly use artificial nails made from acrylic or other rigid materials. The sanding block is a rectangular block that is a little more than 1 inch (2.54 cm) wide, 1 inch (2.54 cm) high and 4 inches (10.16 cm) long. It is made from dense sponge. All four sides shape and smooth your nails for shining or prepare them for the application of artificial nails, nail polish or gel products.
Four-way nail buffer blocks do more than polish nails. The buffer is a rectangular block that has different surfaces on the four sides. One side is a nail file, with a rough, sandpaper-like emery surface that you can use for shaping and shortening your nails, and a second side has a finer grain for sanding down the surface of the nails and removing any natural ridges. The third side is a buffer, which smooths the flat section of the nail and prepares it for polishing, and the fourth side shines the nails. Use all four sides in order for well-shaped, smooth and shiny nails.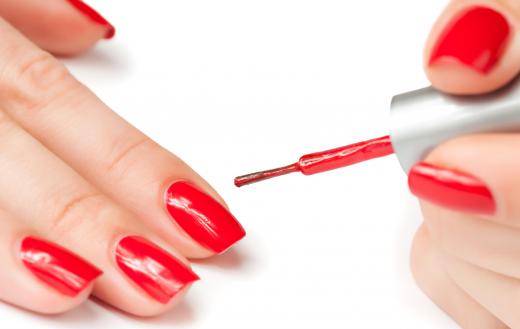 The grip of your nail buffer is important. Choose the buffer that has the best grip by holding the products in your hand in the store, the way you would hold them to buff your nails. You should be able to hold the buffer comfortably with your whole hand to buff smoothly.
Before making a purchase, check the quality of the surfaces to determine the durability of the buffer. If possible, buy a new buffer in a single pack to start with, until you are certain that it works for you. Many buffers sell in bulk, and if you buy a pack of 50 units and then discover you don't like the product, you will be unable to return the pack for a refund. A large variety of buffers is available for ordering online.
AS FEATURED ON:
AS FEATURED ON:







By: Valua Vitaly

Nail buffers are used to polish the fingernails and toenails.

By: bertys30

Traditional nail buffers are made from a strip of cardboard or wood covered with a layer of crushed emery.

By: Dmytro Titov

Fingernail polish will adhere more evenly after fingernail buffing.