How Do I Choose the Best Shimmer Powder?
Choosing the best shimmer powder is a combination of knowing what products are available and knowing how you want to use them. Shimmer powder is available in both loose and pressed powders, both of which have advantages and disadvantages. Some of these powders are tinted, and some are translucent and impart the shimmer without any additional color. There also tends to be a fairly wide range of shimmer particles, and you are likely to encounter products that have a very fine, subtle shimmer and those with larger, more obvious glittery particles.
Using a pressed shimmer powder might be the easier choice if you are new to cosmetics and unfamiliar with application techniques. Pressed powders are somewhat easier to handle because they tend to be much less messy than containers of loose powder. A pressed shimmer powder will most likely come in a palette similar to a bronzer or blush. Purchasing one with a larger surface area is probably the most versatile option, as you will be able to use both small makeup brushes for detailed highlighting and large fluffy powder brushes for all-over shimmer. If you only plan to use your powder with small brushes to highlight your brow bone, inner eyes, or cheekbones, a smaller product should suffice.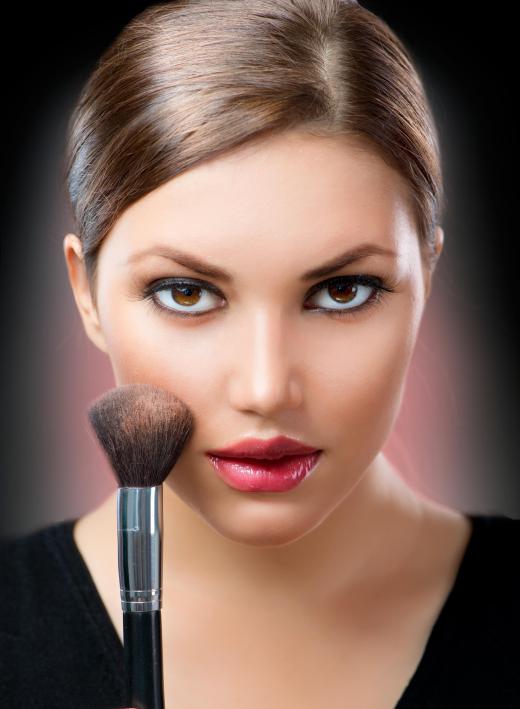 If you are choosing a loose shimmer powder, there are a couple of factors to keep in mind. Loose powder is not compressed into a solid cake like pressed powder and can be a bit more difficult to work with. Generally, a lot more product ends up on the applicator when you dip it into loose powder than when you brush it against a pressed powder. Accumulating too much product on the brush can lead to heavy-handed application, so if subtlety is your goal, you should be cautious when using loose powders for detailed highlighting work. It can be advantageous, however, to use a loose powder for larger, less precise applications such as dusting the face or sweeping the shimmer powder over the neck, shoulders, and decolletage.
When you are choosing a shimmer powder, keep in mind that some products are tinted to achieve different effects. Some powders are available in a variety of flesh tones to suit different complexions. These products should not be confused with bronzers, which are more opaque and meant to darken the skin instead of blending with it. Other products are tinted in pink, peach, or gold tones and are useful for adding a warm glow to the skin. One of the most versatile tints is a pale champagne color, which suits a wide variety of skin tones and can be used for both highlighting and all-over applications.
Lastly, you should be aware that some shimmer powders have much finer shine particles than others. If you are aiming for a subtle, natural glow, be sure to choose a shimmer powder with very finely milled shimmer. Some products, although they are labeled as shimmer, actually contain much larger particles that can look more like glitter on the skin.
AS FEATURED ON:
AS FEATURED ON:







By: Subbotina Anna

Shimmer powder is often applied in a similar manner to bronzer or blush, and can be used instead.

By: micromonkey

Shimmer powder can be used on a multitude of complexions.

By: Leonid & Anna Dedukh

A shimmer powder palette with a large surface area allows for detailed highlighting with small makeup brushes and all-over shimmer with large fluffy powder brushes.

By: Doruk Sikman

Failure to properly remove face powder may result in clogged pores and acne.

By: Tanouchka

Shimmer powders may be tinted or translucent.