How Do I Choose the Best Skin Zinc?
Zinc is a mineral commonly used to treat a wide range of skin conditions. To choose the best skin zinc, select a product according to the type of zinc it contains. There are several types of zinc used in topical solutions, including zinc oxide, zinc pyrithione and zinc undecylenate. While different types of zinc can sometimes be used for the same purpose, certain conditions are most effectively treated with a specific form. In addition to choosing the most beneficial ingredients, select the best application method for your condition, whether that be a lotion, spray or another type of product.
One of the most common forms of skin zinc is zinc oxide. This mineral is a natural sunblock used in many cosmetics, lotions and sunscreens. Due to its soothing properties, zinc oxide is also used to treat diaper rash, skin irritation, burns and hemorrhoids. Many people also find this type of skin zinc effective in the treatment of acne, dermatitis, rosacea and psoriasis. For the best results, choose a moisturizing zinc lotion, powder or suppository designed for your specific condition.
Zinc pyrithione is another type of zinc frequently included in skincare products. This form is typically used as a fungicide, antibacterial and antiseborrheic, which means it slows the growth of skin cells. When included in shampoo, zinc pyrithione is an effective treatment for dandruff. A zinc spray or lotion can also be used to treat seborrhoeic dermatitis, acne, psoriasis, ringworm, athlete's foot, tinea and vitiligo. To choose the best skin zinc to treat these conditions, look for one that contains zinc pyrithione.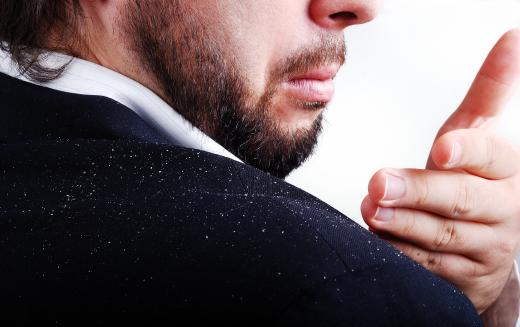 Another type of skin zinc that can be used to treat fungal infections, like athlete's foot and jock itch, is zinc undecylenate. Zinc undecylenate is available in both powder and cream form. To treat athlete's foot and jock itch, zinc undecylenate might be most beneficial when used in its powder form. Zinc undecylenate powder will soothe the area, while absorbing moisture and preventing further irritation. Lotion is generally more effective in the treatment of ringworm, as it tends to absorb easier into the skin.
A few other types of zinc are also effective when used topically. As a liquid solution, zinc sulphate can be used to treat eye irritation and prevent infection. Zinc citrate is commonly used in toothpaste and mouthwash to prevent the accumulation of plaque. Several other forms of zinc are available in capsule or pill form to supplement a person's diet and treat skin conditions like eczema and psoriasis from inside the body.
AS FEATURED ON:
AS FEATURED ON:







By: Axel Bückert

Skin zinc can be used to treat vitiligo.

By: Jasmin Merdan

Zinc pyrithione is used in dandruff shampoos.

By: quayside

Zinc supplements can be used to treat eczema.

By: roblan

A zinc spray containing pyrithione can be used to treat athlete's foot.

By: robert mobley

Zinc oxide can effectivley treat rosacea and psoriasis.

By: schankz

Ringworm is a fungal infection that may be treated with zinc pyrithione.