How Do I Choose the Best Soap for Hard Water?
A soap for hard water is specially formulated to lather and rinse well despite the minerals it contains. Detergents and additives exchange calcium and manganese ions in the soap the same as a water softener would, or prevent them from binding in the first place. Body washes, shampoos and laundry boosters all help, but using a water softener unit is the easiest way to reduce hard water buildup when washing yourself or your clothing.
Hard water comes from aquifers deep beneath the surface where it has long exposure to minerals such as manganese, calcium and limestone. These substances dissolve ions into the water that are suspended in a solution. While not harmful, they leave a deposit on bathroom fixtures, skin and hair. When it comes in contact with soap, the result is a sticky, hard-to-remove film.
Soap doesn't lather well in hard water because the minerals bind with its elements. This keeps it from foaming properly, which many people feel is essential to removing body oils, dirt and grease. A soap for hard water contains additives that are designed to soften the water as they come in contact with it, thus improving lather and eliminating the film. One of the best varieties is called a castile soap, a mild formula with a high concentration of coconut or other oils.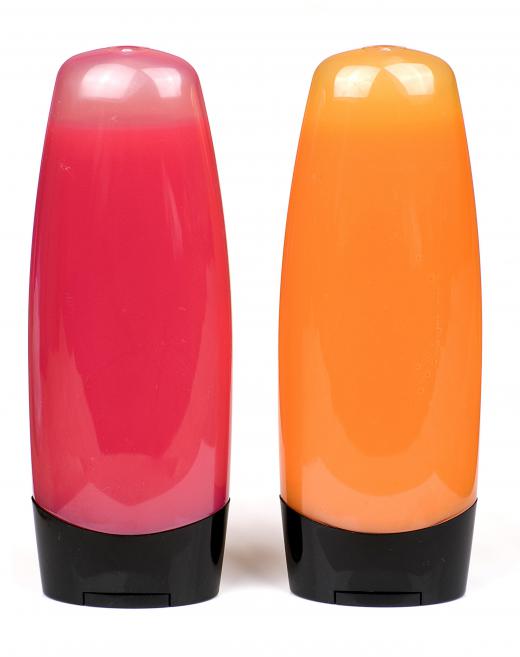 Manufactured body washes are usually made with detergents that don't bind with mineral ions as well as the sodium stearate in traditional bar soaps. Body washes come in many popular colors and scents, making them an appealing soap for use when bathing in hard water. They also frequently include moisturizers that remain behind after rinsing and soften skin. While a bit more expensive than bar soap, they are a good choice if you can't install a water softener, such as in a rental unit.
Clarifying shampoos, designed to remove buildup, are typically the best soap for hard water to use on hair. They usually contain ingredients that strip substances from the cuticle. Clarifying shampoos work not just on hard water buildup but also that left by products such as hairspray that capture mineral deposits and make hair appear dull. The ingredient ethylenediaminetetraacetic acid (EDTA) binds to minerals and removes them before they can be deposited. EDTA breaks down to an environmental pollutant, however, so products with Ethylenediamine-N,N'-disuccinic acid (EDDS) offer a more biodegradable alternative.
Water softeners exchange the mineral ions in hard water with sodium or potassium ions. This eliminates the deposits on clothing, skin and fixtures that bond with soap to make scum. They require adding sodium periodically to recharge them. A softener unit will add sodium to the water in your home, so if you or anyone in your house are on a low-sodium diet this may not be the best alternative. If a softener unit isn't economically feasible for your household, you can simply add packaged water softeners like borax to laundry to help get clothes cleaner and continue to use a specialty soap for hard water to shower and bathe.
How Does Hard Water Affect the Cleaning Ability of Soap?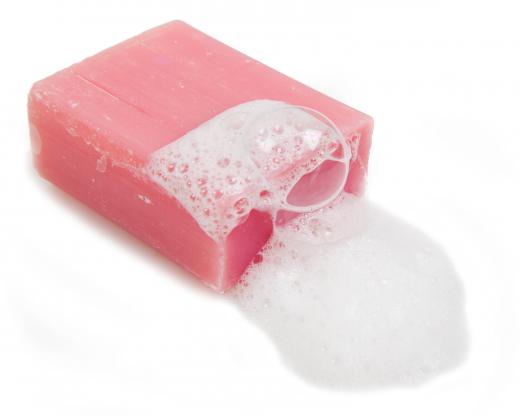 Soap's ability to clean is hindered when it comes in contact with the minerals found in hard water. The molecules in soap react with calcium and manganese to create a completely different and unpleasant substance incorrectly called soap scum, a residue that makes surfaces feel sticky and less clean.
To understand why this is, it helps to know how soap works to clean your skin, hair and clothing.
How Soap Works
Soap is made by mixing fats with either lye or potash that are then heated. The chemical reaction from this mixture creates unique molecules that are positive on one end and negative on the other. The positive end attracts water molecules while the negative pulls in oils.
The oils in your hair and skin are what hold in soiling and stains. The same goes for clothing and other objects. Remove the grease, and you get rid of the dirt. While those dirt-laden, fatty globules won't dissolve in water, the molecules in the soap keep them suspended so that when you rinse the soap away, the oils and dirt go down the drain with it.
Why Is Hard Water a Problem?
Hard water often contains limestone, which has a super-strong positive charge, causing a real problem when it hooks up with a soap molecule. When they bond, that molecule no longer has an end that's negative. It still attaches itself to the oils, but because the other end is no longer negative, it can't dissolve in water.
Instead it turns into a sticky, insoluble goo that is often called soap scum but is actually calcium and magnesium salts. They leave ugly spots on your shower door and a ring in your tub. They also attach to your hair, skin and clothing, stiffening your hair, leaving an unpleasant film on your skin and making your clothes less comfortable.
Why Does Hard Water Consume a Lot of Soap?
It is the lather in soap that makes you feel clean. Combine soap and water together and add some friction and you typically produce a good lather. The friction makes air bubbles in the soap, and the molecules of dirt attach to those bubbles.
However, this doesn't happen as easily when you clean using soap in hard water. Because soap molecules that have reacted with the ions in hard water have more of a positive charge than a negative one, the soap pulls less oil off your skin and hair. That means more soap is needed to do the same work.
How To Test Water Hardness With Soap
Here's a simple way to test whether you have hard or soft water. You need a clear glass, the water that comes from your tap, and liquid soap.
The soap has to be a true soap that doesn't contain any detergents. Detergents work as a water softener and won't provide you with an accurate picture as to whether your water is hard or soft. Find a true liquid castille soap for this test.
To Test Your Water
Fill the glass with the water you want to test and then add a squirt of the soap to the water. If the water is hard, the soap will make it cloudy. That's because the minerals in the water are attaching to the liquid soap and clouding up the water. If the water remains clear, then you have soft water where there are no minerals. In such water, any soap should work well.
If you already have a water softener installed in your home, this test is an excellent way to determine if it is working properly.
AS FEATURED ON:
AS FEATURED ON:







By: Nataliia

A bar of soap.

By: Dessie

Body washes are often a good option for people with hard water.

By: Denis Tabler

Castile soap will soften hard water and can have a high concentration of coconut oil.

By: Kirill Kedrinski

Soaps for hard water are specially formulated to lather and rinse well.

By: Lsantilli

Soaps can build up on the skin when washed with hard water.

By: Photographee.eu

A water softener is the easiest way to reduce hard water buildup when bathing or washing clothes.