How do I Determine my Bra Size?
Bras can either be your best friends or your worst enemies. Worn correctly and in the right size, they provide your breasts with excellent support, saving you from a host of problems such as unsightly sagging breasts, back pains and muscle tension. Nevertheless, it is shocking that seven out of every ten women unknowingly wear bras that do not properly fit their bodies.
A bra size is made up of two components: the number that denotes the band size and the letter that indicates the cup size. Determining the bra size that fits you is not as complicated as you may think. In fact, all you need are a tape measure, someone to assist you and the guidelines below. Keep in mind, however, that this method doesn't always work well for women with larger cup sizes, particularly those over a D.
To prevent any inaccuracies, get someone else to take your bra size measurements. It is best to take the measurements on your bare skin rather than over your clothing. However, if you are embarrassed about standing bare-chested before someone else, then wear your most comfortable and best-fitting unpadded bra. Stand upright with your arms at your sides and assume a relaxed posture by breathing normally.
Step 2: Measure your band size
Your band size is also known as your chest size. It is the circumference of your chest either above or below your breasts. Both measurements are commonly used and are accurate in determining your correct bra size:
Place the tape measure around your back and upper chest by going above your breasts and under your armpits. Make sure the tape measure lies taut against your skin. If you get an odd number or a fraction, round up to the nearest even number. For instance, 31.6 inches (80.3 cm) will become 32 inches (81.3 cm). This measurement in inches is your band size.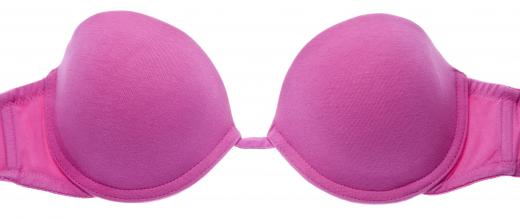 Place the tape measure tightly around your back, going under your breasts and across your ribcage. Add four inches (10.2 cm) if you get an even number and five inches (12.7 cm) if you get an odd number. For example, 28 inches (71.1 cm) will become 32 inches (81.3 cm). This is your band size.
Following this example, your band size is 32 inches (81.3 cm). Keep this number in mind, as you will need it to calculate your cup size.
Step 3: Measure your cup size
Measure the circumference of your chest, including your breasts at their fullest part. This part is usually at the nipple level. To determine your cup size, subtract your band size from your chest plus breast measurement. Hence, if your chest and breast measurement is 34 inches (86.4 cm), and your band size is 32 inches (81.3 cm), you will get a difference of two inches (5.1 cm). The table below lists the various cup sizes based on the length of the difference:
Difference: Cup Size
1 inch (2.5 cm): A
2 inches (5.1 cm): B
3 inches (7.6 cm): C
4 inches (10.2 cm): D
5 inches (12.7 cm): DD or E
6 inches (15.2 cm): F
7 inches (17.8 cm): G
Since you have a difference of 2 inches (5.1 cm) in this example, your cup size is B. From steps 2 and 3, you already know your bra size, which is 32B.
Now that you know how it is done, you can measure your bra size from the privacy of your own home. Even though the method above is accurate, you may sometimes try on a bra in your size that does not fit you. This is common, given the varying bra designs from one manufacturer to the next. Additionally, your bra size alters according to changes in your body due to factors such as exercise, diet, the natural aging process and water retention.
If a bra in your size does not fit you, first try to adjust the bra straps or band hooks before opting for a bra in another size. If, after proper adjustments are made, the bra still does not fit well, then follow what your body is telling you. Above all else, it is very important to choose comfort and a good fit rather than restricting yourself to your bra size.
AS FEATURED ON:
AS FEATURED ON:







Trying a bra for size.

By: Graça Victoria

A beige underwire bra.

By: Brooke Becker

A strapless bra.

By: Schlierner

You can determine your bra size by taking a few basic measurements.

By: Connor Evans

Measuring bra size requires using a tailor's measuring tape.