How Do I Prevent Yellow Toenails from Nail Polish?
Among the best steps you can take to avoid yellow toenails from nail polish are removing nail polish on a regular basis — at least once per week — and allowing your nails to breathe. Choosing an acetone-free nail polish remover may also prove helpful. Dark nail polishes, especially darker reds, are more likely to discolor nails, so you might want to stick to lighter colors if yellowing has been a problem in the past. Additionally, you can take steps to avoid toenail fungus, which is a common cause of yellowed toenails and may make nail discoloration even worse.
Nail discoloration can often be avoided by not wearing nail polish all the time. If you remove your nail polish on a regular basis and allow your natural nails to breathe, they may be less likely to turn yellow. Some experts recommend removing nail polish at least once each week and then cleaning the nails to prevent discoloration; you might find a solution of hydrogen peroxide and baking soda helpful for this purpose. The mixture should appear pasty when you spread it over your nails, and it can be rinsed off with warm water.
You may also find the type of nail polish remover you are using important when you are trying to prevent yellow toenails. Acetone polish removers are known to contribute to the yellowing of the nails, so you will likely want to avoid it. An acetone-free alternative may prove a better option if you want to keep your toenails clear and healthy looking.
In many cases, the polish choices you make might also help you prevent your toenails from turning yellow. For example, you may find it beneficial to avoid wearing very dark colors, such as those in the red, brown or black families, as they are known to contribute to the yellowing of nails. Likewise, you may benefit from protective layer of base coat polish before you apply the color you have chosen.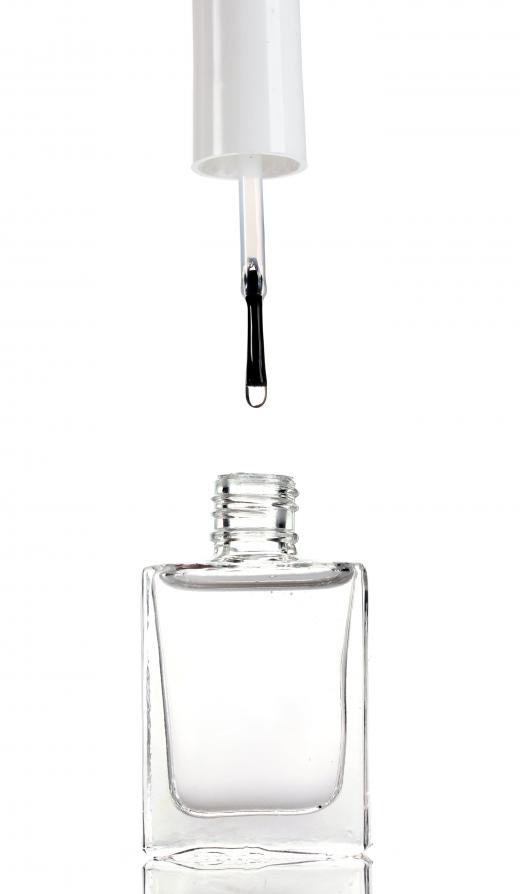 Unfortunately, yellowed toenails sometimes also develop as a sign that a person has a fungal infection. The nail might just appear yellowed at first, but it may eventually become thick and crumbly, as infected toenails often do. To make this less likely, keep your feet clean and dry, wear white, all-cotton socks, and avoid shoes that cause your feet to sweat. You may also want to avoid sharing toenail clippers and files, and wear footwear when you are in locker rooms, community showers, or pool areas. Additionally, avoiding ill-fitting shoes may help.
AS FEATURED ON:
AS FEATURED ON:







By: bepinet

Lighter colors of nail polish are less likely to turn toenails yellow than very dark colors.

By: travis manley

Removing polish regularly and choosing a non-acetone remover can often help prevent yellow nails.

By: Africa Studio

A nail polish base coat, which can help prevent yellow toenails.

By: Monika 3 Steps Ahead

Dark red polishes are the most likely to discolor nails.