How Do I Use Evening Primrose Oil for Acne?
Evening primrose oil is a dietary supplement and a topical treatment derived from the seeds of a wildflower that grows across North and South America. In addition to its other uses, people use evening primrose oil for acne by applying it topically and by taking it in supplement form. Due to its short shelf life, it is recommended to purchase evening primrose oil in capsules; these can be broken and the oil applied directly to the skin as needed.
Use of evening primrose oil in poultices to help treat wounds can be traced back to the Native Americans. By applying evening primrose oil to the skin, it can help speed up wound healing and also help get rid of bruises faster. These effects are why people use evening primrose oil for acne topically as well as ingesting it.
As a supplement, evening primrose oil can help maintain the overall health of the body and the skin. The oil is high in gamma-linolenic acid (GLA), an essential fatty acid, as well as linoleic acid. It has been linked with improvements in the symptoms associated with eczema, dermatitis and psoriasis, as well as acne. Taking supplements of evening primrose oil for acne treatment can lead to less redness and irritation of the skin. It can help reduce the inflammation, pain, swelling and redness that is suffered by people with chronic acne.
Applying evening primrose oil directly onto pimples can help to reduce the size and discoloration of the pimple. When taking supplements, there is no guarantee how much of an effect the evening primrose oil will have on the skin of the person taking the capsules. By applying the oil from the capsules directly to the pimple, the essential fatty acids will be absorbed by the skin cells that need to be treated.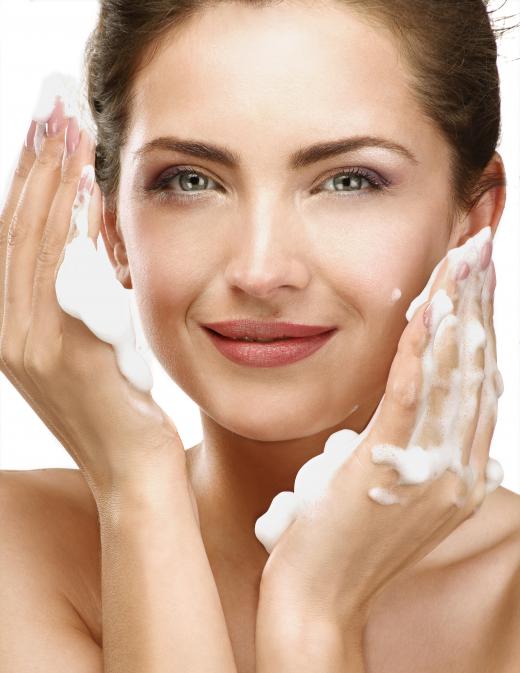 Evening primrose oil is quite thick and can go bad quickly, so many people recommend buying the capsules and puncturing them as necessary if topically applying evening primrose oil for acne. By puncturing the capsules, there is a much smaller amount of oil to deal with, so the application can be much more controlled. Also, the capsules usually have a much longer shelf life than purchasing bottles of evening primrose oil.
To treat acne with evening primrose oil, the oil should be applied to the inflamed area of the skin in the evening after the face has been cleansed. The oil should not be wiped off, but left overnight to be absorbed completely into the skin. What is important to note is that this is a quite mild treatment method, so it can take some time for results to appear when treatment is first started.
AS FEATURED ON:
AS FEATURED ON:







By: olavs

A close up of acne.

By: Sun Jeng Tan

Evening primrose oil capsules.

By: ipag

Evening primrose oil may be applied after the face is washed for acne prevention.

By: Lucie Říhová

Evening primrose oil contains high levels of gamma-linolenic acid.

By: vgstudio

Drinking plenty of water can help keep the skin hydrated and reduce the occurrence of acne.

By: miya227

Applying a steamed towel to the face can help unclog the pores and reduce the occurrence of acne.

By: librakv

Evening primrose oil capsules may help reduce flare-ups of certain skin conditions.