How Do I Use Gelatin for Hair?
There are many topical uses of gelatin for hair. Gelatin can be used to strengthen hair and increase body or lift of the hair. Another topical use of gelatin is as a very firm gel for hair. Ingesting gelatin may also promote hair growth and durability, but scientific evidence of this use is mixed.
The topical application of gelatin for hair is typically to increase durability and improve body. This beauty tip is simple and inexpensive. Prior to taking a shower, you should completely dissolve a 1-ounce (28-gram) package of unflavored gelatin in 1 cup (240 ml) of warm water.
After shampooing your hair with your regular shampoo, you should apply the gelatin to the hair, working it into the hair and around the scalp. Let the gelatin rest on the hair for a few minute. The gelatin will feel somewhat like paste or similar to a face mask cream. After several minutes, the gelatin can be washed completely out of the hair with warm water.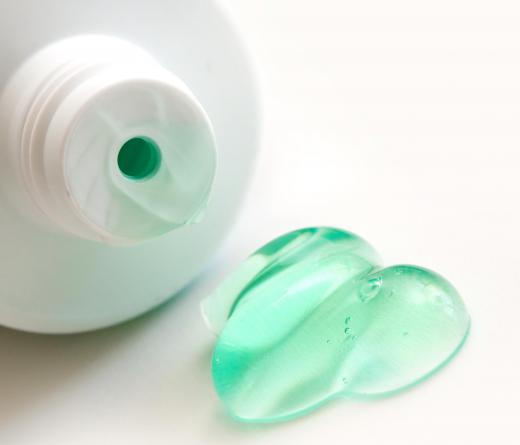 Another method of applying gelatin to hair is to add a 1-ounce (28-gram) packet of gelatin directly to your bottle of shampoo. Gently flip the bottle up and down to mix and dissolve the gelatin into the shampoo. Use the shampoo as you normally would, being sure to completely wash the suds and gelatin out of your hair.
Another topical use of gelatin for hair is as a natural gel. To make the gel, mix a 1-ounce (28-gram) packet of gelatin with 1 cup (240 ml) of warm water and then place it in the refrigerator to coagulate. Once somewhat hard, the gel can be used as a very firm and secure hair gel. Beware, however, that this gel makes the hair look wet. Gelatin hair gel is frequently used by synchronized swimmers to slick back their hair during routines or by theater performers to create dramatic hair styles.
Some beauticians believe that ingesting gelatin may enhance hair growth and strength. Scientific evidence on the use of gelatin to promote hair growth is limited and incomplete. Gelatin, in reasonable quantities, is not harmful, so trying gelatin for hair growth is perfectly safe.
To ingest gelatin, flavored gelatin can simply be prepared, refrigerated, and eaten. Unflavored gelatin packets can be mixed with ice cream, juice, or just about anything. Gelatin supplements are also available at most drug stores, grocery stores, or natural food stores. The bottle of gelatin tablets should be carefully consulted for the appropriate daily dose. If you have health concerns, it may be prudent to check with your doctor before taking a gelatin supplement.
AS FEATURED ON:
AS FEATURED ON:







By: Friday

One of the best ways to apply gelatin to hair is to lather it in much like shampoo.

By: Alexandra

Hair gelatin is used topically in hair, and can improve growth and strength.

By: Piotr Marcinski

Hair should be shampooed before gelatin is applied.

By: endostock

It may be wise to consult with a doctor prior to using gelatin for hair.

By: puhhha

Using gelatin can help to strengthen hair and give it more lift.