How does Silicone Foundation Work?
Silicone foundation is a type of makeup that works by applying a shining and smoothing agent to the facial skin, as well as a moisture sealant. Essentially, it is used as a base to smooth and even skin lines and tones. This type of foundation is often favored for a long-lasting or specialized look, as it tends to produce a smooth and unblemished canvas from which to begin applying other makeup.
The two main silicone-based derivatives in this type of foundation are cyclomethicone, which produces the shine and smoothness, and dimethicone, which functions as the moisture sealant. Silicone foundation is typically used by women with normal to dry skin, as it holds in moisture. It typically is avoided by women with oily skin, as it will prevent excess moisture from escaping.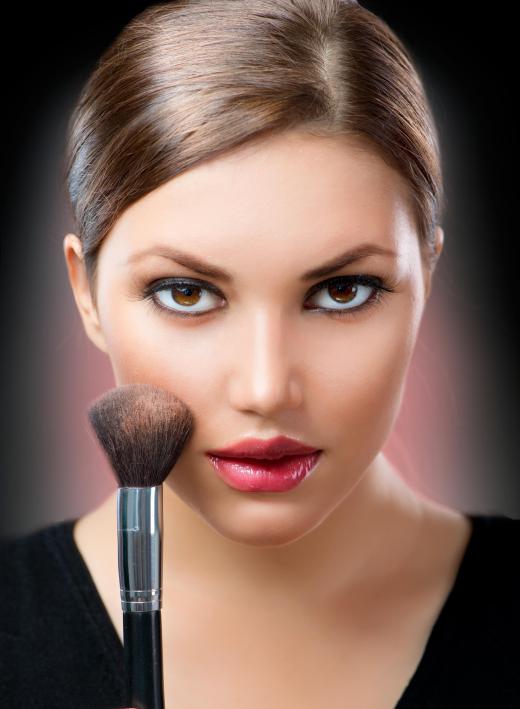 It is the dimethicone in silicone foundation that causes it to act as an emollient, which means it is intended to prevent moisture loss when applied. This is accomplished by sitting on top of the facial skin and preventing moisture from escaping. Emollients give skin a smooth, soft feel, which is one reason that silicone foundation is preferred by women with drier skin. While many makeup foundations and primers will also contain a moisturizer that will penetrate the skin, emollients remain on the top of the skin to complete their function.
Silicone foundations are applied in either liquid or cream form, often without the need for any use of water. This allows for a single layer to be applied evenly or for multiple layers to be blended together if need be. As with any base-layer makeup, silicone foundation can be applied using a brush, sponge, or the fingers, and it is used to coat the face before applying other makeup such as blush or eye shadow.
Makeup that is silicone-based is used for both primer and foundation purposes, both to the same effect. One thing to bear in mind when using any silicone foundation product is that silicone products are occlusive, meaning that they trap moisture beneath the skin and prevent it from breathing as easily. For this reason, it is important to thoroughly clean the face each day and allow the skin time to renew itself.
Silicone foundation can come in formulas with or without oil. It will often claim to lack the emollient properties associated with oil-based makeup. Any silicone-based foundation product which contains dimethicone or similar derivative such as cetyl dimethicone will, however, have the properties of an emollient.
AS FEATURED ON:
AS FEATURED ON:







By: Subbotina Anna

Silicone foundation offers a smooth base for other makeup.

By: phasinphoto

Women with oily skin should avoid silicone foundation.

By: mikelaptev

Silicone foundation can be applied using a brush, sponge or fingers.

By: Minerva Studio

Eyeliner should generally be applied after silicone foundation.

By: micromonkey

The shade of foundation is typically chosen based on an individual's skin tone.

By: Tanouchka

It is important to clean the face each day after using silicone foundation.

By: Doruk Sikman

Failure to properly remove silicone foundation may result in clogged pores and acne.