In Fashion, what does "Ombre" Mean?
In fashion, the term ombre refers to the graduation of color in a garment. The word usually refers to a garment that is monochromatic but has a graduated variation in the saturation of the color. For example, a green ombre dress may be very pale green at the hem, but the fabric becomes deeper in color the as it reaches from the bottom hem to the shoulder straps at the top of the dress, where the color might be a very deep forest green.
There are a number of ways to create ombre fabrics. With current textile technology, it is possible to use numerous threads that range in color saturation or a single spool of thread that has been specifically dyed to create this effect. This kind of effect can also be created by dipping fabric into a vat of dye and very slowly pulling it out. In so doing, the part of the garment that is in the dye for the longest will have the deepest color. The variation will depend on how long each section of the fabric is left to soak in the dye.
While ombre fabrics can be used in any kind of garment and many kinds of accessories, it is most common in dresses. Many famous designers, including Alberta Ferretti, Zac Posen, Vivienne Westwood, Badgley Mischka, and Nicole Miller, have featured such dresses in their clothing lines. Some fashion commentators have regarded this effect as the new tie-dye.
This kind of coloring in fabric can be either very subtle or quite bold. A scarf that is dyed to go from a light camel color to a dark chocolate brown color, for example, is a rather muted example of how it can be used. As with the previous example with the green dress, however, the vibrancy of the colors can be much more dramatic. Furthermore, some designers include several ombre fabrics in a single garment in order to create playful palettes of colors within their garments.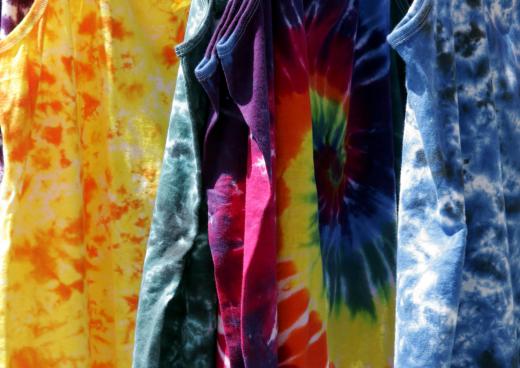 With patience and a bit of skill, almost any piece of fabric made from natural fibers can be dyed to give it this effect. The process does require quite a bit of time and space. For this reason, many designers and even just people who enjoy making their own garments prefer to purchase pre-dyed fabrics instead of creating their own at home.
AS FEATURED ON:
AS FEATURED ON:







By: azurita

The popularity of ombre is not limited to fabric.

By: jb325

Ombre coloring is popular in hair.

By: Thomas Sztanek

Some in the fashion industry have referred to ombre as the new tie-dye.