In Fashion, what is a Tapered Leg?
In fashion, the term "tapered leg" refers to a pant style that is tight-fitting, or tapered, around the ankle. Many pants that incorporate this design element are tight throughout, as is the case with so-called "skinny" styles, where the tapered leg accentuates the pants' slimming look. The style can also be found in pants that are baggy around the knees or thighs, as is common with some styles of "relaxed" pants, equestrian outfits, and certain military uniforms, and is popular in any instance when the pants are likely to be tucked into boots. The tapered ankle helps the wearer easily fasten taller footwear without leaving bumps or bobbles.
Fit Specifications
In most cases tapered leg pants have ankle openings that are no bigger than the wearer's foot, which makes for a tight, flat appearance. Getting into these sorts of pants can sometimes be a little bit tricky, though. Manufacturers often use this element on garments that are made out of stretchy material already, like leggings or jeans made with spandex or other elastic fabrics. This way, the wearer can pull the pants on without worrying about rips or tears.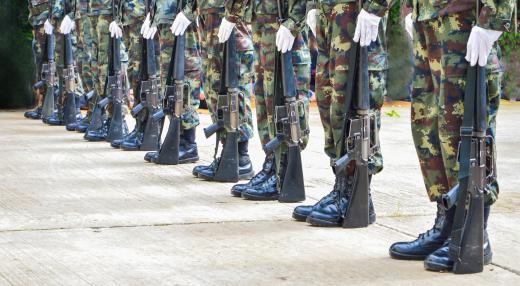 Some designers also add zippers or buttons to the ankle openings. Most of these are designed to be functional, but typically also add a bit of style or flair to the garment. Pants with ornate ankle openings are usually meant to be worn with low-cut shoes, since anything that sticks out can make it difficult to wear boots or over-the-ankle footwear.
Examples
"Skinny jeans" are one of the most common types of pants to feature tapers. These jeans fit very tightly all along the leg. In contrast to "straight leg" jeans and pants, which tend to have a standard ankle opening that's basically the same circumference at the knee and thigh, garments in the "skinny" category are cut to hug the body's curves, often resembling leggings or tights more than pants. They are usually hemmed at the ankle as any other pants would be, just more narrowly.
One of the most extreme examples is the kind of pants that musician M.C. Hammer made popular in the late 1980's and early 1990's. "Hammer pants," as they came to be known, are very baggy throughout the thigh and upper calf area but quite fitted about the lower calf and ankle. Other iterations include equestrian pants, which tend to be tight at the waist and ankle but more flared at the mid-thigh, and certain military pants, particularly those worn by European soldiers in the Second World War. Many of these were quite fitted through the calf and ankle, but featured exaggerated flares at the thigh. These were typically designed to be worn with combat boots, which made the tapered leg all but essential.
How These Pants Are Worn
There are many different ways to wear tapered pants, and a lot depends on the style of the garment generally. People will often choose this sort of pant when they want to wear boots that come up past the ankle, since the tight foot openings helps avoid bunching. Pairing simple flats or tennis shoes can help give the illusion of longer legs, and wearing pumps or high heels with this kind of pants often also has an elongating effect.
AS FEATURED ON:
AS FEATURED ON:







By: lithian

A woman wearing jeans with a tapered leg.

By: birdeyefotolia

A tapered leg style is common with military uniforms.

By: poco_bw

Tapered jeans may be designed with tight jeans.