In the Hair Industry, what is a Stylebook?
A stylebook is a printed book of sample haircuts and hairstyles. Stylebooks are often printed by companies which provide services to hair professionals at the beginning of each season, so that hairstylists can get an idea of which styles and fashions are in vogue. Individual hairstylists may also create their own stylebooks to showcase the kind of work they enjoy doing, and to build a portfolio of especially notable projects.
A typical hair salon will have an assortment of stylebooks, along with fashion magazines and other printed materials which can be used for inspiration. For customers, a stylebook can be extremely useful, as it can allow them to show a hairstylist exactly what they want. Using a stylebook or another visual guide can eliminate confusion about what a customer wants from a hairstyle, and greatly improve satisfaction. Some stylebooks also include guides to body types and face shapes, allowing customers to browse for styles which will flatter their looks.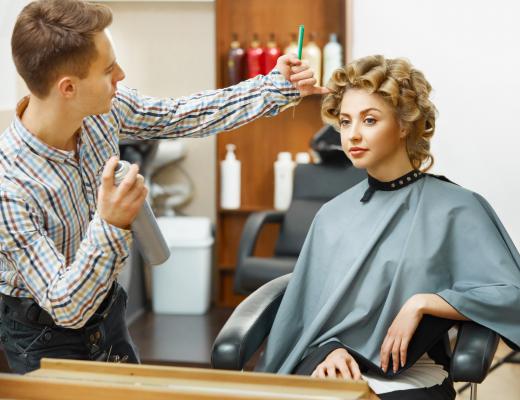 Stylebooks are also used for inspiration by hairstylists when they are asked to do hair for weddings, proms, and other major events. Sometimes a group will come in for an event and have a clear idea of what they want, and at other times, they leave their hair up to the discretion of the stylist. A stylebook can provide fresh and interesting ideas, and ensure that the stylist is using the latest fashions for his or her clients.
In addition to showcasing cuts, stylebooks also show various ways to style hair, and they typically include a large color section, especially in the case of a stylebook produced by a company which manufactures hair color. The coloring section shows stylists what different colors look like with various skin tones, and provides ideas for innovative coloring looks, ranging from distinctive highlights to wild temporary color for Halloween and other events.
When visiting a new hairstylist, it often pays to ask for a look at his or her stylebook. In the case of a hairstylist who maintains a personal portfolio, the stylebook can give potential customers an idea of the kind of work the stylist does, and whether or not the stylist is suitable for the customer's hair and personal sense of style. Browsing a stylebook can also motivate customers to explore their hair a bit more, playing with different ways to wear and style their hair.
AS FEATURED ON:
AS FEATURED ON:







By: puhhha

Stylists should be familiar with a variety of hair styles to be able to give the client the best look possible.

By: dmitrimaruta

A hair stylebook includes different facial styles.