Breath strips were created by the company Pfizer, which in 2000 developed Listerine Pocket Packs Breath Freshening Strips®. Claiming that the strips would do the work of a mouthwash in terms of freshening the breath, in a very short time, Pfizer quickly had a successful product. Their breath strips were released for sale in 2001, and by 2002 they had made over $250 million US Dollars (USD) on their product. Time Magazine called the product one of the best inventions of 2002.
Through a special formula, a small breath strip that is placed on the tongue nearly instantly dissolves. It creates extreme minty flavor as it does so, which does create fresher breath. Most of these strips, including Pfizer's Listerine type are sugar free, so they won't have a negative impact on oral health. In fact, Pfizer's breath strips contain chemicals that help fight bacteria, and may actually improve oral health.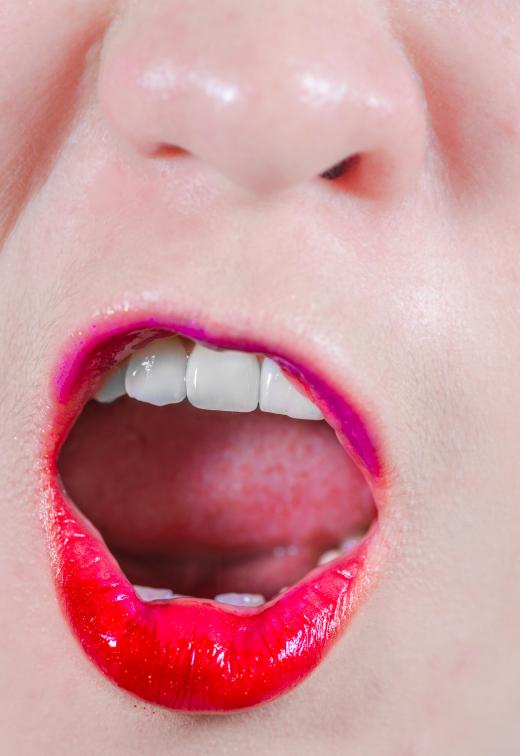 Due to their novelty, and the fast pace in the lives of many people, breath strips sold, and continue to sell well. Many other companies have developed their own brands, most promising and delivering fresh flavor to the mouth. Companies that had relied primarily on sugar free gum or mints to accomplish the work of a breath strip did see their profit margins slightly decrease as a result of Pfizer's invention.
It should be noted that breath strips haven't completely eclipsed gum and mints; some people chew gum because they enjoy doing so, and a breath strip is simply not going to satisfy the same requirements. Similarly, they aren't quite as elegant as presenting mints to guests after dinner. Yet for those who want fresh breath quickly, they have become a first choice.
The dissolvability of the strips is not simply about fresh breath anymore. For some time now, medical researchers have worked on quick dissolve or instant dissolve medications. John Hopkins University researchers in 2007 finally created a process for instant drug delivery of a vaccine for rotavirus via tongue strips.
Rotavirus is of especial risk to young children and the elderly. It can cause days of diarrhea and vomiting, and children may become dehydrated quickly, requiring hospitalization. This new drug delivery system costs less money to store, ship and is very easy to administer. It adds to the hope that more children will get the vaccine and have some protection against a potentially life-threatening disease.
AS FEATURED ON:
AS FEATURED ON:







By: yanmingzhang

Breath strips can fight bacteria and improve oral health.

By: L. Shat

Proponents of breath strips believe they perform the same function of mouthwash.

By: Kirill Kedrinski

Rotavirus is of especial risk to the elderly and to young children.

By: stefanolunardi

Using breath strips can help make a better impression in social settings.