What are Different Shapes of Skirts?
Skirts are an important part of women's fashion. Extremely versatile, skirts can be dressed up or down to look fancy or casual for every occasion from a business meeting to a dinner date. Some of the many different shapes of skirts include bias cut, full, mini, A-line or princess, tulip, and pencil.
The pencil skirt, shaped long and straight like a pencil, was inspired by the hobble skirt of 1910. The hobble skirt was designed by Paul Poiret and was unpopular due to its overly-tight, leg constricting shape. The hobble skirt was modified into the straighter, looser pencil skirt by 1915 and the pencil skirt, both short and long, is still popular today.
Shorter versions of the classic pencil skirt reach just above the knee and can be worn anywhere such as to work with a blouse and pumps, to a party with fancy sandals and a glitzy top, and on the weekend with tights, flats or boots, and a sweater. Long versions in cashmere or jersey are especially comfortable. Pencil skirts can be flattering to all figure types. A dark pencil skirt worn with a dark or medium-colored top that rests just above the hips can be visually slimming to a fuller figure.
Tulip skirts have more fabric around the hips than pencil skirts, giving them the shape of an inverted tulip. Tulip skirts look good on most figure types, especially slender figures as tulip skirt fabric tends to add a little extra bulk around the hips. A-line skirts, also called princess skirts, can be especially flattering to plus-size figures, but can be worn well by all figure shapes. An A-line skirt is shaped like a capital letter "A", with a snug waist spreading out into a triangular shape. A-line/princess skirts are considered a wardrobe staple, especially in a neutral color and a season-spanning fabric such as lightweight wool.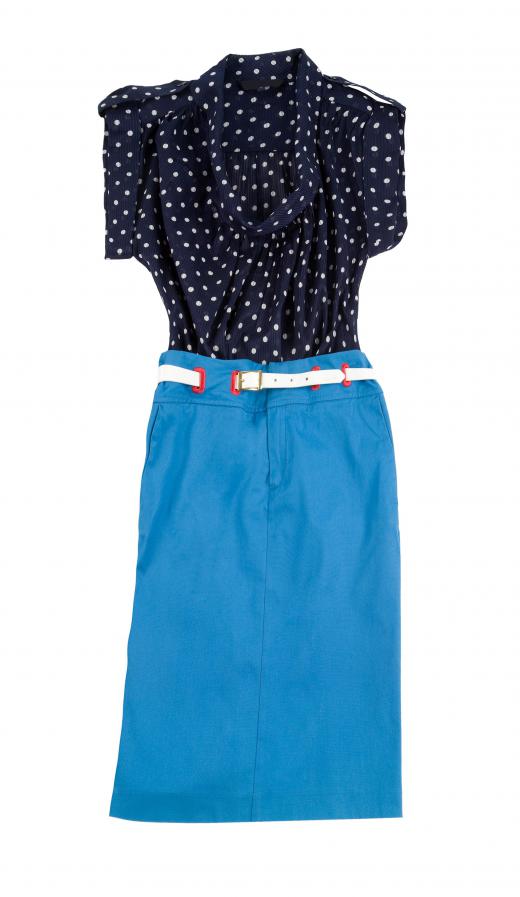 Miniskirts hit the fashion scene in London in 1966 and the ultra-short miniskirt is still worn by those who "dare to bare." The miniskirt is often considered the sexiest skirt shape. Miniskirts can be a very simple shape or can be pleated, but are always very short, and are available in a wide range of materials including denim, cotton, leather, and wool.
Full skirts have even more fullness in their fabric than tulip skirts and can overwhelm a petite figure or add more fullness to a full figure. Full skirts often balance out a slim-waisted, full-busted figure. Drop-waisted full skirts with fabric that flows from the hips into soft pleats can be very flattering to a plus-sized figure type.
Bias cut skirts are cut across the fabric's grain on the diagonal. Cutting on the bias creates a flowing hemline that can seem ultra-feminine and romantic. Bias cut skirts can be long or short and have panels or multi-layers.
AS FEATURED ON:
AS FEATURED ON:







By: apops

Different shapes of skirts include bias cut.

Cutting against the normal grain of the fabric is known as a cut on the bias.

By: lalouetto

The traditional pencil skirt is longer in length, resting past the knee.

By: Maria LE

Broomstick skirts are long, free-flowing skirts known for their tiered, crinkly appearance.

By: Paul Vinten

A-line skirts feature a fitted waist and an overall triangular shape.

By: nito

Miniskirts are often made from leather.