What are Fingernail Designs?
Fingernail designs are decorative nail art that can be added to the fingernails during a manicure. Most fingernail designs are simply designs that are painted onto the fingernails with nail polish. Others, however, are more elaborate and may involve the gluing on of rhinestones and other small accent items. The work that goes in to creating fingernail designs required delicate movements and a steady hand. Some people are dexterous enough to be able to paint designs on their own fingernails, but most people rely on nail technicians and spas and nail salons to do this work.
Some people who regularly wear fingernail designs change them according to the season, especially during holidays. Near Christmas, for example, one might wear fingernail designs that included Christmas trees, snowflakes, or snowmen. Valentines Day might be a time for hearts and small bows and arrows to be painted onto the fingernails. Some people even go so far as to decorate their fingernails with shamrocks for Saint Patrick's Day and pumpkins for Halloween.
Not all fingernail designs are so festive or season-specific. Also, some are more abstract and simply include swirling lines or patterns. Some popular patterns, for example, include polka dots and leopard print. Also, fingernail designs are not only for the hands. Many women who like to have designs on their fingernails also have designs on their toenails. Decals and rhinestones are not usually applied to the toenails because they can easily come off in shoes and socks.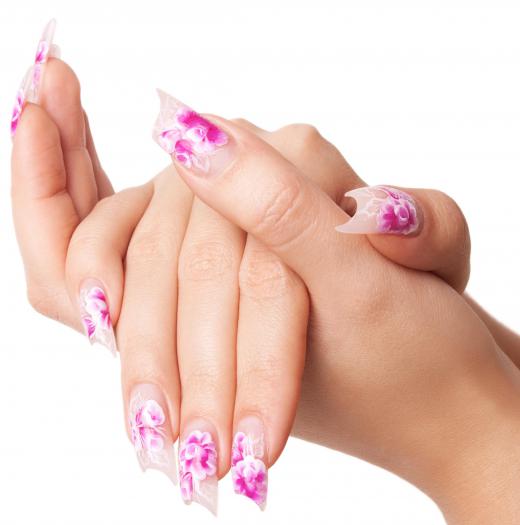 There are some kinds of fingernail designs that can be applied at home, even by those who are not particularly dexterous. Decals can be placed on top of the bare fingernail or on top of the polished fingernail. Sometimes they are fixed in place with a clear coat of polish. They can usually be removed with normal nail polish remover and a cotton ball.
Fingernail designs can be painted onto natural nails and many kinds of artificial nails including glass, silk wrap, and acrylic. In fact, it is common for these kinds of designs to last longer on artificial nails. This is because nail polish that is applied to artificial nails often stays on better than nail polish that is applied to natural nails. Less chipping occurs. As such, it is often more common for women who wear artificial nails to have designs painted on their nails than women who just have nail polish applied to their natural fingernails.
AS FEATURED ON:
AS FEATURED ON:







Artificial fingernails with nail art.

By: a1ex76

A woman with fingernail designs.

By: travis manley

Nail polish remover can be used to remove fingernail designs.

By: yotrakbutda

Cotton balls will be needed to remove fingernail designs.