Galoshes are waterproof boots worn over shoes during wet conditions. They are considered overshoes and are typically made from molded rubber. The boots are meant to fit and mold to the shape of the shoe for a more comfortable and safe fit while walking. They also have a sturdy heel that prevents the wearer from slipping during dangerous conditions.
The boots made for women are typically mid calf length and have a very small heel. While some men's galoshes are also mid calf length, they are typically only ankle length and look more like men's dress shoes. Some may also be similar in appearance to ballet flats.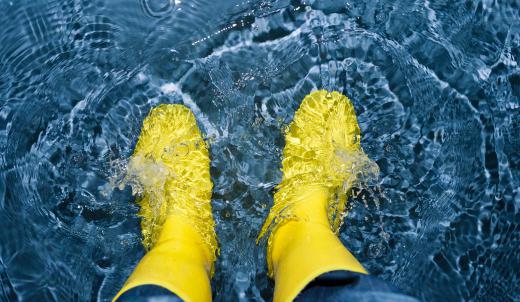 Galoshes come in a variety of styles and colors. The boots for men will more often than not be black so they match with the usually darker colors of men's clothing. For women, they are another fashion accessory. They come in a variety of patterns from plaid to polka dots or in solid colors. There are even high end fashion galoshes that resemble pricey boots.
Galoshes are useful for those who have to walk through wet weather, especially snow and slush that can easily find its way into shoes. Instead of worrying about ruining a perfectly good pair of shoes or getting wet feet, the wearer can put on the boots and stay dry. They are also more lightweight than typical waterproof boots so they are easily transportable.
Instead of having to carry a pair of shoes and wear a pair of waterproof boots in bad weather, the boots fit right over the shoes so there is less to carry and manage. This is especially easier in big cities where there are large crowds and carrying bags can be a hassle. It is best to have a waterproof bag to put them in upon arrival at a destination though.
When choosing galoshes, it is best to try them on over the shoes that will most likely be worn under them to make sure they feel comfortable. Walk around in them to check that they easily bend with the foot. One downside is that heels usually cannot be worn under galoshes, as they will create an uneven walking surface.
Almost anywhere there are wet conditions, whether it is walking to work or sitting on a boat, the boots can be useful. They are sturdy and can hold up to a substantial amount of wear and tear. They come in a variety of prices and styles so there is a pair for almost everyone.
AS FEATURED ON:
AS FEATURED ON:







By: nikkytok

Galoshes are made from molded rubber.