What Are Himalayan Bath Salts?
Himalayan bath salts are crystals taken from deep within the Himalayan Mountains and contain 84 minerals found naturally in the human body. These salts have been used for centuries to promote healthy skin by healing sores and reducing inflammation. They also might flush harmful toxins from the body and promote relaxation.
Alternative medicine practitioners recommend Himalayan bath salts to improve immune system functioning. They believe the high content of negative ions in Himalayan bath salts releases stored energy when mixed with water, penetrating the skin to spur cell growth. Sometimes called king salt, Himalayan bath salts were used by royalty to improve health.
This pink product is hand-mined high in the snow-covered mountains and considered the purest salt found on earth, with perfectly formed crystals. Stones are used to break up salt crystals for use in cooking or bathing. Some large chunks are converted into salt lamps, which might ionize the air to help relieve breathing disorders, such as asthma.
The human body consists of 70 percent water, with 92 essential trace minerals necessary for good health. Himalayan bath salts contain 84 of these minerals, including potassium, iodine, magnesium, and fluoride. When added to hot water, the pores in the skin open, allowing absorption of these minerals through the skin. It is typically suggested to soak in the bath salts for 45 minutes and not rinse the body afterward.
The most common use of Himalayan bath salts consists of improving skin condition. Salts soften the skin, and might improve disorders like eczema, athlete's foot, fungal infections, and psoriasis. People also use these products to relieve pain and inflammation caused by rheumatism or arthritis.
Some of these bath salts combine oils as an aromatherapy treatment. Lemon tends to energize the body, while lavender produces calmness and relaxation. Herbs and clays can also be incorporated in the salt, with clay mixtures used as facial masks or mud wraps. A salt and water combination known as sole is often used to bathe wounds to promote faster healing.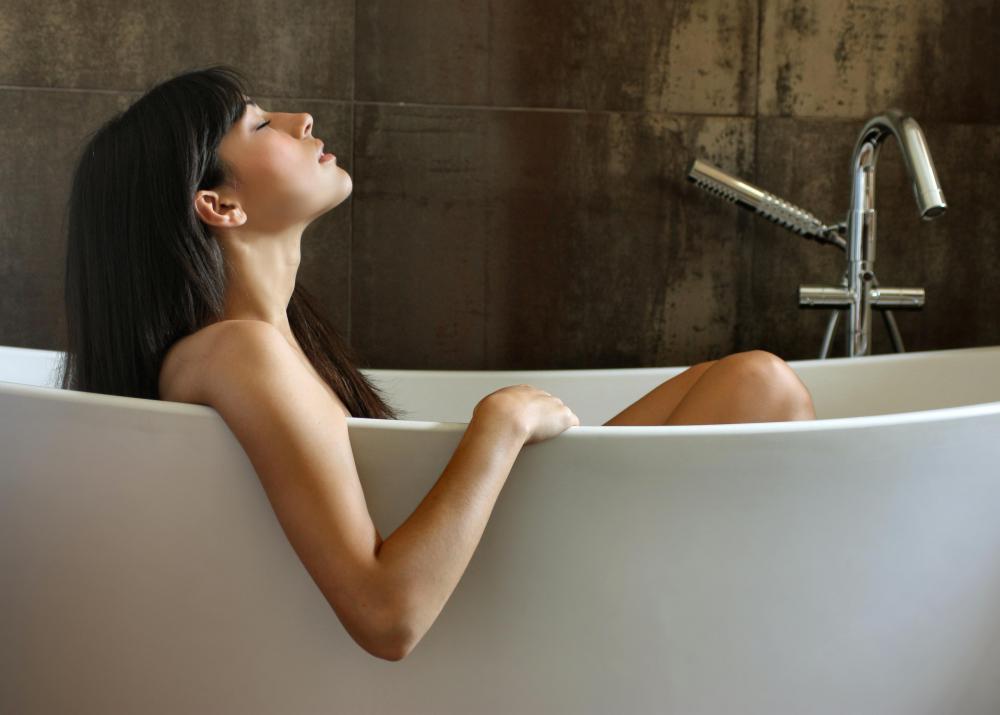 The Himalayas were formed millions of years ago when the Indian and Asian land masses collided from shifts in tectonic plates in the earth. The pressure forced land upward, creating a jagged mountain range that includes Mt. Everest, the highest peak in the range. Near Lhasa, Tibet, explorers discovered pink magnetic minerals in these mountains, which were later mined for Himalayan bath salts.
K2, part of the Himalayan mountains.

Himalayan bath salts.

Lavender is a popular addition to bath salts due to its relaxing scent.

People use Himalayan bath salts to flush toxins and promote relaxation.

Himalayan bath salts might ease athlete's foo symptoms.

Himalayan salt crystals are naturally pink.

The most common use of Himalayan bath salts consists of improving skin condition.