What are Horn-Rimmed Glasses?
Horn-rimmed glasses originated in Europe in the 1800s, featuring rims made of horn or tortoise shell. Tortoise shell rims were especially expensive and by the early 1900s plastic horn-rimmed glasses were manufactured in the U.S. that simulated the look of these materials. Horn-rimmed glasses have remained a popular style to this day, embraced by mainstream and subcultures alike.
Iconic American silent movie comedian, Harold Lloyd, might have been the first to popularize black horn-rimmed glasses. He adopted the rims as a gimmick for his ongoing character, but removed the lenses because they reflected too much light. A prolific moviemaker, Lloyd donned his signature horn-rimmed glasses in about 200 movies.
The style was popularized and endured, even through periods where the heavy "in-your-face" rims were considered unfashionable. To this day singer Buddy Holly of the 1950s is easily characterized by impressionists because of the black, thick-framed horn-rimmed glasses he wore. Bill Cullen, host of the then-popular game show Password also wore horn-rimmed glasses.
The recognizable rims also served as a trademark for some of Hollywood's most enigmatic characters. In the original Adventures of Superman series, actor George Reeves donned horn-rimmed glasses to play Superman's counterpart, Clark Kent. In the 1978 blockbuster remake starring Christopher Reeve, the legions that watched Clark Kent's bumbling, nerdish character with his horn-rimmed glasses would soon become part of the burgeoning computer culture of geeks and nerds. Often made to feel like social misfits themselves, it might be a no-brainer that the subculture adopted horn-rimmed glasses.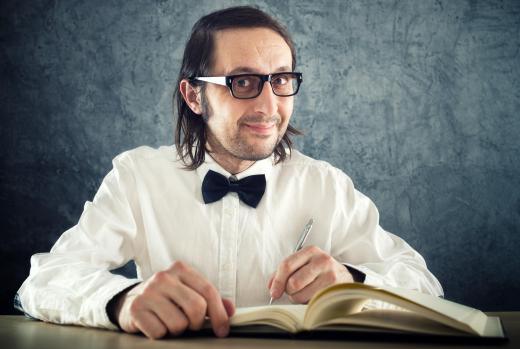 Many other Hollywood characters also made these famous frames work for them. A memorable Nancy Culp played Jane Hathaway in The Beverly Hillbillies (1962-1971). Diana Rigg occasionally wore horn-rimmed glasses to read when she played sexy British agent Emma Peel in The Avengers (1961-1969), and Mike Meyers' outlandishly popular Austin Powers emblazoned horn-rimmed glasses into popular culture. America Ferrera's Betty Suarez of Ugly Betty also takes advantage of that special something that only black horn-rimmed glasses can add to a character.
Celebrities who wear horn-rimmed glasses include news anchor Ashleigh Banfield; talk show host Larry King; director, writer and producer Woody Allen; actor Michael Caine; rocker Elvis Costello; comedian Drew Carey; Tina Fey of Saturday Night Live and 30 Rock; actor James Garner; and actor and comedienne Janeane Garofalo. Alec Baldwin, Johnny Depp, Meryl Streep, Elton John and many others occasionally wear these signature glasses. Horn-rimmed glasses are also embraced by goth, punk, pop, geek and academia subcultures.
Other segments of society including many in the conservative mainstream wear the rugged glasses as a no-nonsense style. Examples include Barry Goldwater (1909–1998), bureaucrat and foreign policy advisor Henry Kissinger, and 2008 Presidential candidate Bob Barr.
AS FEATURED ON:
AS FEATURED ON:







By: ocad123

Elvis Costello wears horn-rimmed glasses.

By: giuliahepburn

Horn-rimmed glasses originated in Europe in the 1800s and were originally made of horn or tortoise shell.

By: igor

Horn-rimmed glasses might be trendy or they might be extremely out of style, depending on the context and wearer.

By: WavebreakmediaMicro

A prominent feature of geek chic is the use of black or horn-rimmed glasses.