Mini bikinis, also known as micro bikinis, are swimsuits that cover a minimal amount of skin. They are very rarely worn in public, and are worn mostly for private or adult functions. Mini bikinis are available in a variety of styles and level of coverage, and can be easily purchased from specialty shops or adult stores.
Since its inception in the mid-20th, the bikini has caused controversy. Looking back at the early models of the 1960s, modern fashion fans may laugh at the full coverage the first bikinis provided to the wearer. The mini bikini takes the two-piece swimsuit to the extreme, making detractors wonder why wearers bother to wear anything at all. Serious criticism suggests that mini bikinis are indecent to wear publicly, and wearer's may find themselves cited for indecent exposure depending on local law.
Mini bikinis are not for the faint of heart nor the self-conscious. The purpose of these garments is to expose as much of the body as possible, so there is no way to hide any perceived body flaws. Before you go out in public wearing a micro bikini, be certain you are confident in how you look and feel good wearing the swimsuit. Since you won't be covered by much, you at least should carry a good sheen of confidence.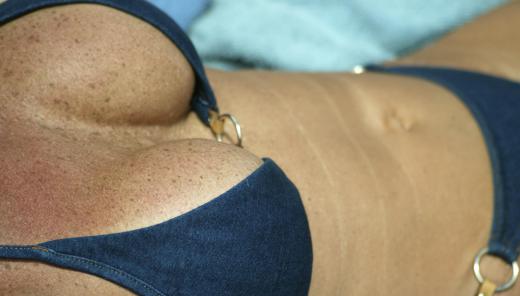 Mini bikinis are available in a variety of styles, fabrics and levels of opacity. Brazilian minis tend to provide the most coverage, sitting below the hip bone and providing partial coverage of your backside. Tops for these bikinis are most often triangle, halter, or bandeau styles and typically cover much less of your chest than a typical bikini top.
For those who are truly daring, a thong or one-string mini may be the only way to go. Thong bottoms cover a small patch in front, and are typically a string around the hips and across the back. One-strings are certainly the closest you can come to total nudity, offering no coverage whatsoever besides one thick string or rope of fabric.
In terms of fabric, because of the provocative nature of these swimsuits, many minis are offered in sheer or transparent fabrics. Otherwise, most mini bikinis come in a variety of patterns and colors. Bold color choices seem especially popular, since anyone wearing a micro bikini is clearly trying to make a noticeable fashion statement.
Despite the minimal amounts of fabric used, mini bikinis cost about the same as a typical bikini. They tend to range from $25-$100 US Dollars (USD), although prices vary widely between manufacturers. Big retail fashion stores do not typically carry mini bikinis, but they are easily available online.
If you are comfortable with your body and the level of exposure you will have in the bikini, they may be well worth a try. Be careful regarding local exposure laws, and even where legal, take care to consider the audience to your bold display. For private use or adults-only parties however, women may find mini bikinis fun, exciting, and even comfortable to wear.
AS FEATURED ON:
AS FEATURED ON:







By: Natalya Glinskaya

Mini bikinis may be illegal to wear publicly in many towns and cities.

By: Wendy Kaveney

Mini bikinis will cover a minimal amount of skin.