Nail scissors are short scissors, about three to four inches (7.62-10.16 cm) long at most. They are usually made of stainless steel and feature blades that take up about one quarter to one third of the length. These scissors may be used to trim nails or cuticles, and they're also useful for the occasional small cutting task, like removing a tag from clothing or snipping a loose thread.
Those looking for nail scissors usually need to choose between two different styles. Many have slightly curved blades that help to minimize chance of cutting the skin. Others have flat blades and may not be preferred for cutting nails. Actually, though these scissors are called nail scissors, many people prefer to trim their nails with nail clippers. These further reduce chance of accidental cuts to the skin, tend to cut more evenly, and come in different sizes to trim fingernails and toenails.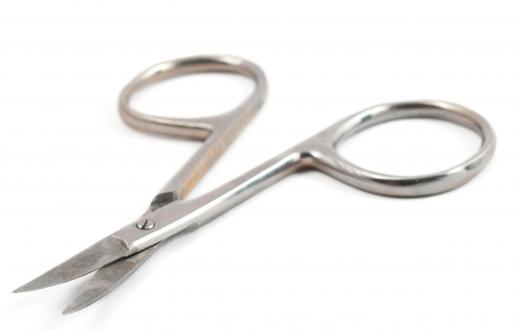 Typically, most people use these scissors to trim dead and overgrown cuticle skin, or sometimes to trim an annoying hangnail. Thus, the scissors may be considered useful, but not exactly necessary equipment in a home. Most people do want a pair or two for the occasional cutting task, and it's a good idea to look for quality nail scissors so that trimming is accomplished safely and effectively.
When shopping for nail scissors, look for stainless steel ones, as these will be sharpest. It shouldn't take considerable effort to trim a nail. If it does, this suggests the scissors are not sharp enough. Periodically these scissors do need replacement, and people should forego using those that aren't sharp and buy a new pair.
Fortunately, these scissors are typically inexpensive, usually less than about $10 US Dollars (USD), and they may come in various grooming kits for men or women. Best choices in these kits are those that also have nail clippers because this gives more options for trimming nails with greatest ease. Those searching for these scissors will find them in numerous locations. They are available in many drug stores, beauty supply stores, online in a variety of locations, and even at plenty of grocery stores. It's easier to find nail care kits at drug stores and beauty supply stores.
Especially if nail scissors are used to trim cuticle skin, they should be sterilized prior to use with some rubbing alcohol. Since these scissors are usually kept in the bathroom, they can easily become contaminated with a variety of bacteria or fungi. Some people should avoid using any scissors on the feet to trim skin, especially those with diabetes. Diabetics must be particularly sensitive to performing any foot care tasks because of increased risk of infection.
AS FEATURED ON:
AS FEATURED ON:







By: ksena32@ukrpost.ua

Nail scissors.

By: F.C.G.

A person with a hangnail, which can be trimmed with nail scissors.

By: ibphoto

Nail clippers, an alternative to nail scissors.

By: ponsulak

Nail clippers can be used to trim fingernails and toenails.