Paillettes are a decorative accessory used to embellish clothing, footwear, or accessories. They are usually oval or round in shape with a flat surface. They're often shiny or have a sheen, and can resemble small metal discs.
These decorative embellishments are sometimes confused with sequins, but they are more closely related to spangles. Unlike sequins, which consist of a hole in the center for attachment, paillettes have a hole near the top. This allows a tailor or seamstress to attach the paillette so that it dangles. Sequins, once attached to clothing, are fixed; paillettes dangle, so they can be attractive for anyone who wants them to twirl as she spins or dances.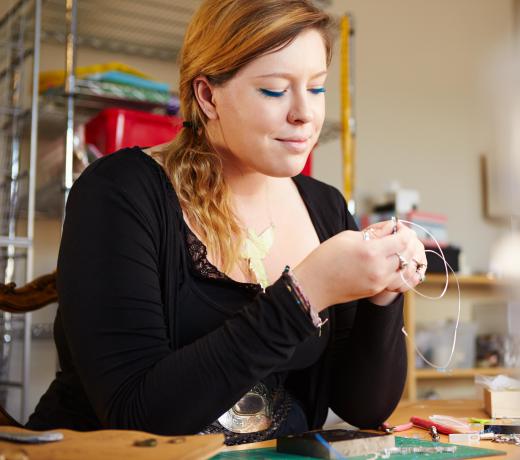 Paillettes can be added to clothing in small amounts, for a subtle decorative touch, or they can be applied all over. Their shiny qualities are best suited to evening wear or formal wear. A dress with allover spangles will likely be too dressy for a casual day outfit; it's better to save such an embellished dress for a night out on the town. These embellishments are delicate and any clothing or accessories decorated with them will require gentle care. It may be necessary to take clothing to a dry cleaner or to hand wash and air dry these decorated garments.
A shirt or sweater that features just a few paillettes, or is decorated with a paillette trim, is suitable for day, but this top will still be dressier than a plain shirt. They can be attached at the hemline or around the neckline. They can also be attached to footwear, either in minimal amounts, such as at the toe, or all over for an instant dressy pair of shoes. They are simple to attach, so a skilled seamstress is not necessary if someone wants to add them to her clothes or accessories. All that is required is a sewing needle and complementary thread.
These accessories are available in a wide variety of colors. A more subtle ensemble may feature black paillettes on a black sweater, but for high contrast and a more dramatic look, silver paillettes might be placed on a black background.
Paillettes are also used in jewelry making, particularly in earrings. They work well for dangling earrings and can be easily added to hoops. If they're strung vertically, they make a suitable pair of chandelier earrings. They're also used for bracelets. Paillettes are lightweight, so they're usually comfortable as earrings or as a wrist accessory.
AS FEATURED ON:
AS FEATURED ON:







By: Monkey Business

Paillettes are used in jewelry making, particularly in earrings.