Suspenders are a clothing accessory designed to hold up a pair of pants or trousers. They consist of a set of straps that go over the shoulders and attach to the pants with buttons or clips. The pants are literally suspended from these straps, which explains the origin of the name. In British English, they are known as braces, because they could be said to brace, or support, a pair of trousers. While suspenders are no longer widely worn, they are available from gentlemen's supply stores and other specialized clothing stores, depending on the desired style.
On the front of the body, the straps of a pair of suspenders travel straight down from the shoulders, to attach to the pants with clips or to be buttoned in, depending on the design of the pants. In the back, they are often crossed, to provide more stability and prevent them from sliding off the shoulders. Sometimes, a y-shape is made, by connecting the straps together to form a single strap that attaches in the middle of the back of the pants. Either way, the suspenders are elasticized and typically include buckles so that they can be adjusted to fit the wearer.
Modern suspenders are usually fully elasticized. More formal ones may be made from stiffer materials with elasticized tabs for some flexibility of movement. In addition to elastics, they can be made from rugged cotton material and leather in an assortment of colors. They come in different base lengths to accommodate a wide range of bodies, from short men to very tall ones. Some companies also make joke suspenders, imprinted with bright and funny patterns.
Suspenders were popular throughout the 1800s, and were worn by all men. Belts were used ornamentally, on the outside of clothing and coats, while suspenders did the work of holding pants up. These traditional versions were designed to hook into buttons attached to the pants. This changed in 1894, when David Roth filed a patent for clasping suspenders, rather than those that buttoned directly into pants.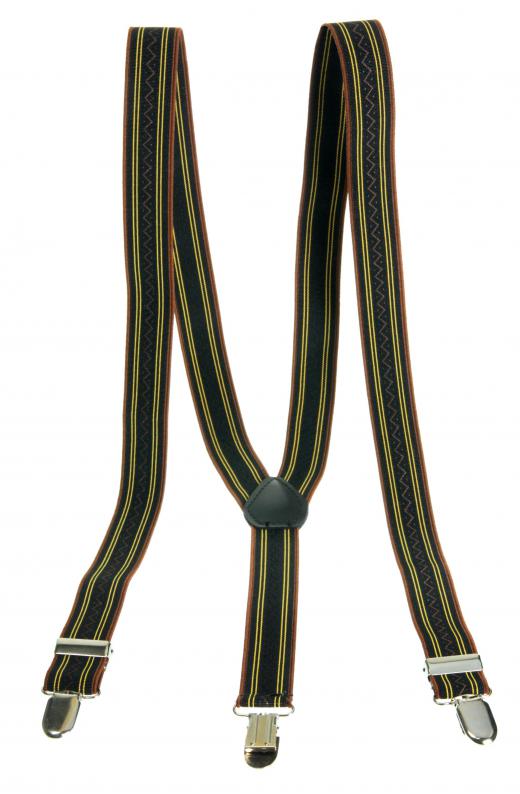 The popularity of suspenders has waxed and waned during the 20th century. Modern ones usually fall into two categories: highly formal dress suspenders, designed to be buttoned into pants as part of a white tie outfit, or basic working suspenders used by farmers, plumbers, and carpenters. These prevent the workman's pants from falling, even with laden pockets and a full tool belt.
AS FEATURED ON:
AS FEATURED ON:







By: Glenda Powers

Suspenders attach to the pants with buttons or clips.

By: Massimo Cattaneo

In the back, suspenders are often crossed to prevent them from sliding off the shoulders.

By: fotomatrix

Some men use suspenders to hold their pants in place.

By: Cheryl Davis

Modern suspenders use elastic.