What Are Temporary Dreadlocks?
The term "dreadlocks" describes a particular hairstyle that consists of sections of hair about an inch (2.5 cm) around at the base that are matted together to form individual ropes. They cannot be brushed or combed, and, when washed, must be dried thoroughly to prevent problems such as odor and even mold or mildew. Growing dreadlocks takes quite a while and does not allow for any other hair styles during that time. For those who would like to try out dreadlocks, also called "dreads," temporary dreadlocks can be created that give the look for a few days instead of long-term.
One type of temporary dreadlocks uses a person's own hair. To start, the hair is divided into small, square sections an inch (2.5 cm) across. Each section of hair is then covered with wax or a similar product, then twisted around a finger tightly to form a dense coil. When all the hair is in these ropey coils they are dried with a blow drier to set the style.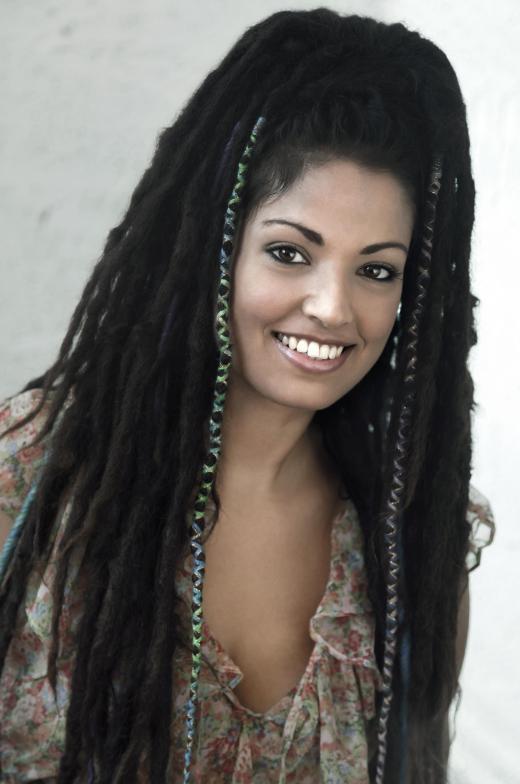 To create a different look but still use only growing, natural hair, divide, wax, and coil the hair as previously described. Instead of drying with a blow drier, iron each lock carefully, pressing the individual locks flat instead of leaving them round. Some people feel that flattening the temporary dreadlocks in this fashion makes them look more realistic.
For those who prefer not to go through the work of separating, coiling and drying each lock of hair, artificial dreadlocks may be the best choice. These temporary dreadlocks can be purchased in many places and are easy to add and remove. Artificial dreads take only a few minutes to put in and are a convenient way to get a quick new look for a party or other event. They can be removed later the same day, with a minimum of effort.
Another type of temporary dreadlocks is synthetic dreadlocks, hair meant to be worn for a few weeks at a time rather than a few days or even just a few hours. These are attached as individual locks, usually close to the skull, and may be used to enhance existing dreadlocks or as a complete style on their own. People often have synthetic dreadlocks professionally attached, though it can be done at home.
One thing that all these kinds of temporary dreadlocks have in common is that they are meant to be impermanent and should not be left in long term. Most temporary styles should not be left in more than a few days at the most, to prevent damage to the natural hair. They can be put back in whenever desired, though, making them a handy way to try out the look of dreads without the need to commit to the dreadlocks permanently.
AS FEATURED ON:
AS FEATURED ON:







By: eldadcarin

Visiting a loctician is recommended for those seeking to style their hair into dreadlocks.