What Are the Benefits of Almond Oil for Skin?
Almond oil, which is an extract that is prepared from raw almonds, is beneficial for the skin in many ways. Manufacturers of beauty products use almond oil for skin lotions, soap and other beauty treatments because it nourishes, moisturizes and softens the skin. Almond oil also keeps the skin smooth, protects it and conditions it.
There are two main types of almond oil that can be extracted from the almond tree — sweet and bitter — as well as a bitter almond essential oil. Both bitter types have little therapeutic value, but sweet almond oil is present in a variety of skin care products. The sweet variety is most often obtained from the almond kernel.
The quality of almond oil depends greatly on the method that was used to extract it from the nuts. The highest-quality sweet almond oil is obtained by cold pressing the nuts. The oil that is obtained is unrefined and contains the most therapeutic components. Most almond oil is processed further, however, to yield a larger volume of usable oil.
The use of almond oil for skin care promotes a youthful complexion for people of all ages. This oil is similar to the oil that babies secrete to soften and protect their skin and hair, so beauty product manufacturers often include it as an ingredient in skin care treatments that are designed to slow the aging process of the skin in older people. Almond oil also might be included in skin care products that are designed to prevent the signs of aging in younger individuals.
Beauty manufacturers also use almond oil for skin products that prevent dry skin or treat its symptoms. Almond oil relieves the itchiness, rashes, soreness, burning and irritation that are often associated with dry skin. It also restores the balance of moisture in the skin to prevent further problems.
Almond oil is frequently used as an exfoliating agent as well. As such, it might be present in body and facial scrubs, exfoliating moisturizers or exfoliating masks. Almond oil also prevents wrinkles around the eyes — sometimes known as crow's feet — when applied to the delicate skin under the eye.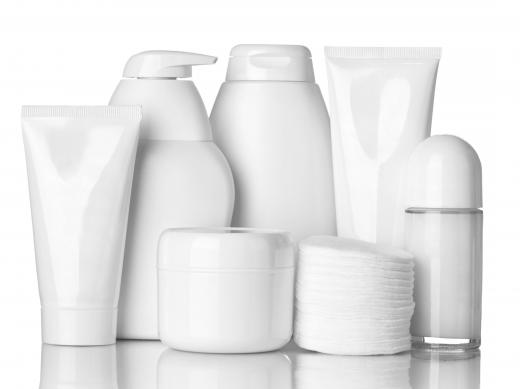 Massage therapists sometimes use almond oil for skin lubrication when treating clients. Almond oil serves as an excellent skin lubricant for massage therapists because it doesn't absorb into the skin too quickly. It is a moderately priced oil, so many massage therapists use it in standard massages as well as for aromatherapy treatments.
Although most people can tolerate sweet almond oil without problems, it is possible for some people to experience an allergic reaction. The symptoms of almond oil allergies include congestion and itchy skin. Bitter almond oil and bitter almond essential oil should not be used for therapeutic purposes, because they are toxic.
AS FEATURED ON:
AS FEATURED ON:







Almond oil may help prevent wrinkles.

By: Dmitry Rukhlenko

Almonds.

By: picsfive

Almond oil is included in many natural skin care products.

By: Konstantin Kulikov

Almond oil can be beneficial for people with dry skin.

By: Aaron Amat

Almond oil is popular among massage therapists because of its moderately low price.

By: nebari

Almond oil may be used to relieve itchiness.

By: Lucie Říhová

Bitter almond oil is an essential oil commonly found in beauty products.

By: Igor Mojzes

Almond oil can moisturize, smooth and protect the skin.