What Are the Benefits of Coconut Oil for Babies?
The benefits of coconut oil for babies include a fortified immune system and the ability to digest more vitamins and nutrients from other foods. Though this food product is high in fats, these fats have been shown to benefit the human body without causing detrimental weight gain. This food is similar in nutritional profile to breast milk, making it a popular choice for use in baby food recipes and as an added ingredient in many baby formulas.
Virgin coconut oil is high in saturated fats, however, these fats are different from those which are associated with many potential health risks. Saturated fats which are comprised of long chain fatty acids cannot be absorbed by the body, and are stored long term as unhealthy fat deposits. Processed coconut oil tends to contain a higher number of these types of fatty acids, and is not recommended for use with infants. Medium chain fatty acids, which are found in the saturated fats of coconut oil, are easily absorbed by the body and used for nutritional purposes. These chains of fatty acids found in the type of approved coconut oil for babies are almost identical to those found in breast milk.
Medium chain fatty acids are essential to strengthening an infant's immune system. They actively help a child to ward off infections and a wide variety of different virus strains that can be severely damaging to his new body. Coconut oil can also kill parasites and harmful yeast and bacterial strains that can reside in the gastrointestinal tract, which tend to cause discomfort, pain, and long term illness when left undiagnosed and untreated.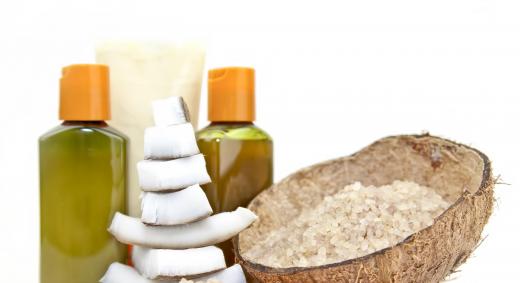 The use of coconut oil for babies can also increase their ability to absorb other nutrients and minerals. In addition to protein and fiber, which form the basis of a new baby's daily diet, infants also need significant amounts of calcium, magnesium, and vitamins. These nutrients continue to aid the child's body in continuing the development process of his internal organs, brain, muscles, and skeletal structure. They are naturally occurring in a mother's milk, and many nursing mother's choose to supplement their diet with daily vitamins that increase the amounts of these nutrients present in their milk.
Babies who are not breast fed are usually given a nutritional formula supplement throughout their first year of life that contains these necessary ingredients. As they reach six months of age, many children begin receiving these nutrients directly from solid pureed foods that tend to include a high degree of fruit and vegetables. The inclusion of coconut oil for babies in cooking or in a formula containing this ingredient, in addition to foods or formulas containing the essential minerals and vitamins necessary for healthy growth, has been shown in scientific studies to allow for the absorption of higher levels of essential vitamins, nutrients, and minerals, than in those who received no coconut oil.
AS FEATURED ON:
AS FEATURED ON:







By: Coprid

Baby food containing coconut oil.

By: alexmisu

The fats in coconut oil do not cause detrimental weight gain.

By: jurgajurga

Coconut oil can be purchased either refined or unrefined, though refined is best for high-heat cooking.

By: mates

Coconut oil for babies can increase their ability to absorb other nutrients and minerals.