What Are the Benefits of Cod Liver Oil for Hair?
Using cod liver oil for hair can make hair stronger, promote hair growth and minimize hair loss. Many of the benefits of this oil come from the nutrients it contains. These nutrients help promote overall health, and overall health is an important part of maintaining healthy hair.
A key benefit of cod liver oil for hair is that it contains omega-3 fatty acids and high levels of vitamins A and D. All three are known to help promote general health. Nutrients encourage healthy hair from the inside by nourishing the hair follicles on the scalp, where hair growth begins. When hair follicles are healthy, they promote the distribution of oils and vitamins down the entire hair shaft.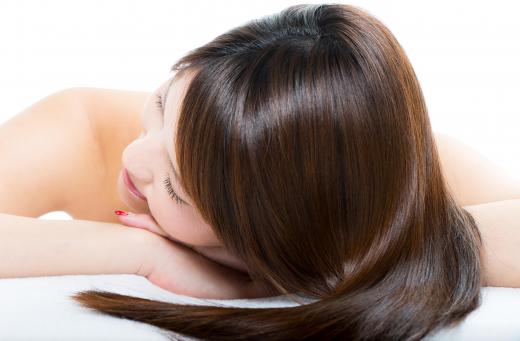 The disbursement of nutrients throughout the hair imparts a healthier appearance, and healthy hair looks shiny and feels soft. Nutrients from cod liver oil can make the hair stronger and help protect it from breakage. In addition to looking better, healthy, well-nourished hair also grows faster. This is partly because healthy hair needs fewer trims and is less prone to breakage. For these reasons, some people take cod liver oil supplements to help promote hair growth.
Another possible benefit of using cod liver oil for hair is its anti-inflammatory properties. Some hair loss is caused by inflamed hair follicles, and eliminating the inflammation might help keep hair intact, though individual results tend to vary. There is a lack of medical studies that prove this supplement can prevent hair loss, but some people have reported a decrease in hair loss, perhaps in part because healthy hair is less likely to fall out.
Like other oils used in hair products, cod liver oil may have a moisturizing effect if applied directly to the hair, but this is not recommended, because it has a strong fish odor. Instead, cod liver oil for hair can be taken in a variety of pill or tablet forms. It also comes in a liquid form. The liquid form tends to have a fishy taste, which some manufacturers diminish by adding various flavorings. Benefits should be visible after a few weeks of use of cod liver oil.
It can be helpful to consult a doctor for questions about recommended doses. Adverse reactions could arise for people with fish allergies. Taking excessive amounts of cod liver oil also might cause problems for people with certain health conditions.
The Side Effects of Cod Liver Oil Vs. Fish Oil
Cod liver oil and fish oil, although different, can offer you similar benefits for your heart and mental wellness. They provide fatty acids and other vitamins that are essential to overall health. However, it is important to also learn about the side effects of cod liver oil vs. fish oil when they are used as dietary supplements.
Cod Liver Oil Side Effects
If you take cod liver oil supplements by mouth, there are a few mild symptoms that you run the risk of experiencing:
Heartburn is a burning sensation inside your chest. This condition, however, does not affect the heart. Its location is often around or behind the breastbone. Stomach acid irritates the esophagus and may also leave an acidic taste inside your throat.
Abdominal pain may result from inflammation of the stomach lining. 
Nausea is a feeling of uneasiness or sickness in the stomach. It is often associated with an urge to vomit.
If you take a dose of cod liver oil that is higher than prescribed, this could elevate your Vitamin A and Vitamin D levels beyond the recommended amount. It could also result in blood clotting issues.
Fish Oil Side Effects
Fish oil supplements are typically safe if you follow the prescribed amounts. However, if you exceed the suggested three grams per day, you increase your risk of bleeding. Other standard side effects include loose stools, heartburn and nosebleeds.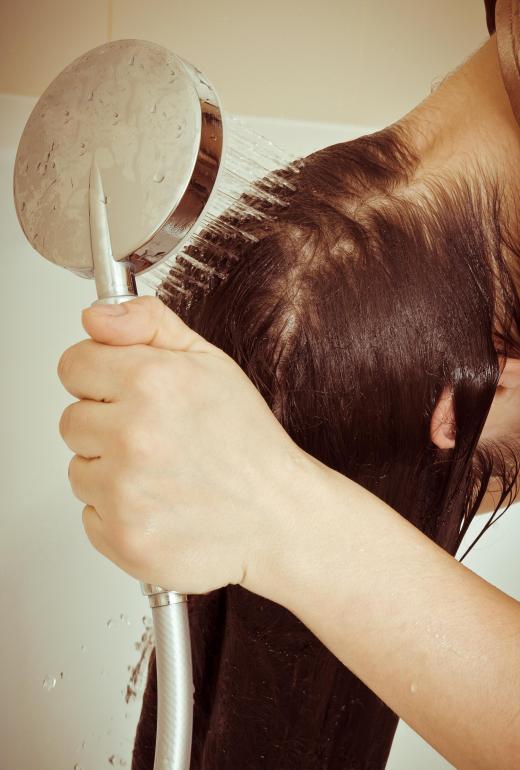 Some people also try to get the benefits of fish oil by actually eating fish as part of their diet. The risk associated with this method is that the fish, depending on the type and the location where it was caught, can contain dangerous levels of mercury and other contaminants. These chemicals are not found in supplemental forms of fish oil, though.
Does Cod Liver Oil Help Hair Growth for Dogs?
Dogs are not able to naturally produce omega-3 fatty acids, so supplemental doses can support the health of their skin and fur in several different ways. Specifically, it can alleviate some common allergic reactions such as hair loss and excessive itching.
Cod liver oil has not been proven to help hair growth for dogs. However, it can have an indirect impact by supporting healthy skin and maintaining the quality of the existing coat. Some other reasons to consider giving your dog a cod liver supplement include improvements to:
Joint health
Blood pressure
Memory
Cardiovascular function
Behavior 
Immunity
Before you add cod liver oil to your dog's food, always consult a veterinarian first. The amount varies by size and breed, and if your dog is already getting Vitamin A and Vitamin D in other forms, an excessive amount can be toxic.
Applying Cod Liver Oil on Hair Vs. Other Hair Oil Treatments
Depending on your hair care needs, you might consider the benefits of applying cod liver oil directly on your hair. It provides natural nourishment properties, supports scalp health and adds a little extra shine. Some studies have even shown evidence that it might help with hair thinning issues. One drawback, however, is the fishy odor that lingers. This smell can take multiple shampoo sessions to eliminate.
Coconut Oil
One hair treatment alternative to cod liver oil is the topical use of coconut oil. It is comprised of lauric acid, a medium-chain fatty acid, making it easier for the hair to absorb. This is important because it helps protect against protein loss. Some other reasons to use coconut oil on your hair are:
It protects against any atmospheric irritants such as wind, sun and smoke.
It possesses antibacterial characteristics that studies have shown could treat dandruff issues.
It guards against grooming damage caused by excess water absorption if applied before washing.
It helps to soften and moisturize the texture if applied after a wash, defending against excess friction that can lead to snags. 
Almond Oil
Almond oil is another hair treatment alternative to cod liver oil that moisturizes and protects against breakage when directly applied. It is rich in Vitamin E, proteins and antioxidants. If you are experiencing a problem with hair growth or a mineral deficiency, all-natural almond oil is a safe and effective product to consider.
Grapeseed Oil
If you have hair that has a higher susceptibility to dryness, dandruff or thinning, grapeseed oil could be a possible remedy. The odorless oil acts as a conditioner, treating split ends and taming frizz. It also inhibits the production of dihydrotestosterone, a hormone commonly linked to hair loss.
AS FEATURED ON:
AS FEATURED ON:







By: yo-

Cod liver oil can strengthen hair and stimulate hair growth.

By: Anastasia Tsarskaya

Cod liver oil can help make hair healthy and strong.

By: Stephen VanHorn

Fish oil supplements, including those made from cod liver, are rich in healthy fats, such as omega-3 fatty acids, eicosapentaenoic acid and docosahexaenoic acid, commonly called DHA.

By: diego cervo

Cod liver oil helps minimize hair loss.

By: Roman Gorielov

Oil treatments should be washed out of hair completely.